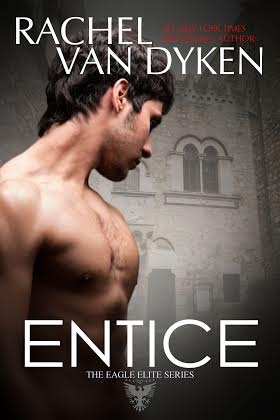 Title: Entice
Series: Eagle Elite #3
Author: Rachel Van Dyken
Format: Paperback/Ebook, 325 pages
Published: May 13th 2014 by Rachel Van Dyken
Links: Amazon | Kindle | iTunes | B&N
Source: Publicist
Reviewer: Crystal
Rating: 4/5
From #1 New York Times Bestselling author Rachel Van Dyken comes the third book in the bestselling Eagle Elite Series...



"As burns this saint, so burns my soul. I enter alive, and I will have to get out dead."





Chase Winter let the love of his life slip through his fingers and into the hands of his best friend and mafia boss of the Abandanato family. Now that he's been given a second chance to right a wrong--he refuses to let his own selfishness stand in the way. The only problem? He's not fully in possession of his heart, so when Mil De Lange, the girl who's innocence he stole, and heir to the worst of the worst mafia families in the US, asks him for a favor. He actually says yes, not realizing that that one yes has the power to destroy them all.





Mil's been in love with Chase as long as she can remember, but as the years went by, the love turned to hate, and now that he's agreed to help her, she's wondering if she made a fatal error. Because Chase isn't a teenager anymore. He's a hot blooded male, bent on owning every part of her body and soul, and willing to kill anyone in his path who dares stand in the way.

It's time for secrets to finally be revealed...but make no mistake, it's going to take a lot of bloodshed for those truths to be discovered.





You've never read a New Adult Mafia story like this before...loyalties will be tested, lovers reunited, and friendships obliterated. Welcome to the Family. Blood in--No out.



Thoughts:
Rachel Van Dyken continues her heart-pounding series centered around the young Mob of Eagle Elite with the third book in the series, Entice. Submersing readers into t
he intricate and dangerous world of the mafia, where your worst enemies can also be the ones closest to you.
The
De Lange family is hiding some big secrets and t
here is nothing that they won't do to keep them hidden. Even if that means taking out their own. Mil De Lange, now the head of the family, knows that she is in dangerous territory. A single, young female at the head is a scary place to be, even for tough-as-nails Mil. But she is hoping that a marriage to Chase Winters will help secure her position and take her head off the chopping block. But even if that doesn't happen, she is confident that with Chase at her back, no one will touch her. Too bad it's not only her back she has to watch out for when he is around because she is in serious danger of loosing her heart to him all over again. And she knows from experience that if that happens, she'd be better off dead.
Chase Winter is lost in grief, seeing the one woman he has ever loved choose his best friend over him has destroyed him. So maybe he can claim insanity when he agrees to marry Mil De Lange without hesitation. But really, what more does he have to loose? And he owes it to her after the way he treated her when they were teenagers. He'll be surprised if she doesn't try to smother him in his sleep because of that. But Mil is not being totally honest with him on her reasoning for marrying him, and Chase is determined to uncover the whole truth. Little did he know that delving into her secrets would re-open his heart to a love he never thought possible. A love that he would do anything for, even take a bullet...
I loved, loved, loved Chase's happily-ever-after and am so happy that the author gave us one for him! After the first two books in this series I was so torn between him and Nixon, and I hated to see him left as the odd man out.
The prologue of Entice warns you that this story is going to start with a bang and never let up, and it didn't. Not even into the prologue for the next book,
I'm so looking forward to
Tex and Mo having their own story in Elicit! We see a whole new side to Chase, a sexy, take-charge, alpha side that will leave you swooning. Nixon would definitely have some competition for the big-man-on-top position if Chase really put his mind to being head of the family. I was really surprised by how much I liked Mil, because at the end of Elect I honestly wasn't feeling her and was a bit weary when I started this book because of that. However, Mil
was a strong, in-your-face character that had a hidden vulnerable side that was wonderful to watch emerge. And the chemistry between these two was blazing! Chase wasn't having a marriage of convenience in any way and he took the bull by the horns right out of the gate!
I also loved the fact that we were still able to get into Nixon's head at points during the story. Him and Trace had some unresolved issues to work through after the last book and we see them do just that here and watch their relationship blossom even more!
The tension between the mafia families reaches it's breaking point and r
elationships, loyalties, and friendships are all put to the test in
Entice
! Rachel Van Dyken's writing flowed seamlessly, which isn't a surprise if you have read any of her other works. The plot was riddled with heart-pounding action, suspense, and intrigue with just enough humor to balance out the sober moments perfectly.
Entice is not a stand-alone romance, you must read the first two books in the series to understand what is going on in this captivating world that Rachel Van Dyken has meticulously weaved together. T
he author has created a ri
veting group of characters and story arc with the
Eagle Elite series that makes it a must read for all new adult romance fans!