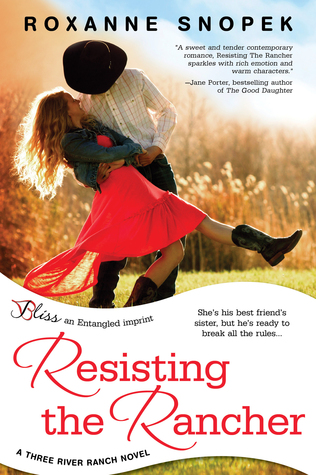 Title: Resisting the Rancher
Series: Three River Ranch #4
Author: Roxanne Snopek
Format: ebook, 259 pages
Published: April 14th 2014 by Entangled: Bliss
Links: Goodreads | Amazon | B&N
Source: Publicist
Reviewer: Shannon
Rating: 5/5
She's his best friend's sister, but he's ready to break all the rules…





Country veterinarian Celia Gamble is in trouble. A misunderstanding from her past is rearing its ugly head and the only person she can turn to is Jonah Clarke—her family's lawyer and, as it turns out, her brother's best friend and her childhood crush. She always wanted Jonah to see her as a bona fide woman, but as a woman who's being blackmailed for seducing a married man? Not on her life.





Jonah is happy to help Little CeeCee Gamble, if only she'd come clean about why she's being blackmailed. But with his best friend Zach's wedding on the horizon, and Zach's fashionista fiancée Desiree giving CeeCee a makeover, the little duckling Jonah remembers is turning into a definite swan. And the unwritten law on sisters is clear—hands off. Jonah must resist or lose the only true family he's ever known.
Thoughts:
Though I've never had a brother nor been attracted to a best friend's brother, I found
Resisting the Rancher
to be a very good story!
Celia decided to move back to her home town after graduating college in hopes of practicing veterinary even though potential failure and pressure from her brother was a scary thing. The chance of running into her older brother's best friend, Jonah, and all those old feelings he stirred in her was also a frightening aspect.
Jonah is a lawyer in their small town and also feels the pressure to succeed from his parent's... He suspects that his parents sold their family farm in order to put him through law school. Jonah is the type of person that doesn't go out and enjoy himself, he also doesn't allow himself to get close to anyone. But when Jonah see's Celia for the first time after her return, he is hit with her beauty. He's always cared about her, but never crossed the line, because his was his best friend's sister. He finds that he still has feelings for her but doesn't want to act on them because of that friendship with her brother. Personally, I would have just told my best friend about my feelings and dealt with them head on. She is a grown women now and can figure things out for herself, but I had to remember this wasn't my story.
The more Jonah and Celia are around each other the more they cannot fight the attraction and end up having a hot night in bed, but now Celia doesn't know what to do. She thinks that no matter what her feelings are, Jonah see's her only as a friend. But little does she know that Jonah wants to be with Celia for the rest of his life.
Celia has also brought trouble from her past and when she confronts her family and explains the situation her brother is furious. Celia's mother is devastated with the news and can't believe how much her daughter has suffered on her own.
I really loved how Celia was a strong character and throughout the story grew up emotionally. She was able to conquer her fears and have the life she has always wanted. Jonah also grew as a character. He realizes he can make a difference in people's lives. I was relieved when he finally gave into his feelings for Celia. I really liked this story! Now to leave you hanging...It comes down to will Celia overcome her past? Will the troubles that are threatening her and her family go away? You will have to read the book to find out. I highly recommend it!