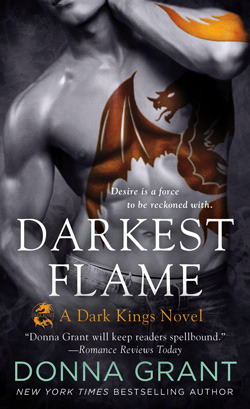 Title: Darkest Flame
Series: Dark Kings #1
Author: Donna Grant
Format: eBook/Paperback, 384 pages
Published: April 29th 2014 by St. Martin's Paperbacks
ISBN: 1250041368
Links: Goodreads | Amazon | Kindle | B&N
Source: Netgalley
Reviewer: Linda
Rating: 5 out of 5 Wine Glasses
The Dark Kings have fought for centuries to preserve their dragon magic. But one of the most powerful warriors of his kind will be put to the ultimate test. Is he strong enough to resist his greatest temptations? Or will he be forced to surrender - body and soul?



Her beauty is a weapon



Denae Lacroix is a beautiful MI5 agent on a deadly mission. Sent to the Scottish Highlands to spy on the mysterious Dreagan Industries, she discovers too late that she's been set up - as human bait. She is an irresistible lure for a man who has not seen or touched a woman for centuries. He is a man with a destiny - and a desire - that could destroy them both...



His passion is a curse...





It's been twelve hundred years since Kellan has walked among humans - and there's no denying the erotically charged attraction he feels for Denae. But as a Dragon King, he is sworn to protect his secrets. Yet the closer he gets to this smart, ravishing woman, the more her life is in danger.





All it takes is one reckless kiss to unleash a flood of desire, the fury of dragons…and the fiercest enemy of all.
Thoughts:
Scotland and Dragons! A winning combination!
This was a FABULOUS read with sexy, macho DRAGONS and FAE. It's loaded with espionage and sizzling, awesomely hot romance!
The Darkest Flame was originally published as a four-part serialized story. The 1st three parts leave the reader with major cliffhangers. I am NOT a fan of serialized books and I avoid cliffhangers if I can. Fortunately, The Darkest Flame is now available all together - that's the way I read it - and I inhaled the book all in one day! I absolutely could not put it down once I started it.
The Darkest Flame is the tale of M15 agent, Denae Lacroix, and of Dragon King Kellan, lord of the bronze dragons. It's an epic story with non-stop action, dragon/Scottish/Irish lore, dark fae savagery, betrayals, humor and passion galore. The riveting romp takes place primarily in Scotland and Ireland but also features brief sojourns in London and South Padre Island.
OMG! The characters rock! We meet Denae first as she embarks on an espionage mission with a fellow agent who double-crosses her. She subsequently discovers that her superiors had set her up as bait and this was destined to be her final mission. However, fate steps in and she is thrust from the secret service life she knows literally into Kellan's arms. Denae is strong, clever, shrewd, beautiful, resilent and stubborn as can be.
Our hero, Kellan, has spent countless centuries sleeping in his cave in Dreagan. Sleep was his refuge from humans, the bane of his existence. Now a human female, Denae, has wakened him. If he does nothing, she will die and he is tempted to let her destiny proceed without him. However, he had overheard that his fellow dragon kings have been targeted and Denae may have information they would find useful. So... Kellan saves her life and henceforth neither of their lives will ever be the same! Kellan is obstinate, virile, kissable, and eminently swoon worthy. He's NOT someone you would want as an adversary.
A dragon and a King.
A gorgeous man who kissed as if there were no tomorrow and made love skillfully, adeptly. He could have let her die. Instead, he took her on a journey that opened her eyes to an entirely new world both beautiful and frightening."
This book has HUMOR! I especially got a hoot from the Scotland/Irish dickering.
"You're a Scott," the Dark said, his lips peeled back in displeasure, as if just saying the word was revolting.
"And you're Irish. I'm so glad we got that settled."
This scene occurred outside an Irish bar: "After a taste of a Scot, you'll never look elsewhere again."
A brunette smiled seductively, "That's quite a boast."
"I'm quite a man."
The villains were many: mysterious, sinister and dark. They had axes to grind with the dragon kings and it didn't matter who perished in the process. They were ruthless and vicious.
Denae's and Kellan's relationship starts out as a love/hate affair. Each was attracted to the other but neither was going to admit it. Their association gradually changed as they united against common enemies. Once they shared a kiss, it was a given that they wouldn't stop there! I'm so glad as the chemistry between Denae and Kellan scorched the pages. Their sex scenes were FUN AND HOT! HOT! HOT! Yummy beyond words!!! Two quotes from the book give an inkling:
"He turned to look at her. "We've some talking to do."
"Didn't we do that on the plane ride over here?"
"I doona remember talking. I remember kissing, touching, and many orgasms, but no talking."
"His mouth descended on hers in a fierce kiss.
He seized, he captured.
He dominated.
And she loved every second of it."
Bottomline: This is the 1st book I've read by Donna Grant and I want to read more by her! Her writing was incredibly exciting. This was one heckava' rip-roaring paranormal. I have fallen in love with the author's World of SEXY Dragons and highly recommend The Darkest Flame!