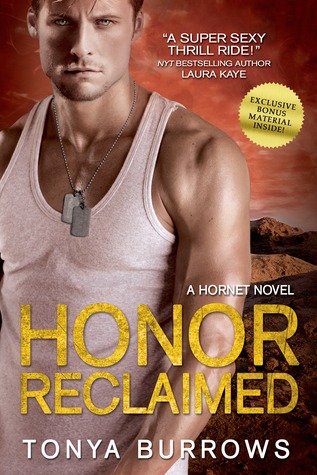 Title: Honor Reclaimed
Series: HORNET #2
Author: Tonya Burrows
Format: eBook/Paperback, 350 pages
Published: May 27th 2014 by Entangled: Select
ISBN: 1622662547
Links: Goodreads | B&N | Amazon
Source: Publisher
Reviewer: Crystal
Rating: 5 out of 5 Wine Glasses
Former Marine sniper Seth Harlan is determined to prove that he can still do his job despite his ongoing battle with PTSD. When an old friend contacts HORNET to rescue a black ops soldier, Seth's stability is strained. He knows all too well what it's like to rot inside an enemy camp, praying for rescue and waiting for death. And he's not about to leave a man behind.




Photojournalist Phoebe Leighton just stumbled into the middle of an arms deal. Teaming up with a ragtag team of mercenaries is the last thing she wants to do--especially when she realizes Seth Harlan is assigned to the mission. He may ignite a passion in her she thought long dead, but Phoebe's hiding a secret that could destroy him.




With a bomb in the mix, HORNET's mission is suddenly about a lot more than an abandoned soldier. Racing against the clock, Seth, Phoebe, and the rest of the team struggle to stop a ruthless warlord bent on power, revenge...and death.
Thoughts:
Honor Reclaimed
is a gut-clenching, heart-pounding, and emotion-packed adventure about love and healing that I could not put down!
Seth Harlan is a man on the edge. A former
Marine sniper and POW for fifteen long, torturous months. Seth never understood, 'why him?' Why did he make it out when so many of his friends didn't? And why did he survive hell when he wasn't sure whether he wanted to or not? Joining HORNET though has given him a second chance. A second chance at being part of a team. And a second chance at life, if only his head doesn't screw it up for him. Being sent back to Afghanistan
to rescue another POW might be the final breaking point for him though. That is until he crosses paths with photojournalist
Phoebe Leighton. Right away Seth knows that Phoebe is hiding something from him but she also grounds him and makes him feel things he hasn't felt in a long time. Things he didn't even know he was still capable of feeling after his imprisonment. Will the secret she hides destroy the fragile relationship they have built in the Sand? As danger surrounds them and terrorists conspire to make a deadly arms deal, love should be the last thing on either of their minds. But you can't help where the heart leads you...
Honor Reclaimed picks up soon after the first book, Seal of Honor. The story arc does intertwine slightly with the Wilde Security series as well but still makes a good stand-alone. Though if you love military romance like I do and enjoy an author who can weave a captivating story then I recommend you adding all four books to your to-be-read list. You won't be disappointed.
We've heard of and seen Seth in previous novels as a very paranoid and withdrawn character. In Honor Reclaimed he goes through hell and back and literally steals your heart to take along for the ride. The highs and lows that this man has to go through, the ridicule from some of his teammates that you would think men in their position would be more understanding about, is absolutely heart breaking. And the saddest part about this story is that it could be true. A hundred times over. Tonya Borrows writes with such confidence and heart that you can easily mistake the fact that this is a fictional story while reading.
Phoebe herself was a majestic character with spunk. She had past mistakes to atone for and I really think did the best she could to do just that. She found a passion in being a women's rights advocate and often put her life on the line to show the world just what was happening it's far reaches. And she was just perfect for Seth. She was his rock when he needed it most and despite being in a room full of intimidating military men, she wasn't afraid to put the men of HORNET in their places when it came to their treatment of Seth. Phoebe and Seth's relationship was a slow burning one, but once that fire lit their was no putting it out! She brings out a side of him that no one on his team has ever seen. A person that he hasn't seen himself in years. And with her help his future doesn't seem so bleak and lonely. I couldn't love this pair more.
The plot was thrilling, sexy, and fast-paced with the perfect balance of passion and intrigue. The characters were easily relateable and the story completely swept me away. Honor Reclaimed is one of the best books I have read this year and Tonya Burrows should be on ever romance readers radar as an author to watch! If you're a fan of Catherine Mann, Cindy Gerard, Maya Banks or Lori Foster's romantic suspense's then you must pick up Honor Reclaimed today!
Suggested reading order:
SEAL of Honor (HORNET #1)
Wilde Nights in Paradise (Wilde Security #1)
Wilde for Her (Wilde Security #2)
Honor Reclaimed (HORNET #2)