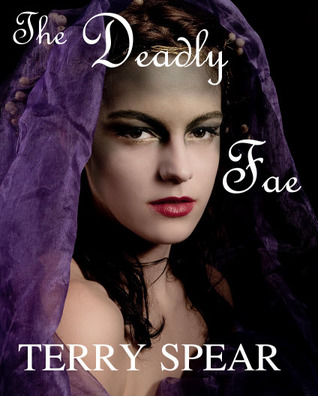 Title: The Deadly Fae
Series: The World of Fae #2
Author: Terry Spear
Published: 08-23-13 by Terry Spear
Narrated by: Jeanne Whitehouse
Length: 5 hrs and 1 min
Links: Goodreads | Amazon | Kindle | Audible | B&N
Source: Author
Reviewer: Linda
Rating: 5/5
Lady Sessily is a dark fae, an assassin, and she fully intends to retire and take up some other occupation so she can live more of a normal life. Have a boyfriend. Visit the human world to hassle humans like many of her kind do. Attend fae kingdom parties, not as the mystery woman who is scoping out her next intended victim, but just to have fun.

Until Lord Fairhaven arrives on the scene, thwarts her last assigned mission, and intends to hire her for his own job. She refuses, but he doesn't take no for an answer.
Tall, dark, handsome, and deadly. Just her type, if she'd ever considered the kind of guy who could be her type.
But he's not just any old nobleman. He's the crown prince of the cobra fae, and that means trouble.
Thoughts:
I loved it! This is the 2nd book I've enjoyed from Terry's World of Fae series and it's just as magical a tale as the 1st one! As with the 1st story, this tale would also be perfect for tweens and teens . BUT... it's not just for the young. I really enjoyed it, too, and I'm in my 60s.
The plot was an enchanting and original treasure. Lady Sessily, an ultra-talented dark fae hunter assassin, is on an assignment when she encounters an obstacle to her plan. That obstacle is a tall, dark and handsome cobra fae who believes that he is gallantly protecting a young boy when he interferes with Lady Sessily's mark. Lady Sessily has to devise a new plan and the same cobra fae is an obstacle again! Then their path cross yet a third time! She can't seem to stay off his radar! By this time, she doesn't know whether she wants to kiss him, slap him or kill him!
I almost died laughing at parts. It's all good, clean fun.
"We've already slept together and you made no objection."
The world of fae and the characters are incredible! Terry's imagination is beyond awesome! There's evil queens, sorcerers, kidnappings, non-stop adventure, escapades in the hay and more!
If you listen to the audible version as I did, the narrator is very good. Her voice was clear and didn't distract me from the story. I like to listen to audibles while exercising. I can immerse myself so deeply in Terry's books, that I look forward to each session and I don't even feel the pain.
Bottomline: This book is a perfect blend of YA romance, fantasy and unending excitement! It left me amazed, dazed and with a warm fuzzy feeling! Terry's World of Fae ROCKS!