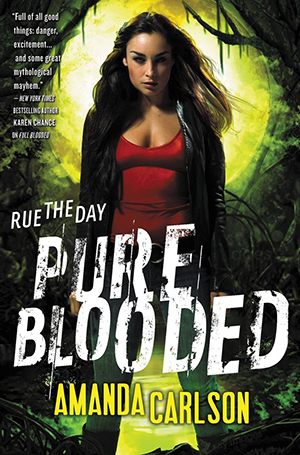 Title: Pure Blooded
Series: Jessica McClain #5
Author: Amanda Carlson
Format: eBook/Paperback, 320 pages
Published: June 16th 2015 by Orbit
ISBN: 0316404357
Links: Goodrads | Amazon | B&N
Reviewer: Linda
Source: NetGalley
Rating: 4 out of 5 Wine Glasses
Jessica arrives back from the Underworld to find her father embroiled in a battle against the Made wolves. She and her crew drop everything to join them.





Once she arrives, the threat is after her. Jessica is lured into danger when her adversary takes something precious from her. With help from an unlikely source, Jessica goes up against her creator in a battle that will decide the path of everyone involved. She must war against a new set of foes, ones who could not only steal her power, but could take her soul as well.
Linda's Thoughts:
Jesus, Jess, it would be nice if you stayed out of life-and-death scenarios for five minutes.
PURE BLOODED by Amanda Carlson is the action-packed fifth installment in her addictive Jessica McClain series. I love this series and can't get enough of Jessica McClain and her pack. It may be the fifth book, but it's still as awesome as each of the prior books have been - always fresh and utterly mind-blowing stories flush with magic, fast-paced action, deathly perils and fantastic characters. In my opinion, for full enjoyment of the books, this is a series that should be read in order.
PURE BLOODED finds Jessica in a new setting back in this world from Hell where much of the previous book, RED BLOODED, took place. However, don't think it's smooth sailing for the characters as danger still lurks at every turn as Jessica races to assist her father and confronts voodoo in the Florida swamplands. There's definitely a dark, eerie and mysterious feeling to this tale. Plus fate has decided that Jessica must die for killing a villain before their time so she has her hands full dodging her own doom and thwarting fate. And that's just the beginning. Seemingly assaulted at every turn, Jessica is literally fighting for her life in this tale.
In PURE BLOODED, Jessica, our kickass heroine, gets a lot of practice in learning how to access the magic that was freely given to her in Hell by the five super naturals: a fae, demon, shifter, vampire and witch. Her relationship with her wolf continues to astound me; they're one but they're separate and they communicate with each other as separate entities. I would be remiss if I didn't mention Marcy, Jessica's best friend and our favorite witch. She has come so far since we first met her as she's become a very self-assured, powerful witch.
My absolute favorite scenes are when Jessica and her beast, Rourke, steal some together time. Rourke is such a saint - even when he's on a rant because he's been separated from Jessica. I sure hope that in some future installment, they get to squeeze in more than a few stolen moments. I have to share a remark of Rourke's that made me sigh: "I like you like this. The way it should be. Safe in my arms."
Following please find a few of my favorite quotes:
"Ray is going to fly you out and the plan is to meet up in two hours."
She sighed. "I despise Vamp Air, but I guess it can't be helped. I can't even think about the amount of bugs that will be caught in my teeth over these swamplands."
"Well, maybe it would help if you just keep your mouth shut---"
---
Vampires love to gossip. They live for drama...
---
Ray snorted. "Yeah, the air right around where the boat was parked is absolutely full of shit. Like the devil blew his nose all over it."
"That's a pretty picture, Ray."
---
"When we are allowed two seconds of freedom, be prepared for me to tear your clothes off."
"That sounds like a perfect plan."
---
"That is strange and creepy," Marcy remarked, "but totally cool. You Ghostbustered her."
PURE BLOODED provides a resolution of the immediate conflicts the Pack had been experiencing, but also sets up the next book, leaving me satisfied, but craving the next book which can't come too soon! There's an unexpected treat in this book as we learn about the origin of werewolves herein! If you love paranormal urban fantasies as I do and haven't checked out the Jessica McClain series, you are, without a doubt, missing out!
Suggested Reading Order:
#1 FULL BLOODED - Purchase
#2 HOT BLOODED - Purchase
#3 COLD BLOODED - Purchase
#4 RED BLOODED - Review | Purchase
#5 PURE BLOODED - Review | Purchase