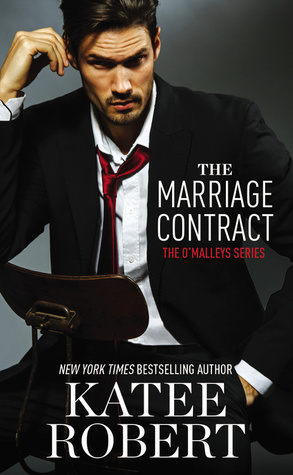 Title: The Marriage Contract
Series: The O'Malleys #1
Author: Katee Robert
Format: eBook/Paperback, 368 pages
Publication: June 2nd 2015 by Forever
ISBN: 1455590479
Links: Goodreads | Amazon | B&N
Reviewer: Crystal
Source: Netgalley
Rating: 4.5 out of 5 Wine Glasses
New York Times and USA Today bestselling author Katee Robert begins a smoking hot new series about the O'Malley family-wealthy, powerful, dangerous and seething with scandal.





Teague O'Malley hates pretty much everything associated with his family's name. And when his father orders him to marry Callista Sheridan to create a "business" alliance, Teague's ready to tell his dad exactly where he can stuff his millions. But then Teague actually meets his new fiancée, sees the bruises on her neck and the fight still left in her big blue eyes, and vows he will do everything in his power to protect her.





Everyone knows the O'Malleys have a dangerous reputation. But Callie wasn't aware just what that meant until she saw Teague, the embodiment of lethal grace and coiled power. His slightest touch sizzles through her. But the closer they get, the more trouble they're in. Because Callie's keeping a dark secret-and what Teague doesn't know could get him killed.
Crystal's Thoughts:
Katee Robert's has a new series out with Forever Romance and if the first book is any indication, you are not going to want to miss a second of it!
Following the death of her brother, Callista Sheridan is now the Sheridan heir, and she has big plans to make the family, and it's many business, legit. When an arrange marriage ends in murder though, Callie will do anything she can to prevent the coming war - even if that means marrying a brutish O'Malley. Teague O'Malley doesn't like his last name and the reputation that comes with it any better then Callie. When he meets his beautiful fiance though, he is grateful for it for the first time in his life. Only together can they stop the coming massacre, but Callie is hiding a secret that not only threatens their growing bond, but their lives as well.
The Marriage Contract was a captivating story from beginning to end set in the seedy world of the Boston mafia and centering around three powerful families. The story itself was vastly different then what I was expecting after reading the book's synopsis and I couldn't have enjoyed it more. Katee Robert painted a vivid picture of the dark underworld that surrounds Boston's mob families, easily pulling me into the violence and corruption. The plot was brimming with secrets, passion and danger!
I fell in love with these characters right away. Teague was not only sexy but strong, protective, and selfless when it came to those he loves. I empathized with his need to keep his siblings safe and away from the violence of his father's making, and the despair he felt when that wasn't possible. Callie was a strong leading lady whose actions endeared me to her more with each page. Robert's created a perfect balance between romance and suspense. I couldn't help but root for Callie and Tegue while frantically turning the pages to find out what would happen next! There were some g
ut-wrenching moments in the story that had me on the brink of tears, as well as many tender scenes and sizzling ones as well.
I am definitely looking forward to the next story in this heart-pounding series!
Ever since I first discovered Rachel Van Dyken I have been itching to get my hands on more well-written mafia romances and Katee Robert's The Marriage Contract fit that bill to a T! A must-read for contemporary romance fans who like an edge of danger and suspense in their stories.