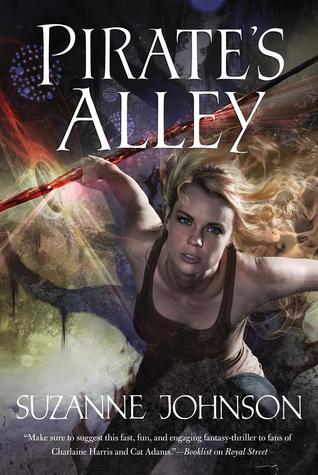 Title: Pirate's Alley
Series: Sentinels of New Orleans #4
Author: Suzanne Johnson
Format: Hardcover, 352 pages
Published: April 21st 2015 by Tor Books
ISBN: 0765376970
Links: Goodreads | Amazon | B&N
Reviewer: Linda
Source: Local Library
Rating: 4.5 out of 5 Wine Glasses
Wizard sentinel DJ Jaco thought she had gotten used to the chaos of her life in post-Katrina New Orleans, but a new threat is looming, one that will test every relationship she holds dear.

Caught in the middle of a rising struggle between the major powers in the supernatural world—the Wizards, Elves, Vampires and the Fae—DJ finds her loyalties torn and her mettle tested in matters both professional and personal.

Her relationship with enforcer Alex Warin is shaky, her non-husband, Quince Randolph, is growing more powerful, and her best friend, Eugenie, has a bombshell that could blow everything to Elfheim and back. And that's before the French pirate, Jean Lafitte, newly revived from his latest "death," returns to New Orleans with vengeance on his mind. DJ's assignment? Keep the sexy leader of the historical undead out of trouble. Good luck with that.

Duty clashes with love, loyalty with deception, and friendship with responsibility as DJ navigates passion and politics in the murky waters of a New Orleans caught in the grips of a brutal winter that might have nothing to do with Mother Nature.

War could be brewing, and DJ will be forced to take a stand. But choosing sides won't be that easy.
Linda's Thoughts:
Alex leaned over and treated me to a Rhett Butler kiss, slow and deep but not too sweet. He once told Scarlett something to the effect of how badly she needed kissing, and by someone who knew what he was doing. Alex knew what he was doing. By the time he finished proving it, I was breathless. I rested my head on his shoulder, basking in his warmth and filling my lungs with his scent. "What was that for?"
"That was to show you how glad I am that we got out of that mess in one piece and that we're here together." He extracted his arm from around my shoulders and sat back. "Now let's talk about your crazy stunt."
Damn it, Rhett did that, too. He'd kiss Scarlett silly, then lecture her.
PIRATE'S ALLEY by Suzanne Johnson is an excellent addition to her Sentinels of New Orleans series. I want to shout from the rooftops: I love Suzanne's Sentinels Of New Orleans series! It's a fresh, innovative, and addicting urban fantasy with wonderful characters and a well-paced, action-packed plot that will keep you on the edge of your seat. LOL! It kept me up until three AM two nights in a row! It includes a snippet of romance - just enough to make you want more.
I actually started this series out of order with book three and then immediately went back and inhaled the first and second book. I would not recommend jumping into the series with this book; You really need to have at least read book three. To enhance your enjoyment, I would recommend that you read the series in order (they're all fantastic!):
1. Royal Street
2. River Road
3. Elysian Fields
4. Pirate's Alley
It has been amazing to watch our wizard sentinel heroine, DJ Jaco, mature in this series. She has certainly taken huge strides in that direction from the first book when she struggled so learning about her powers and how to relate to the preternaturals and the historical undead. She's also come into herself with relationships. I feel that she's much more comfortable in her own skin now and she's not afraid to stand her ground when she feels strongly about something or someone. In this book, she shows that she's become one tough cookie as she's gotten a lot smarter about politics, prete, wizard, and otherwise.
I've been Team Alex Warin from the beginning. He really cares for DJ and she for him; but, what a turnaround their relationship has had from the first book. I love Alex but his black and white world is crumbling around him. I really need to see Alex develop some backbone as far as the wizards are concerned and I want Alex to give DJ's intuition more credence. I really hope that happens in the next book or I might have to change Teams...
Dashing, sexy undead pirate Jean Lafitte - he had me swooning more than once in this book. We get to see more of his chivalrous side in this installment. OMG... when DJ asked Jean what she meant to him, his response was nothing short of profound. The following is just a snippet from what he said:
"When I see you, Jolie, I see a woman who is far more than she realizes but who will someday grow into her powers. One who is much stronger than those who would trap her inside their cages or try to put her to harness. One with a bold intelligence, with whom I can laugh. One who surprises me."
He paused, and when he spoke again, his voice was so soft I had to strain to hear. "I see a woman who makes me feel alive again, like a man, and not like a wraith who has lived beyond his usefulness in a world that no longer needs him."
I can only say... Jean gets it and he's sexy as hell even if he is dead!
I just have to share two more of my favorite quotes - both very short illustrating some of the humor herein, and Yes! There's humor!:
She shook her head. "I can't believe you got bit and you didn't even get an orgasm out of it. I guess True Blood isn't true after all."
---
One should never giggle in handcuffs unless one were naked. I was sure I'd read that rule somewhere.
I've said it before - the setting in New Orleans is the perfect backdrop and atmosphere for this book and its multi-cultural characters. Suzanne's writing places the reader right with the characters into the story. Every scene is lifelike and I enjoy the tour of the New Orleans and its bayous that I'm being treated to while reading this series.
If you love urban fantasies and haven't read this series yet, you should! If I were you in that case, I'd plan on some major binge reading! You will be hooked too!
Suzanne has posted that the next book, BELLE CHASSE is already written and was turned in to her editor at the end of 2014. So... now fans are at the mercy of her publisher. I know BELLE CHASSE will be monumental and it can't come soon enough for me!
4 1/2 Wine Glasses (marked down 1/2 only because I abhor cliff hangers when the next book isn't already available!)