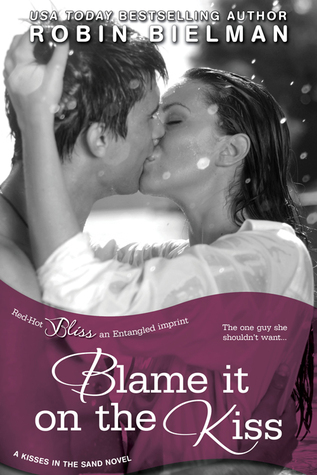 Title: Blame It on the Kiss
Series: Kisses in the Sand #2
Author: Robin Bielman
Format: Ebook/Paperback
Published: June 9th 2015 by Entangled Publishing: Bliss
Links: Goodreads | Amazon | B&N
Reviewer: Linda
Source: NetGalley
Rating: 4.5 out of 5 Wine Glasses
The one guy she shouldn't want...





Honor Mitchell has lived with guilt and regret for a long time, so when she promises to do the things on her dying best friend's wish list, she's determined to follow through and do something right for a change. But when she's thrown together for wedding duties with the one man who complicates her vow--just by looking at him--she has to put her faith in Bryce Bishop's pledge to help her, no strings attached.





Bryce's near one-night stand with his ex-girlfriend's best friend a few months ago might have been a mistake, but helping the beautiful, free-spirited Honor with her promise isn't. His trust in women is shot, but he can't help but play his best man card to his advantage and help Honor tick off the items on his ex's list, even if it puts him in a no-win situation. Because his assistance might get Honor what she wants, but suddenly being the do-good guy puts his plans--and heart--in serious jeopardy.
Linda's Thoughts:
"I may be clean cut on the outside, but make no mistake." He moved even closer, close enough to see her pulse jump at the base of her neck. "I like to get very, very dirty when nobody's looking."
BLAME IT ON THE KISS by Robin Bielman is a lovely, small-town contemporary romance! It is the second book in her Kisses in the Sand series, but each of these are meant to be read as standalones with interconnected characters. Robin is one of my very favorite authors for warm-fuzzies romances. When I need a sweet, fun read, Robin always delivers!
I loved the heroine and hero! Honor Mitchell, our heroine, is an event specialist for the mayor's office in beach town, White Strand Cove. Bryce Bishop is an agent for pro athletes. We met them both in the first Kisses in the Sand novel, KEEPING MR. RIGHT NOW. Honor and Bryce have instant undeniable chemistry but they also have some major impediments to furthering their relationship including their mutual connection to Payton who has passed away; She had been Honor's best friend and Bryce's ex girlfriend. Honor feels guilty to be lusting after her best friend's ex. It's difficult for Bryce, also, as Payton dumped him without a reason once she found out she was dying; So he never got to say goodbye to her.
Another obstacle to their relationship is Honor's brother who Bryce is trying to represent. The kid insists that, if he signs with Bryce, Bryce cannot have a relationship with his sister. Finally, neither are looking for a relationship. Honor believes that she can't follow through and maintain a long-term, loving relationship and Bryce doesn't want his heart broken again.
Enter Payton, recently deceased. She left a list of things that she wants Honor to do in her memory. This list seems to bring Honor and Bryce together more often than not as Bryce finds out about the list and wants to help Honor complete it. It's a very emotional journey for both of them; but the rewards as they attack the list are great.
My only complaint, and it's small, is that it took me a little bit to get into the story. Once the romance started, the pace incredibly picked up and I totally forgot the previous slowness. In fact, I absolutely had to stay up till the wee hours of the morning to finish it as I couldn't put it down at that point. It could have been the mood I was in when I started reading. But... if you, too, feel that it's a little slow at first, don't give up! Keep reading! I can attest that it will be well worth it!
Supporting characters include Zane and Sophie, favorites from the first book. It was such a treat to catch up with them and their news! I have to mention two scenes with characters not directly connected to the couple's romance. I giggled when Midge's busy-bodies street team was introduced and Tuck's tale that involved his naked body, a towel and a woman with a camera was hilarious!
Following please find a few of my favorite quotes:
"His smile, a little mischievous around the edges, had her melting into the sand. Then his lips brushed hers, and the stars collided. She cupped his face in her hands and shut her eyes.
Kissing had always ranked high on her list of favorite things to do, but Bryce took it to a whole new level. Forget about his mouth on her fingertips, this linked to all her happy zones and more.
He'd literally swept her off her feet and his kiss quickened the beat of her heart. His lips were soft and warm and hungry. His kiss moved through her like warm honey, filling all the places inside her that had been cold for so long.
He slid his tongue along the seam of her lips, licking her before he pressed further. She willingly opened to him, stroked his tongue, kissed him harder. He groaned. He tasted like champagne and everything good as he delved deeper and committed a full-on assault inside her mouth. His hand gripped her waist. They sank further into the sand.
She clutched his shoulders, smoothed her palms down his back. He pulled gruffly away, nipped at her ear. "You have no idea how much I want you," he said."
---
"He caught her elbow before she'd taken more than a few steps. "Are you walking home?"
"Yes."
"It's," he glanced at his watch, "nine o'clock."
She shrugged out of his hold and continued on her way. "The Boogeyman doesn't come out until ten, so I'm good."
---
"Regret isn't real," Tuck said. "It's something invented to punish ourselves."
Robin's endings never fail to be stunning surprises and perfect-in-every-way and this one was no exception. I don't know how Robin comes up with such super endings that invariably leave me with a big smile and a tickled-pink giddiness, but I hope she never stops!
Robin's writing is always top-notch and consistently makes the reader feel that they are right there in her stories. Including this book, I've read ten books by Robin; My average rating for those books is 4.8! Obviously, I'm a huge fan of her books! Believe me, you will want to read this one in one sitting. I highly recommend BLAME IT ON THE KISS to anyone who enjoys delightfully sweet contemporary romances. I, for one, can't wait to visit White Strand Cove again with Robin!
Suggested Reading Order:
Keeping Mr. Right Now - Review | Purchase