Crisis' story is FINALLY here!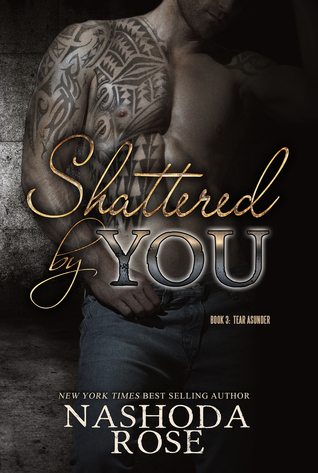 Shattered by You
(Tear Asunder #3)
by Nashoda Rose
Kindle Edition, 316 pages
Published June 21st 2015
What started out as a deal quickly became a friendship that conquered monsters.

I killed, but I escaped hell.
Emotionless. Disconnected. Cold. A mannequin. It's what I'd become in order to survive the years held in captivity. I was able to endure the abuse and devastating loss as long as I remained detached.

But he wouldn't let me.
Crisis, the bass guitarist in my brother's rock band, Tear Asunder. He's cocky, rude, a total man-whore. But the rock star has far more beneath the surface of his inked skin, and he's determined to make me laugh again.
He made me a "deal", but really, it was blackmail.
His terms were simple. Until his playful honesty became the building blocks to something unexpected. Something strong enough to pull me from the eye of the storm.

Because even though I escaped years of abuse, it didn't mean I was free.

For mature audiences only.
I walked down the hall, pulled the elastic band on my boxers and glanced at my hard throbbing cock. "You'll have to wait a little longer, buddy."
"Are you really talking to your cock?"
I let go of the elastic and it snapped hard on my abdomen. Haven wasn't making coffee; she was coming up the stairs with an armful of clothes. Fuck, she looked hot, long blonde hair messy as if she'd tossed and turned in her sleep, and she had sleepy eyes—adorable.
"Yeah. He's angry this morning." I stood right in the middle of the top of the stairs so if she wanted to get by, she'd need to brush up against me. It was childish, but fuck, I was a guy.
Her brows lifted. "Why is he angry?"
I smirked, loving that she was down for a little play. "Placed an 'out of order' sign on him." Her brows drew together and her eyes flicked to my tented boxers.
"Doesn't look out of order."
I laughed and couldn't help myself as I stroked the back of my hand down her cheek. It took her by surprise and she swayed backwards. I grabbed her arm before she toppled down the stairs and pulled her up onto the landing next to me.
A white piece of clothing slipped from the pile she was holding and fell at her feet. I smirked when I realized what it was, and took great pleasure in helping her out since there was no way she could bend over and get it without everything falling from her grasp.
I let her go and crouched, picking up the white lace panties. I held them out and her nose twitched like a rabbit sensing danger. "I like white. Prefer pink though, for future notice. And lace I love."
She was trapped because if she snatched them from my hand, she'd drop the clothes and if she didn't then . . . I curled them up in my palm.
"They aren't mine," she blurted.
God, she was cute. "Darlin' I know they are and I love that you're denying it. Means you care."
Now that raised a little heat in her cheeks and I liked it. Shit, I liked it a lot because when I left a few months back, that would've never happened and now that was twice. She was affected by me—good to know. "I don't care."
I shrugged then turned to head back to my room to hide my newly acquired treasure. I had no doubt she'd search for them the second I left the house. I looked back over my shoulder and caught her eyes staring at my butt; could've been my back, but unlikely. Really, it didn't matter which. I was just impressed she was eyeing me up.
"You can look, but don't touch," I said.
Her mouth dropped open then snapped shut. I disappeared around the corner, then heard her stomping down the hall. Haven wasn't a stomper. She was graceful, elegant and controlled. Too controlled. And that part of her was coming down.
Don't miss the first two books in the Tear Asunder series!
About the Author:
Nashoda Rose is a New York Times and USA Today bestselling author who lives in Toronto with her assortment of pets. She writes contemporary romance with a splash of darkness, or maybe it's a tidal wave.




When she isn't writing, she can be found sitting in a field reading with her dogs at her side while her horses graze nearby. She loves interacting with her readers and chatting about her addiction—books. http://nashodarose.com/