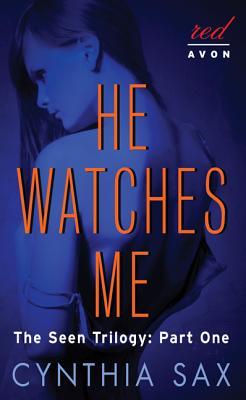 Last time our guest was here we put the most difficult question to her...we made her compare one of her heroes to the rest. And she did it! So we had to have her come back, welcome Cynthia Sax!
Lexi: We have your favorite white wine chilled and ready Cynthia! But unlike when we were talking about Flashes of Me we won't give you too many difficult questions. And speaking of Flashes of Me, we have you here to talk about the trilogy set in the same world. Your Seen Trilogy includes: He Watches Me, He Touches Me, and He Claims Me. Has it been hard to leave this world and write in others?
Cynthia Sax: (sips her wine) It was very difficult to leave The Seen Trilogy world (Flashes of Me and Breaking All The Rules are also part of this world). That's why Blaine, the hero of The Seen Trilogy, makes a brief appearance in Sinful Rewards, my sizzling hot 12 novella serial. The billionaire club in the US is fairly small (a little over 400 known billionaires) so it made sense that Blaine from The Seen Trilogy and Nicolas from Sinful Rewards would know each other.
Lexi: Your steamy scenes are more than just hot page filler, they pointedly move the story along or are turning points for the characters. Throughout the three installments of the series what did you do to keep the scenes fresh and still plot worthy at the same time?
Cynthia Sax: The Seen Trilogy could only be written as a three novella serial because Anna and Blaine move through three distinct stages in their relationship. They start, not touching. Yes, there's a lot of mind sex and some steamy hot conversations but Blaine never touches the goods. (grins). Then they touch but they don't have sex. And there's a LOT a couple can do without having sex. Finally, they trust each other enough to move to the sex stage.
One of the reasons I love writing erotic romance is because I feel the physical shows us so much about the emotional state of the relationship. Blaine isn't a big talker. What he does in the bedroom (or in the pool or on the boardroom table or…) speaks volumes. Sex should change as the relationship changes.
Lexi: Hmm...we did say we would take it easy on the difficult questions didn't we. How about answering your Seen Trilogy number, each book in the trilogy is 128 pages. Did you purposely hit 128 with each book for the number 128 or so you would reach 256?
Cynthia Sax: (laughs) Are all three of them really 128 pages long? That's magic. It wasn't done purposefully. Though I suppose I should tell you it was, make you think I'm so highly skilled that I can hit a certain page number.
Having that ability would be helpful. I tell reading buddies that all installments of Sinful Rewards are approximately 100 pages long (depending on the device you read them on). Some of the installments are almost double that though. I make the story as long as it needs to be and thankfully Avon Impulse is flexible about that.
Lexi: Fun little facts. But that is minor compared to Anna and Blaine's story. These two truly fit together and change one another. The exhibitionist and the voyeur. Are you happy with their ending?
Cynthia Sax: (grins) Are you asking me if there will be another book? Many readers want a fourth novella. I prefer to revisit Blaine and Anna while telling other couples' stories, give us snippets of their current life. They work, fitting perfectly together. Anna is the light to Blaine's darkness. Blaine is Anna's safe place.
The only thing that frustrated me is Blaine never did give up all of his secrets. But that's Blaine and part of his appeal. It will take Anna decades to find out everything about him. She likes that. He keeps her both physically and intellectually stimulated.
Lexi: The Seen Trilogy may have ended but you certainly haven't. Thanks for stopping by again Cynthia and we will look forward to your next release to have you back again!
Cynthia Sax: Thank you SO much for having me, Lexi (big hugs) I'm always happy to hang out here at Reading Between The Wines. Great wine, great company, talking about books—what's better than this? (raises a glass to Lexi)
Published July 2nd 2013 by Avon Red
She desires to be seen. He wants to watch.




Anna Sampson has a naughty secret. Every night, she slips into her neighbor's yard and swims naked in his pool. She fantasizes that the dynamic young billionaire watches her nightly nude aquatics, his brilliant green eyes gleaming with lust.




She discovers this isn't pure fantasy. Gabriel Blaine has been watching her via his security cameras, and now that he has returned to L.A., he doesn't plan to stop. That's all he wants—to watch. Anna knows she shouldn't allow him and she certainly shouldn't want more, but she craves Blaine's attention, needing his gaze fixed on her body.
Published July 9th 2013 by Avon Red
His touch enflames her desires.




Anna Sampson has allowed billionaire businessman Gabriel Blaine to watch her, all of her. And looking is all he's done—until now. After giving him permission to touch her, Anna realizes she won't be satisfied until she has all of this handsome and secretive man.




Soon she tempts him, shreds his control, and pushes him too far. Blaine's reluctance to take her virginity frustrates Anna. He fulfills her fantasy, but what is their reality together?
Published July 16th 2013 by Avon Red
A billionaire's desires and a virgin's wish to be claimed come together.




Two men want Anna Sampson. Gabriel Blaine is powerful, intelligent, the CEO of a successful company, and a billionaire. He's watched her, touched her, encouraged her to become a strong, independent woman, a woman unafraid of her desires.




Now secrets from the past are exposed, threatening Anna's freedom and safety. Will the man she loves stand by her side, or will he desert her, leaving Anna once again to face the future alone?
Published March 4th 2014 by Avon Red Impulse
Nathan Lawford, Blaine Technologies' chief financial officer, is known as the Iceman. He conducts his personal and business affairs without emotion, never allowing himself to become involved with anyone. When Nate sees something or someone he wants, he negotiates, paying a simple, set monetary price.




Now he wants Camille, the company's green-haired intern.




Camille Joplin Trent never expected to be paid to pleasure the man of her dreams. She can't quite figure out why this is a bad thing. Nate is intelligent, handsome, sophisticated, everything she's ever wanted in a lover and never thought she could have. Their contract is for a month, thirty lust-filled days of making every sexual fantasy they've ever had come true. At the end of this month, the rules state their relationship will end.




Of course, Camille has never been good at following rules.