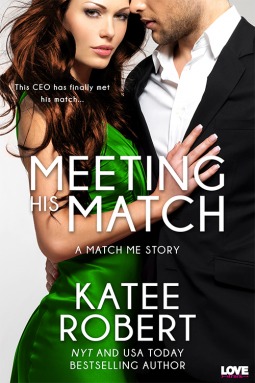 Title: Meeting His Match
Series: Match Me #1
Author: Katee Robert
Format: ebook, 200 pages
Published: July 21st 2014 by Entangled Publishing, LLC - Lovestruck
ISBN: 1633750302
Links: Goodreads | Amazon | B&N | ARe
Source: NetGalley
Reviewer: Linda
Rating: 4/5
A satisfying category romance from Entangled's brand new Lovestruck imprint…





When New York matchmaker Addison St. Claire is tasked with matching her best friend's new brother-in-law, she almost refuses. But the sexy southern CEO turns out to be a challenge she can't resist, because if anyone needs to meet his soul mate, it's this man. And if matching him with someone else removes the temptation of being near him? Even better.





The last thing Caine McNeill needs is a matchmaker—especially a gorgeous redhead who spouts nonsense about soul mates, critiques what he drives and how he dresses, buys him a dog, and pesters him about a million little things he couldn't care less about. It's a crying shame he has to keep his hands off because chemistry like what's flaring between them ought to be explored. Thoroughly.





And so the battle begins. Addison is determined to stick to her plan of setting him up on dates with other women, and Caine is equally determined to ignore these women and seduce her.
Thoughts:
SCINTILLATING CHEMISTRY & CHARISMA!
MEETING HIS MATCH by Katee Robert is the 1st book in Katee's new Match Me series and a highly enjoyable sexy contemporary romance. This book is loosely connected to Katee's SEDUCING THE BRIDESMAID, a Brazen book and her contribution to the Wedding Dare series. While there are interconnected characters between the two, MEETING HIS MATCH can be thoroughly enjoyed as a standalone.
This is the story of New York matchmaker Addison St. Claire and filthy rich southern CEO Caine McNeill. Their sweet and hot romance wasn't in the cards until fate intervened in the form of Addison's BFF. Addison is a very successful business woman. Addison lost her soul mate many years ago. To ease her loss, she started helping others find their soul mates and subsequently established Connected at the Lips. While she used to feel fulfilled with her business, lately she's been left bereft. This story opens with her best friend requesting that Addison take a much-needed vacation away from New York to find a mate for her husband's brother, who had nothing in his life but work, work, work. Addison is not thrilled for multiple reasons. She prefers that her clients make their own requests for help as she needs their cooperation for the process to work. Another issue is that this brother-in-law lives in Tennessee while Addison's client base is in New York. She doesn't want to refuse her best friend, though, so she heads down to Tennessee before making her decision.
Caine is a billionaire businessman running a very successful company. While his company is flourishing, he is not. He has spent his entire life trying to live up to the expectations that his father has laid out for him. We learned a bit about those in SEDUCING THE BRIDESMAID, but we find out all the dirty details in this book. He spends all his time at his office. He has no one to go home to and spends more nights on his office couch than in his own bed. He's bored, no longer challenged, but clueless as to what to do about it. He feels trapped by his obligations. Into his office walks Addison and his ordered life tilts and becomes unhinged.
I cracked-up too many times to count reading this. Being a long-time dog lover, I found much of their dialogue about the dogs absolutely hilarious. I absolutely have to share some of my favorite canine-related quotes first.:
---
"What is that massive dog that I don't remember owning doing here?" He hoped like hell he had misheard her when she said pups, because one giant mop of a dog was more than enough to deal with right now.
"She's here to help."
---
"What does successfully matching me have to do with a damn dog?"
"Gollum will make you more approachable. You need that--- desperately."
"There's not a damn thing approachable about that beast."
"Something you have in common."
---
"She looks like a mop."
"And this is exactly the problem."
She waved at his entire body. "You can't even stop yourself from insulting an innocent animal. How am I supposed to get you ready for decent company?" ....
"For your information, Gollum in a komondor. They're a breed with bold and majestic history."
"A history of cleaning floors?"
---
"How exactly are you going to convince some poor, unsuspecting woman that I actually own this dog when it --- she--- looks ready to take a chunk out of me every time I get too close?"
---
OMG, Addison and Caine had an intense set-your-sheets-on-fire chemistry. They were also adept at tap-dancing around each other though Caine succumbed to Addison's charms much earlier than she did. He then devoted himself to convincing Addison, a tough sell, that they were better together than apart.
Sadly, Caine had the sneaking suspicious that the kind of hands-on treatment he'd prefer from her had nothing to do with her intentions.
I LOVED Caine, bossy and brooding, who while he had been born with a silver spoon, was also a perfect southern gentleman. I wanted to ride in his awesome cars! AND I loved his comment about the Black Widow since I feel the same way.
"What possessed you to talk about business on a date?"....
"She was curt to the point of being rude when I tried to make small talk, and all I could think about was how I could still taste you on my lips."...
Also, to avoid talking about comics or web design or how Black Widow would totally kick any other Marvel character's ass in a fight."
LOL! A man after my own heart! Addison stubbornly fought their attraction tooth and nail. I loved her but I also wanted to shake her! She couldn't open her eyes and see the truth when it was right in front of her! AAGH! Their dialogue was often beyond hilarious. I have to share some of those quotes, too, as they were so delectable:
---
"And here I thought I'd get by on my charm and good looks."
"That'll get you a first date. It won't get you a second one with anyone who'd be suitable." When he laughed, she look up from her notes. Holy hell, the man had laugh lines to rival his little brother's. Then what he'd said hit her. "My God, did you just make a joke?"
"It's been known to happen."
---
"So let me get this straight. You have no hobbies. You don't care what this woman looks like as long as she can "doll herself up" and entertain herself and pop out a few babies for you?"
His gray eyes gave away nothing, but she again had the sneaking suspicion that he was testing her.
"That sounds about right."
---
"Regardless of what you may think of me, I don't strip women down, make them come, and tuck them into bed just for the hell of it."
---
She never thought she'd be into sex that was so overwhelming and desperate, but after that night on the dining room table she started eyeing his furniture in a whole new way. Would he take her on the couch in the formal living room? Or how about the kitchen counter? Maybe his wonderful shower with no less than three showerheads? It made her hot all over just thinking about it.
---
Right now, all he wanted was to get her to take that first step. "I'm not going to tattoo my name on your ass. I'm asking you to be my girlfriend."
---
Secondary characters were great too from Caine's quirkly efficient but solidly crabby executive assistant, Agnes, to Regan, Addison's best friend and Caine's sister-in-law. Caine's folks were a head-trip; It's amazing that he turned out so balanced. I was more-than-impressed with Regan's match-making skills! She's quite the talent and the guys are quite cowed... they certainly won't challenge her. What a hoot! This book completely riveted my attention from the 1st page to the last.
My favorite scene- there were so many - has to be when Caine's father makes an appearance during one of their impromptu love fests. The dog greets Dad with aplomb and Addison makes an impressionable entrance. Oooh la la!
Bottomline: The author's writing is first-rate with well-defined, genuine, totally relatable characters, a solidly crafted plot and crisp storytelling. Bravo to Entangled Publishing's new Lovestruck line as this read was a magnificent start! MEETING HIS MATCH is a wonderfully entertaining romantic novel that will keep readers guessing right up to a surprising, but utterly satisfying happy- ever-after ending. If you crave heat and swoon with humor aplenty, don't miss MEET HIS MATCH!