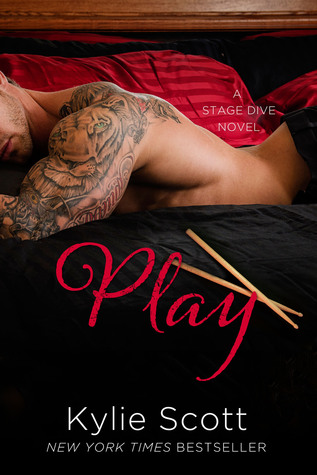 Title: Play
Series: Stage Dive #2
Author: Kylie Scott
Format: paperback/ebook, 304 pages
Published: March 25th 2014 by St. Martin's Griffin
ISBN: 1466854235
Links: Goodreads | Amazon | Kindle | B&N | ARe
Source: NetGalley
Reviewer: Crystal
Rating: 4.5/5
Kylie Scott returns with the highly anticipated follow-up to international bestseller Lick.





Mal Ericson, drummer for the world famous rock band Stage Dive, needs to clean up his image fast—at least for a little while. Having a good girl on his arm should do the job just fine.




Mal doesn't plan on this temporary fix becoming permanent, but he didn't count on finding the one right girl.





Anne Rollins never thought she'd ever meet the rock god who plastered her teenage bedroom walls—especially not under these circumstances.




Anne has money problems. Big ones. But being paid to play the pretend girlfriend to a wild life-of-the-party drummer couldn't end well. No matter how hot he is. Or could it?
Thoughts:
I absolutely loved LICK, the first book in Kylie Scott's sexy and exciting Stage Dive series, so I had high hopes for PLAY. (Review of Lick) I'm happy to say that not only did PLAY deliver, it left me with a big smile on my face and a happy little sigh at the end!
Anne Rollins is down on her luck, no question about it. Royally screwed over by her roommate and in love with a guy that has firmly placed her in the 'friend zone', Anne is coaxed into attending a Stage Dive party by Lauren, her neighbor and
Evelyn's (LICK) best-friend. Never in a million years did she expect to meet the rock star that adorned her teenage self's walls. Or that he'd propose something as outrageous as pretending to be his girlfriend! But he did, she is, and now Anne has to figure out how to get out of it without loosing her heart to this big, goofy rock star with unimaginable hidden depths.
Mal Ericson is the drummer for the hit rock band, Stage Dive. Always a little wild, he has let his life get out of control over the last year. But running from your demons will do that to you. He has to clean up his act, and do it fast, before he runs out of time...When he meets Anne, Mal knows she is the one that can help him. A good girl with a hidden wild streak. But when Mal starts envisioning a future with only Anne in it, will he be able to conquer his fears and grab at the chance or will he let his demons conquer him and their possible future together?
Oh Mal! I just wanted to hold him, and hug him, and squeeze him, and kiss him, and lick him...*ahem*
He has a way of drawing you in, you won't be able to help yourself from falling in love with this sexy and funny drummer. From the moment he stepped onto the pages in LICK I was hooked. I'm pretty sure he could charm the panties off a nun.
Mal has an undeniably sweet side, he'll have you l
aughing while simultaneously
melting into a puddle of Mal-goo. But he also has a larger then life presence that can sometime be overwhelming. Luckily, Anne is up for the challenge and knows just how to handle Mal. These two played off each other so perfectly, it was a joy to read their story and incredibly entertaining.
The story is told mostly from Anne's point-of-view, and she
gets
Mal, really
gets
him, but she also doesn't take his crap and let him walk all over her.
I loved Anne and her "crazy eyes" because I could totally see myself acting just like her if I ever got the chance to meet any of my favorite rock stars.
Some serious issues are woven into the generally lighthearted plot that will tug on your heart-strings. All in all, PLAY is a well written, compelling story with a captivating cast of characters. Another ROCKIN' book from Kylie Scott that I couldn't put down!
My only complaint with the story would be that Mal was so off-the-wall, and full of energy, jumping from one thing to the next, I sometimes couldn't follow his reasoning behind certain decisions
.
I'm really looking forward to Jimmy's story in LEAD though! If you love some rockin' with your romance (And who doesn't?) I definitely recommend this series, pick up LICK and PLAY today, you won't be disappointed!