See our review of Katee Robert's
Meeting His Match
HERE
. ☺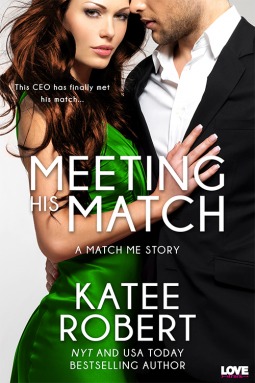 Meeting His Match
Match Me #1
by Katee Robert
ebook, 200 pages
July 21st 2014 by Entangled Publishing, LLC - Lovestruck
Goodreads
|
Amazon
|
B&N
|
ARe
A satisfying category romance from Entangled's brand new Lovestruck imprint…





When New York matchmaker Addison St. Claire is tasked with matching her best friend's new brother-in-law, she almost refuses. But the sexy southern CEO turns out to be a challenge she can't resist, because if anyone needs to meet his soul mate, it's this man. And if matching him with someone else removes the temptation of being near him? Even better.





The last thing Caine McNeill needs is a matchmaker—especially a gorgeous redhead who spouts nonsense about soul mates, critiques what he drives and how he dresses, buys him a dog, and pesters him about a million little things he couldn't care less about. It's a crying shame he has to keep his hands off because chemistry like what's flaring between them ought to be explored. Thoroughly.





And so the battle begins. Addison is determined to stick to her plan of setting him up on dates with other women, and Caine is equally determined to ignore these women and seduce her.
Author Bio:
New York Times and USA Today bestselling author, Katee Robert, learned to tell stories at her grandpa's knee. Her favorites then were the rather epic adventures of The Three Bears, but at age twelve she discovered romance novels and never looked back. Though she dabbled in writing, life got in the way, as it often does, and she spent a few years traveling, living in both Philadelphia and Germany. In between traveling and raising her two wee ones, she had the crazy idea that she'd like to write a book and try to get published. http://www.kateerobert.com/
Tour-Wide Giveaway:
50 gift certificate to Amazon along with
a chance to have your name in an upcoming book