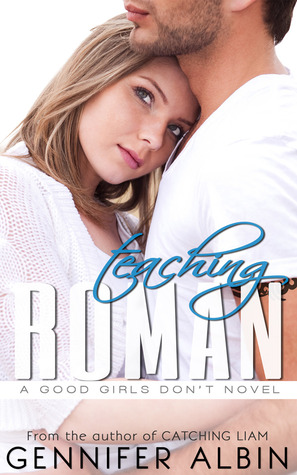 Teaching Roman
(Good Girls Don't #2)
by Gennifer Albin
Published June 26th 2014
Goodreads | Amazon | B&N
Jessica Stone has her life in perfect order until her perfectly boring boyfriend Brett puts things in perspective. So when she receives a call to action from her heartbroken best friend Cassie, she ditches her plans for Winter Break in gloomy Olympic Falls and sets off to Mexico for some fun in the sun.





Determined to use her oceanview to prep for her MCATS, she doesn't plan to run into anyone from Olympic State, least of all the cute communications prof she's been crushing on for a year. When he unexpectedly saves the day, the two are thrown together in a distinctly extracurricular activity.





Roman Markson doesn't expect to run into anyone he knows from Olympic Falls while visiting his family in Puerto Vallarta, especially not a former student. Although Jess Stone has a way of catching men's attention, a relationship with her is strictly off-limits. However, the rules feel less strict in Mexico, so they agree to a plan: one week in paradise and nothing more.





But avoiding each other back on campus is harder than they anticipated, especially when they can't stay away from one another. Neither is sure what they have to learn—and lose—before life teaches them a lesson they'll never forget.
We beat everyone to Garrett's and grabbed one of the two booths to wait. I was more than a little nervous to be here with Roman—in public, particularly a college bar. We stuck to hanging out at my place or his most of the time, but Jillian had begged us to go out for once. It wasn't as if most people would think anything of seeing the two of us together. He wasn't wildly older than me and dressed down in jeans and a t-shirt he just looked like another hot guy at the bar.
But I knew, and couldn't help but feel nervous.
"Stop fidgeting," he whispered, taking my hand into his so that I couldn't bite my nails.
"What if the dean walks in or something?" I asked.
"I hear he hangs out here all the time," he said wryly. "And even if he did, he has no clue who I am. I'm not a tenured professor, remember? Just an instructor."
He was right, but that fact did nothing to calm my racing heart. Without the others here to distract me with stories and bad jokes, I had time to think and there was only one thing on my mind—getting caught. Although technically we were both students, I knew our relationship existed in a grey area.
Thankfully I was distracted from my analysis by the appearance of Cassie. She strutted to the table, looking her usual fashionable self and then unleashed a string of curses that would put a sailor to shame.
"Good day?" I asked, already feeling more comfortable.
"Computer crashed, so I have to rewrite an entire paper by Friday." She waved over Frank to place an order for the special: frozen pizza cooked in their pizza oven. It wasn't gourmet, but it was cheap and a tradition.
Frank, the resident bartender, ambled over, scratching at his bushy eyebrow. "The usual?"
"You have a usual?" Roman asked under his breath.
Frank might have as much hair growing in his ears as on his head, but he caught it, glancing at Roman with disapproval.
"Yeah, but double it," Cassie said. "We brought the boys."
"Where's your boy?" Frank asked.
"No more boys for me. Unless you're available, Frank." She batted her eyelashes at him suggestively.
"I'm too old for you, hon. Thought I told you to stay out of trouble this year." His words were gruff, but we all knew he was a teddy bear underneath his tough exterior.
Cassie shook her head, spilling dark locks of hair over her shoulders. "Boys my age are trouble."
"Been telling you that for years," Frank called over his shoulder as he headed back toward the kitchen.
My head perked up on hearing the familiar Scottish accent. Over the past year, I'd grown to love Liam as much as Jillian. Having my whole, extended family here was enough to put me instantly at ease. Within an hour, we'd polished off both combo pizzas and the conversation was flowing as swiftly as the penny pitchers.
"Any news?" I asked Jillian as the men discussed soccer.
She stiffened in her chair and took a long swig of her beer. She was on her second of the night. I'd been counting, knowing I'd have to step in if she tried to have more or risk it affecting her medication.
"No official news, but the student liaison's office says it doesn't look good. Apparently every foreign exchange student wants to come to Washington." Judging from the tension ticking in her jaw as she finished speaking, she thought this was unfair. "Why can't we go to school somewhere boring like Cleveland. I mean, Liam's already here. Why not let him stay?"
"You could marry him," I said with a shrug.
Jillian's face turned fire truck red, but next to her, Liam laughed and leaned over to me. "Careful, now. You're going to mess up my plans."
"Shut up," she said, turning even brighter red.
"Oh, chicken. Stop now, love." He planted a kiss on her forehead. "That looks like painful embarrassment."
This was why I loved him. He didn't bat an eye at the idea of a long-term relationship with Jillian, even though she had early-onset Parkinson's. He was in love with her and that was all that mattered.
"It'll work out," I assured her.
"How?" She looked at me with the familiar, searching eyes I knew so well. She hadn't looked at me that way in months. At some point, I'd stopped being the person she turned to for comfort and advice. I suppose facing the prospect of losing Liam, she'd fallen into old habits.
I glanced to Roman, understanding perfectly how subtly falling in love changed relationships and not always in bad ways. "I just know it will."
Author Links:
Website: http://www.genniferalbin.com/
Facebook Fan Page: https://www.facebook.com/genniferalbinbooks
Twitter: https://twitter.com/GenniferAlbin
Goodreads: https://www.goodreads.com/author/show/4906436.Gennifer_Albin