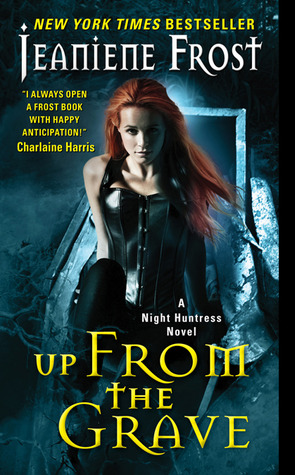 Title: Up From the Grave
Series: Night Huntress #7
Author: Jeaniene Frost
Format: Mass Market Paperback, 372 pages
Published: January 28th 2014 by Avon
ISBN: 0062076116
Links: Goodreads | Amazon | Kindle | Audible | B&N | ARe
Source: Purchased
Reviewer: Crystal
Rating: 4/5
There's always one more grave to dig.



Lately, life has been unnaturally calm for vampires Cat Crawfield and her husband Bones. They should have known better than to relax their guard, because a shocking revelation sends them back into action to stop an all-out war…





A rogue CIA agent is involved in horrifying secret activities that threaten to raise tensions between humans and the undead to dangerous heights. Now Cat and Bones are in a race against time to save their friends from a fate worse than death…because the more secrets they unravel, the deadlier the consequences. And if they fail, their lives—and those of everyone they hold dear— will be hovering on the edge of the grave.
Crystal's Thoughts:
I have much love for Cat & Bones and the Night Huntress series. It's been an incredible seven year journey for this couple and seeing the end of it is bittersweet. I recommend this series to everyone I meet and they will always have a special place on my book shelf, and in my heart.
Vampires Cat and Bones have been enjoying the quiet for the last few months but with these two, it's never quiet for too long. Soon they discover that the agent that took over for Cat's Uncle Don has some dangerous secrets, secrets that could destroy the world as they know it.
All of our favorite characters return for Up From the Grave, one final hurrah I guess you could say. Jeaniene Frost delivers everything she is known for with a fast-paced plot, butt-kicking action, steamy sex scenes, two main characters that you wish could be real and your best friends as well as a supporting cast that captures little pieces of your heart every time you read about them. With twists a turns every few pages, the story keeps you on the edge of your seat.
The series-arc reaches it's climax
and little threads from even the start of the series are tied up bringing it full circle.
There has been so much growth in the Night Huntress world, Cat's character growing the most. And the love between Cat and Bones shines through here, digging permanent roots in your heart that will never let go. They are unequaled in the paranormal romance genre.
I absolutely loved the story and the surprises in
Up From the Grave,
although one twist contradicts what Ms. Frost told readers at the start of the series. I am so sad to see the end but in the same sense happy as well because these two have been through so much.
But while I enjoyed the over-all story,
Up From the Grave
didn't hold as much heart-pounding, gut-twisting romance as I've come to expect from previous books. I know that Cat and Bones are an established team now and like I said, they've been through so much already, but their relationship came across as too ordinary. And there is nothing ordinary about these two! I also felt that the ending was left open. I just didn't feel the satisfaction of closure for Cat and Bones.
All-in-all though, there is nothing out there that can compare to the Night Huntress series, Ms. Frost's superb writing skills, and her unparalleled imagination. Night Huntress fans will not be disappointed with this final installment and it will definitely leave you smiling. I'm keeping my fingers crossed that Ms. Frost revisits Cat, Bones, and company in the future. Toes as well!
P.S.
Up From the Grave
is in no way a stand-alone book, read the series and then come back and tell me how much you loved it and it's former gigolo of a vampire!
Reading order:
1.
Halfway to the Grave
2. One Foot in the Grave
3. At Grave's End
4. Destined for an Early Grave
5. This Side of the Grave
6. One Grave at a Time
7. Up From the Grave