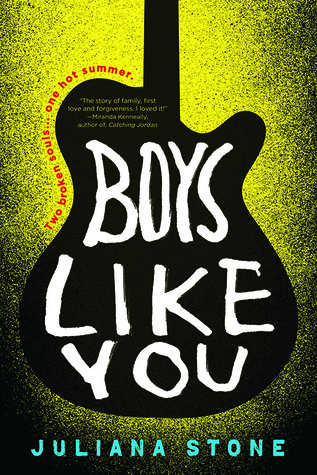 Title: Boys Like You
Author: Juliana Stone
Format: Hardcover, 288 pages
Published: May 6th 2014 by Sourcebooks
Links: Goodreads | B&N | Kindle | Amazon
Source: Author
Reviewer: Crystal
Rating: 4.5/5
One mistake.





And everything changes.





For Monroe Blackwell, one small mistake has torn her family apart –leaving her empty and broken. There's a hole in her heart that nothing can fill. That no one can fill. And a summer in Louisiana with her Grandma isn't going to change that…





Nathan Everets knows heartache first-hand when a car accident leaves his best friend in a coma. And it's his fault. He should be the one lying in the hospital. The one who will never play guitar again. He doesn't deserve forgiveness, and a court-appointed job at the Blackwell B&B isn't going to change that…





Captivating and hopeful, this achingly poignant novel brings together two lost souls struggling with grief and guilt – looking for acceptance, so they can find forgiveness.
Thoughts:
It's not often that I pick up a Y.A. but when Juliana told me that she was writing one I knew that I had to read it!
A young girl and a young boy. Both who made mistakes that will forever change their lives. Each struggling with the consequences. Only together can they step out of the dark and reach for the possibility of forgiveness that they so desperately seek.
Boys Like You was a wonderful story from Juliana Stone. Full of heart-wrenching emotion; it's a story of pain, desperation, hope and forgiveness.
Driving drunk has left Nathan's best-friend in a coma and not only his best-friend's parents hating him, whom have been a second home for him, but Nathan hating himself as well. Living life on auto-pilot, Nathan is wracked with guilt over the fact that he walked away from the wreck and his friend didn't. Monroe lives in a zombie like state, not evening bothering to change out of her pajamas most days and visiting her grandmother for the summer isn't likely to change that. Never did Monroe or Nathan expect to meet another as broken as they felt, but as they know one choice can change a lifetime, so can one summer.
Boys Like You is told from
alternating view-points. Right away readers know Nathan's story and pain but Monroe is a mystery until farther into the story-line and when her secret is revealed, it hits you right in the gut.
Both Monroe and Nathan are living in darkness, a darkness that eats away at them. But somehow, when these two come together they shine bright and together they learn to forgive themselves. There is a blatant chemistry between Monroe and Nathan but the romance is slow to build. That doesn't stop Monroe from supporting the Nathan she sees under the player persona he puts out. Each character was multi-layered and even the supporting characters were nice to read about.
There was
just the right amount of sensuality between Monroe and Nathan for a Y.A. Enough to leave me satisfied but written so it was suitable for younger readers as well. I wouldn't wince at my teenage step-daughter picking up this one. The ending
left me smiling and I can't wait to read the sequel to this story.
Boys Like You
makes for a great contemporary romance perfect for summer reading.