Please give a warm welcome to author Tonya Burrows, joining us with her new release (a must-read) of HONOR RECLAIMED. Be sure to check out our review of this romantic suspense!
Tonya's Top 5 Favorite Movies
I love movies. In fact, my HORNET series was partially inspired by a movie. I have a somewhat eclectic taste in movies, so for fun, I thought I'd share with you all some of my favorites.
1.)

The Mist. Why? Because it proves my long-held belief that religious fanatics are scarier than huge human-eating monsters from another dimension. Also, the ending. Holy Mother of twist endings!
2.)

Up. Why? I cried in the first 10 minutes and I rarely cry at the movies. Plus, talking dogs. I want to cuddle Dug so hard.
3.)

Tremors. Why? Kevin Bacon is awesome. And the movie is hilarious. (But only the first one. I like to pretend the rest were never made.)
4.)

Tangled. My favorite Disney Princess movie. I want to find my own Flynn Ryder.
5.)

This Gun For Hire. An awesome noir about a mercenary name Raven, starring Alan Ladd and Veronica Lake.
So there you have it. A bit of humor, some horror, some Disney, and some noir. Told you my list was eclectic.
Now it's your turn! What are your top five favorite movies? Bonus points if you know which movie inspired my HORNET series!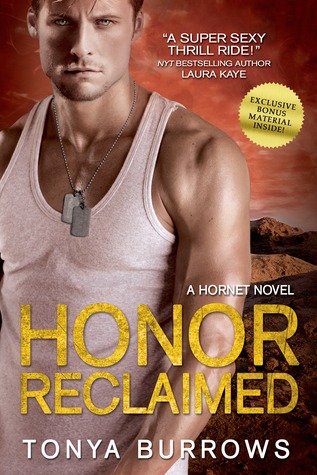 Title: Honor Reclaimed
Series: HORNET #2
Author: Tonya Burrows
Format: eBook/Paperback, 350 pages
Published: May 27th 2014 by Entangled: Select
ISBN: 1622662547
Links: Review| Goodreads | B&N | Amazon
Former Marine sniper Seth Harlan is determined to prove that he can still do his job despite his ongoing battle with PTSD. When an old friend contacts HORNET to rescue a black ops soldier, Seth's stability is strained. He knows all too well what it's like to rot inside an enemy camp, praying for rescue and waiting for death. And he's not about to leave a man behind.




Photojournalist Phoebe Leighton just stumbled into the middle of an arms deal. Teaming up with a ragtag team of mercenaries is the last thing she wants to do--especially when she realizes Seth Harlan is assigned to the mission. He may ignite a passion in her she thought long dead, but Phoebe's hiding a secret that could destroy him.




With a bomb in the mix, HORNET's mission is suddenly about a lot more than an abandoned soldier. Racing against the clock, Seth, Phoebe, and the rest of the team struggle to stop a ruthless warlord bent on power, revenge...and death.






Author Bio:
Writing has always been my one true love. I wrote my first novel-length story in 8th grade and haven't put down my pen since. I received a B.A. in creative writing from SUNY Oswego and I'm now working on a MFA in popular fiction at Seton Hill University. When I'm not writing, I spend my time reading, painting (badly), exploring new places, and enjoying time with my family. Give me a good horror movie over a chick flick any day. (And, let's be honest, I'll take a bad horror movie too!) I'm a geek at heart and pledge my avid TV fandom to Supernatural and Doctor Who. I'm also a big fan of The Voice. What can I say? Guilty pleasure. I share my life with two dogs and a ginormous cat. I'm from a small town in Western New York, but I suffer from a bad case of wanderlust and usually end up moving someplace new every few years. Luckily, my animals are all excellent travel buddies. http://www.tonyaburrows.com/
Tour-Wide Giveaway:
a Rafflecopter giveaway