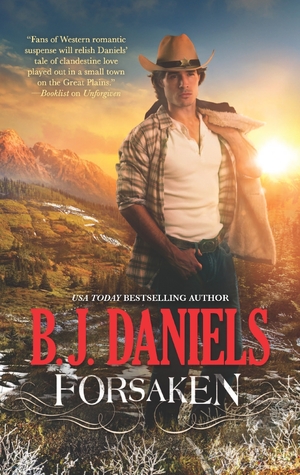 Title: Forsaken
Series: Beartooth, Montana #3
Author: B.J. Daniels
Format: Paperback, 384 pages
Published: September 24th 2013 by Harlequin HQN
Links: Goodreads | Amazon | Kindle | B&N
Source: Author
Reviewer: Linda
Rating: 5/5
Danger runs high and passions burn hot in Montana's wild country




Big-city detective Bentley Jamison is a long way from home in the Beartooth wilderness when one of local rancher Maddie Conner's ranch hands goes missing. Towering mountains and a small, tight community are as unfamiliar to Jamison as herding sheep, but he's never shied away from a challenge. As the new deputy sheriff, he's sworn to protect every inch of this rough terrain--starting with unraveling a mystery that has left Maddie a wide-open target.




Maddie's as beautiful--and untamable--as the land around them. Like Jamison, she won't back down from danger. But desire that flares hotter than their tempers only raises the stakes when a fierce storm traps them in the high mountains. Caught in a killer's sights, Jamison and Maddie must trust one another, because now survival--and love--are all that matter.
Thoughts:
FORSAKEN is the third book in B.J. Daniels' Beartooth Mountain series. The fact that I'd not read the previous two books did not affect my enjoyment of this book.
This book was actually a departure from my normal genres though I have read a few western romances in the past. However, this was so much more than a western romance. It is a combination of a romantic mystery with such gripping intrigue that I couldn't sleep until I finished it. It grabbed me from the 1st few paragraphs and never let go.
It is set in the raw Montana wilderness and the author's descriptions of the setting will have you THERE.
Her writing actually brought back very fond memories of a wonderful vacation in Yellowstone that we'd had many years ago when we had visited Gardiner, Montana as Gardiner figures prominently in the setting of this book.
The story centers around two characters: Maddie, a strong independent woman who is running a sheep-herding farm and Bentley, a greenhorn deputy sheriff and former city slicker detective.
There are other characters… but not too many as to confuse the reader. I got quite involved with each of the characters and their stories. I also loved the way the author interwove lore from the region and fascinating tidbits about sheep into the book.
As soon as I finished it, I ordered the 1st two books in this series, UNFORGIVEN and REDEMPTION. I can hardly wait to read both. I'm really looking forward to future installments in this series.
I highly recommend this book to ANYONE who loves a good story, a mystery, a rollicking western romance... I bet you'll fall in love with the region too while you read it… even if you haven't been there.