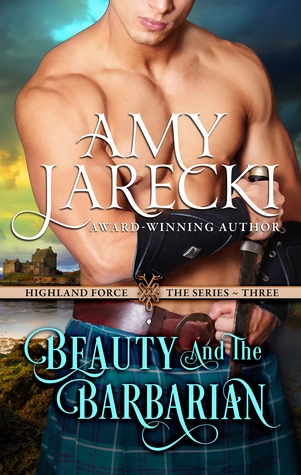 Title: Beauty and the Barbarian
Series: Highland Force #3
Author: Amy Jarecki
Published: May 28th 2014 by Rapture Books
Links: Goodreads | Amazon | B&N
Source: NetGally
Reviewer: Linda
Rating: 5/5
Born with the mark of the devil, Merrin has been hidden on the islet of Eilean Fladda for near twenty years. When the body of a Highlander washes ashore, the innocent lass presumes him dead. Brushing the hair from the rugged warrior's face, her fingers connect with warm flesh. Warm.




Ian MacLeod wakes to a woman so radiant, he believes her an angel. But when the lass recoils from him, he fears she knows of his evil deeds. While he heals, Ian is stunned when he exposes her witch's mark, yet he's spellbound by Merrin's allure. He'd do anything to erase his haunting past and earn her love.




But there's a henchman after Ian's head, and when that man learns the Highlander is still alive, the couple is forced to flee Merrin's sheltered world. Fighting for survival, destiny demands they each face their demons, but doing so may forever ruin them both.
Thoughts:
PERFECT BLEND of KILTED HIGHLANDERS, NON-STOP ACTION, HUMOR, and ROMANCE!
BEAUTY AND THE BARBARIAN is another Scottish storytelling masterpiece by Amy Jarrecki! This is the third book in her Highland Force series of sexy highlander historical romances. BEAUTY AND THE BARBARIAN can easily be read as a standalone as the story stands on its own. However, to exponentially increase your reading pleasure, I would highly recommend that the series be read in order as each have been awesome reads with interconnected characters.
This novel opens in 1584 in Scotland. Ian, our hero, is desperately racing for his life to the shore. IF he can just get in a skiff and far enough away, his pursuers will be thwarted. He makes it to a poorly camouflaged skiff, shoves it into the surf and barely eludes his chasers and their barking deerhounds. Ignoring his fatigue and frantically rowing through the driving rain and high swells, he can only just make out the outline of the island home of his Clan MacLeod. He had not seen his home since he was fourteen. Then...a single musket shot lodges in his back and blackness engulfs him.
It's just another day for Merrin, our heroine and daughter of the healer, Niall. Then she spots what appears to be a dead man lying face down on the beach near her home. He was obviously a warrior in his prime when he passed. Merrin leads a sheltered life. Her father has kept her hidden for her own safety on the isle of Fladda as Merrin was born with the mark of a witch. Her mother had died birthing her. The only men she has known are her Da, a visiting friar and plundering pirates who had flown upon seeing her mark.
The scene with Merrin and the body was one of my favorites as Merrin examined it, noticing his handsome face, blonde locks, and his chiseled buttocks visible due to his skewed kilt. This man definitely did not look like any man she had ever seen before. "Merrin knelt for a closer look. He had ballocks just like Bucky, the ram... That it surprised her - a man had ballocks - seemed odd when she considered it. How else would he breed?" She then checked his neck to find that it was WARM! He wasn't dead! The tide was rising and would sweep him out to sea if he wasn't moved from the beach. "Holy fairy feathers, why does he have to be so handsome? Why couldn't a haggard old man have washed ashore?"
I LOVED Merrin and Ian. Merrin was innocent, accepting of her lot, yet eager to experience everything. She'd never had a friend until Ian. Ian was a cutie, strong and well-muscled, a ladies' man used to being chased by the lassies. He was also chivalrous with a good heart and an accomplished bagpiper! They make an attractive couple, work well together, and the sparks between them generate some ultra-steamy romance! I enjoyed the scenes with the animals, too, especially with Gar, Merrin's dog.
There is plenty of humor within these pages too. Following are some of my favorite laugh-out-loud quotes:
"Her breath caught when his erection shot to rigid. "Merciful Father, Ye're like a stallion with a mare in heat."
"Are ye hungry?" she asked, her voice soothing.
His stomach growled. "I could cut the heart out of a stag and eat it raw."
She chuckled. "Fortunately, we do no' have to go to such extremes."
"I do no' think ye should lick me leg."
"Learning to pipe isn't easy. At first it always sounds worse than a chicken yard full of squawking adolescent roosters."
Danger and non-stop action are driven by Ian's Uncle Ruari's seemingly insatiable quest for revenge. Ruari won't be satisfied until he is presented with Ian's head and Ruari has tasked his henchman with procuring it for him. The suspense kept me biting my nails with bated breath.
Favorite characters from former books make appearances: Lady Anne, Sir Bran, Lady Enya, Friar Pat and others. If you're a fan of the series, you'll be sighing, sniffling and smiling big at some of what has evolved since the second book, THE HIGHLAND HENCHMAN.
With non-stop action, thrilling suspense, danger, beautiful settings, and well-drawn characters, this story will keep readers guessing right up to its very satisfying ending. Amy's writing is incredible. If you love Scottish romances, I highly recommend that you check out Amy's Highland Force series!
Giveaway:
The author is giving away one digital copy of this book through Smashwords. One winner will received a code to purchase this book for free. To enter, just fill out the rafflecopter below. Good luck!
a Rafflecopter giveaway