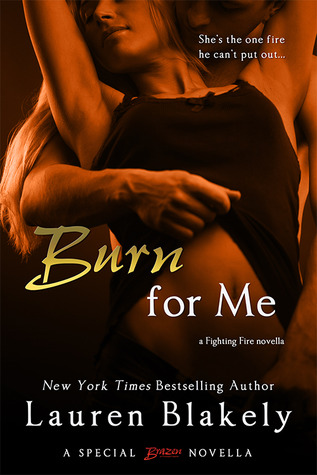 Title: Burn For Me
Series: Fighting Fire
Author: Lauren Blakely
Format: ebook, 132 pages
Publication: June 9th 2014 by Entangled: Brazen
ISBN: 1622667255
Links: Amazon | B&N | Goodreads
Source: Publisher
Reviewer: Crystal
Rating: 4/5
She's the one fire he can't put out…




Jamie Lansing has had it bad for firefighter Smith Grayson for as long as they've been friends. Yes, he's ridiculously charming and she might stare a little too long at his abs, but his dirty-talking, rough-around-the-edges ways aren't for her. Plus, she knows that as a serial dater, Smith isn't the type to settle down. But then a terrible, fantastic, mind-blowing mistake leaves her body craving more than one night.




Smith Grayson has only ever had eyes for one woman in town—his best friend Jamie. But convincing her a relationship between them will work is next to impossible with her refusing to see beyond his past. But when she asks for a week of no-strings-attached sex to get him out of her system, Smith knows this is his one chance to prove he's not just the man she needs in her bed, but the man she needs in her life.
Thoughts:
Burn For Me is a scorching
novella that is sure to light your fire!
Jamie Lansing has been tiptoeing around her attraction for firefighter and construction worker,
Smith Grayson, for years now. They have a great friendship and she doesn't want to loose that. Besides, the rough-around-the-edges southern boy isn't her type anyways. Jamie likes romance and poetry while Smith probably hasn't ever picked up a book and doesn't keep a girlfriend for more then a few weeks. But when a simple dance turns into a mind-blowing experience in a storage room, Jamie is left craving more. She can have a purely sexual relationship with Smith without involving her heart, right? After all, she has seen first hand what happens when two people who are total opposites try to make a relationship work. Smith wants more then just no-strings-attached sex with Jamie though, but if he has to use it to prove to her that he'll stick around for the long haul he is more then up for the challenge. Can he convince her that the fire between them will burn longer then just a few weeks?
Burn For Me is the definition of short and sexy! The chemistry between Jamie and Smith light up the pages. Jamie is a reserved character; her world is ordered and though she likes to have a good time as much as any girl, she never gets wild. But dirty-talking Smith makes Jamie's motor rev for more! *fans self* Smith is the star of the local fire department's calendar and if that wasn't hard enough to resist, he also volunteers at the local burn center and rescues cats from trees. Despite the novella length I felt well invested in the outcome of Smith and Jamie's relationship. It progressed at a good pace and the sex, holy hotness, I could practically see the smoke rising from my kindle. Burn For Me is the start to the
Fighting Fire series from
Lauren Blakely and I am looking forward to more stories about the rest of these sexy firemen
!