To Have and To Harm is a new adult paranormal and it is the second book in The Remedy Series and we have an excerpt to share with you!
To Have and to Harm
(Remedy #2)
by Debra Doxer
ebook, 340 pages
Published June 6th 2014
Goodreads | Amazon | B&N
She kept everyone from harm, except herself…





Raielle's life was shrouded in secrets. Her power was a secret and so was her past. When she came to Fort Upton, everything changed. She discovered her family, and she found the boy who would own her heart forever. But it couldn't last. Knowing so little about her power nearly destroyed her. She had to leave and break both their hearts.





Now she's back in California, and she doesn't have to hide who she is anymore. But there is no relief in that because she's drowning in regret. She knew it would take a miracle or a sin to save her, and there was no miracle. Her survival came at too high a price. She found her father, but she can't go back to Lucas until she finds redemption.





She saved him. Then she left him…





She came out of nowhere and changed him forever, then she disappeared and left him reeling. Her whole life, she never had anyone who really loved her. Until him. Did she think he wouldn't come for her? Did she believe she wasn't worth it?





Lucas leaves everything behind to follow Raielle. When he finds her, she's a pale shadow of the girl he remembers. Her power is betraying her and so are the people around her, but one thing hasn't changed. She selflessly wants to save the world, and he just wants to save her.





With more secrets to uncover and dark truths to face, Raielle and Lucas must make sacrifices for each other. But in the end, will those sacrifices bring them closer together or tear them apart? When he's forced to make the ultimate sacrifice, will she turn her back on everything she believes in to save him again?





~ This book is intended for mature readers due to sexual situations and strong language.
He pushes a hand through his hair, and I notice a smudge of red on his cheek. It looks like dried blood. He sees where my focus is, and his hand goes to his face. The same traces of blood appear to be on his fingers. Reaching for his arm, I ask, "What happened?" But I quickly sense that he's not hurt or cut anywhere.
My apprehension builds at his silence. I stare at him, waiting him out, wondering what his phone call could have been about to make him act this way, and begin to fear that something terrible happened.
Finally, he shifts his body in my direction and pins me in place with an ice-cold stare. "What are you still doing here?"
"Do you know what this is?" he asks, holding his red-stained hand out to me. "This is blood from where Charlie cut me with a knife while I was standing out in the hallway."
I stare at him, running his words back in my head because they make no sense.
"She came up to me and asked if you and I were exclusive. When I told her we are, she pulled out a little pocketknife and sliced my cheek open. Then she healed it while she was planting a kiss on me."
My stomach clenches as I stare at the dried blood on his face.
"And also…" He cocks his head to the side. "One of her friends took a picture of it. No doubt, they plan to show it to you at some point."
I pull his gesturing hand from the air and clutch it in both of mine. I can hardly comprehend what he's saying happened. "Are you okay?" I ask, picturing Shane's bloody sheets and realizing that cutting and healing for the pleasure of it must be a common pastime around here. My own blood starts to boil at the thought of her attacking Lucas that way.
He takes a deep breath, and I can see him visibly trying to keep calm. "I'm fine, but I'm wondering what the hell you're doing. You've been here for months. You must know what it took me less than a day to figure out."
I clutch his hand tighter, wanting nothing more than to hunt down Charlie and hurt her myself, the same way she hurt him. I never wanted Lucas exposed to any of this, but I couldn't have imagined something like that would happen. Looking at his fierce expression, I try to find the words that will make him understand something I hardly comprehend myself. "I'm here to figure out who and what I am," I explain. "It's not like I can go to the library or search on Google to find those answers. In terms of teachers, my options are limited."
His lips draw together in a straight line. "You know who you are and so do I. You don't need these people for that."
Frustration and a sense of desperation build inside me. "Yes, I do. I almost got myself killed trying to heal Penelope, and look how I hurt you this morning. It's dangerous to have this power inside me and not know what the hell I'm doing with it. I don't want to just turn it off anymore. I'm like this for a reason. I have to understand how it works. And for the first time in my life, the answers are within reach. I need those answers. I can't leave here without them."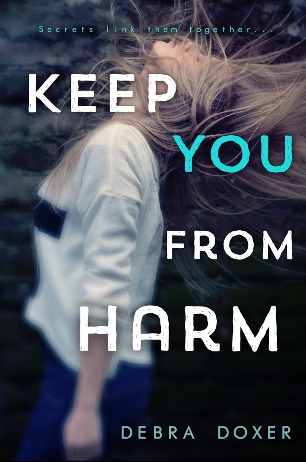 Keep You from Harm (Remedy Series, #1) by Debra Doxer
Debra Doxer Bio:
Debra Doxer was born in Boston, and other than a few lost years in the California sunshine, she has always resided in the Boston area. She writes fiction, technical software documents, illegible scribbles on sticky notes, and texts that get mangled by AutoCorrect. She writes for a living, and she writes for fun. When her daughter asks when she'll run out of words, her response always is, "When I run out of time."
Twitter: twitter.com/debradoxer
Facebook: www.facebook.com/AuthorDebraDoxer
Author Goodreads: www.goodreads.com/author/show/6876249.Debra_Doxer
Tour-Wide Giveaway:
a Rafflecopter giveaway