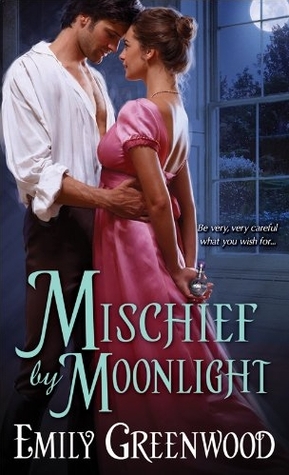 What fun is an evening with wine and company without a little...mischief? Let's ask our guest today, welcome Emily Greenwood!
I'm excited to be here today, and thank you for the warm welcome! Just pouring a glass of chilled white wine so I can join you.
Lexi: Mischief #3 is out! I love the titles of this series; A Little Night Mischief, Gentlemen Prefer Mischief and Mischief by Moonlight. Did you have these titles in mind when you completed book one?
Actually, A Little Night Mischief was originally called Haunting James, which is the title it had when it finalled in the 2008 Golden Heart. Then I got an agent and she suggested I make the book into a series, and I needed to come up with a unifying theme and titles. That first book had the heroine getting up to some playful trouble, and I realized I wanted each of the books to have something like that, and that's when I thought of the mischief theme.
Lexi: Perfect titles to fit the fun flirty stories they hold. I love Regency Romance light and humorous, and your Mischief series is just that. First we got James Collington, then Viscount Roxham aka Lord Perfect. Now we get Colin! *dreamy sigh* So far what book has been the most fun to write?
An interesting question! In some ways, the first book was the most fun, because I had no idea what was doing, LOL. Then, as I began to understand more about craft, I realized how much work I had left to do. I would say each of the books has had parts that were really fun to write and parts that were exasperating. I really enjoyed writing Lily's journal entries in Book 2, for example. With Book 3, I was pretty entertained by working on the struggles of my hero, Colin, the Earl of Ivorwood, who's in love with his best friend's fiancée, Josie Cardworthy. Does this make me cruel? ☺
Lexi: Fun, humor, mischief. Each word describes your writing. Do you feel like it takes work to craft your stories in this tone? Or does it flow naturally?
Aww, thank you ☺ The tone pretty much comes out that way, but only if the story is working. If there's something wrong with the plot, I will often notice it because the tone feels weird. It takes a lot of work for me to get the plot and pacing right.
Lexi: Your series seems to match your personality, or what one can gleam from online stalking and brief chats via interviews. *toasts wine glass Emily's direction* I hope you have had some fun fan moments. Any cute ones you want to share? Or embarrassing, we like embarrassing too.
The fun fan moments have pretty much been meeting lovely readers at book signings or online and hearing that they really liked my books. For me that's one of the best parts of writing, hearing that my story has made someone smile or touched them in some way.
I will say, though, that I find it pretty darn embarrassing when my girlfriends' husbands tell me they're reading my books. Not that I think there's anything odd about men reading romance, but most of these guys would never otherwise read a story that's so relationship-focused. They always want to suggest extra-racy titles and story lines I should use for my next book, LOL.
Lexi: You are still relatively new to the book scene. It has been about a year since your debut of A Little Night Mischief. Does it feel like a year?
You know, it has gone by so fast. There's been so much to learn –how to work with a publisher, how to write faster, how to use Facebook, how to become less introverted ☺.
Lexi: Thanks for stopping by Emily and sharing some about your delightful Regency romance Mischief by Moonlight! Congrats!!
Thank you so much for having me here, Lexi *toasts gracious hostess*. It's been a treat!
Mass Market Paperback, 384 pages
Published June 3rd 2014 by Sourcebooks Casablanca
With the night so full of romance...





Colin Pearce, the Earl of Ivorwood, never dreamed he'd desire another man's fiancée, but when his best friend goes off to war and asks Colin to look after the bewitching Josie Cardworthy, he falls under her sparkling spell.





Who can resist mischief?





Josie can't wait for the return of her long-absent fiancé. If only her beloved sister might find someone, too...someone like the handsome, reserved Colin. A gypsy's love potion gives Josie the chance to matchmake, but the wild results reveal her own growing passion for the earl. And though fate offers them a chance, a steely honor may force him to reject what her reckless heart is offering...
Emily Greenwood worked for a number of years as a writer, crafting newsletters and fundraising brochures, but she far prefers writing playful love stories set in Regency England, and she thinks romance is the chocolate of literature. A Golden Heart finalist, she lives in Maryland with her husband and two children.-Author website: http://emilygreenwood.net/
GIVEAWAY:
Sourcebooks is giving away copy of Mischief by Moonlight to one US/CA reader. To enter, please leave a comment or question for Emily on this post and then fill out the rafflecopter below. Good luck!
a Rafflecopter giveaway