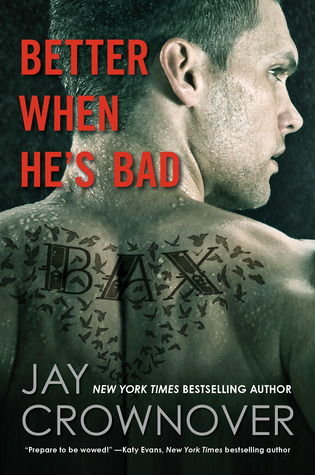 Title: Better When He's Bad
Series: Welcome to the Point #1
Author: Jay Crownover
Format: eBook/Paperback, 384 pages
Published: June 17th 2014 by William Morrow
ISBN: 0062351893
Links: Goodreads | Amazon | Kindle | Audible | B&N
Source: edelweiss
Reviewer: Crystal
Rating: 4/5
Welcome to the Point



There's a difference between a bad boy and a boy who's bad . . . meet Shane Baxter.





Sexy, dark, and dangerous, Bax isn't just from the wrong side of the tracks, he is the wrong side of the tracks. A criminal, a thug, and a brawler, he's the master of bad choices, until one such choice landed him in prison for five years. Now Bax is out and looking for answers, and he doesn't care what he has to do or who he has to hurt to get them. But there's a new player in the game, and she's much too innocent, much too soft…and standing directly in his way.





Dovie Pryce knows all about living a hard life and the tough choices that come with it. She's always tried to be good, tried to help others, and tried not to let the darkness pull her down. But the streets are fighting back, things have gone from bad to worse, and the only person who can help her is the scariest, sexiest, most complicated ex-con The Point has ever produced.





Bax terrifies her, but it doesn't take Dovie long to realize that some boys are just better when they're bad.
Thoughts:
Shane Baxter makes being bad look oh so good!
After spending the last five years behind bars, Shane "Bax" Baxter is finally free and he's looking for answers. Someone set him up. Someone is going to pay. Even if it ends up being his best friend who pays that price. But instead of answers, Bax finds Dovie Pryce, his best friend Race's sister. A red-headed spitfire in baggy clothes with a will of iron. Bax knows Dovie is too good for him but he can't keep his hands off her. And Dovie is determined to show Bax that he is more then a convicted felon with a desolate future. Bax isn't the only one searching for answers though, and the thugs of The Point aren't above using a woman to get them.
This series didn't just start off with a bang, it started off with the guttural revving of a Runner in
Better When He's Bad
!
Bax is the
quintessential antihero. He lives hard, he lives fast, and he makes no apologies for either. He was born, raised, and will probably die in The Point. A dark and gritty cesspool of poverty and crime that could be any 'wrong-side of the tracks' town around. In The Point, there is no black and white, only grey. And Bax thrives in those shadows. The only light in his life is Dovie. She may have grown up under similar circumstances as Bax but her innocence and sweetness somehow remained intact.
Bax and Dovie are two wonderful examples of life's little crossroad that a lot of us have to face in reality. Do you A.) Enter adulthood as you were raised, following some predetermined plan the world has set out for you, making the same mistakes as maybe your parents? Or do you B.) Rise above it; strike out from the mold fate built for you at birth, and make a new path for yourself? Bax followed one course while Dovie is determined to follow another. They may both be from the wrong side of the tracks, but Dovie isn't letting some rusty piece of metal stand in her way.
I really liked both of these characters and how the story danced
between Bax's and Dovie's point of views
. They were complete opposites from each other but somehow they fit. And the main reason for that was Dovie's flexible nature. She accepted both sides of Bax; because there is Bax, and there is Shane. Shane is the good in Bax's bad. Dovie never tried to change Bax, but she did try to show him that he was more then just bad. Sure, he was a criminal and made no bones about it. But he was also fiercely loyal to those he cared about and would literally give his own life for Dovie.
Better When He's Bad has a fast-paced plot flush with steamy romance and heart-racing action, relateable characters and well written world-building rounded out the book making an exciting read.
Jay Crownover is a master at weaving captivating tales about sexy, tattooed-up bad boys with that soft underbelly they keep hidden behind steel from the rest of the world. I'm a big fan of her Marked Men series and if you are too- or just love sexy bad boys with hard pasts, lot of tattoos, who may or may not be redeemable - then I suggest that you pick up
Better When He's Bad
today!