Tuesdays have never been so sexy!
Sexy Snippets is a weekly feature hosted by Reading Between the Wines for the 18+ crowd. Want to join in? Just grab the button, post a sexy paragraph or two from your current read and share the author & title so other participants can add the book to their TBR list if they like, and then leave a comment with a link to your post. And don't forget to have a sexy good time!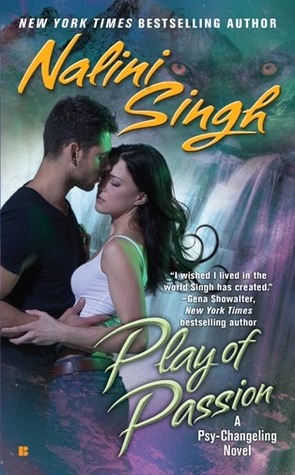 "What," she said on a gasping breath, "are you doing?"




"I'd thought it's be obvious." Laughter in his eyes, the lake seared by sunshine as his thumbs stroked over her cheekbones. "I want to lick you up right now."




She didn't take it personally. "You're high on adrenaline from the hunt." Pushing off his hands, she angled her head. "And loss of blood." It ran a clean, water-diluted line down his side. "You definitely need stitches."




"No, I don't." He kissed her again, pushing her down to the earth.




This time, she didn't back away at once. And got the full impact of the kiss...and of the rigid arousal nudging at the sensitive dip of her abdomen. Her heartbeat accelerated, startling her enough that she bit hard at his lip. "It's cold down here." Though the snow had melted away in this part of the range, the Sierra Nevada retained the chill kiss of winter even in the blush of spring.




A repentant look. She found herself on top an instant later. Still being kissed. Groaning at the stubborn wolf - who could kiss so insanely well that she was tempted to let him have at it - she pushed at his shoulders. "Get up before you die of blood loss, you lunatic."




A scowl. And then Drew kissed her again.
Buy it now at
Amazon
,
ARe
, and
B&N
!
Or add to your Goodreads shelf today!