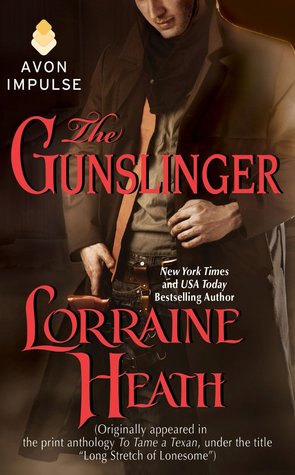 Title: The Gunslinger
Author: Lorraine Heath
Format: ebook, 250 pages
Expected publication: June 24th 2014 by Avon Impulse
First published: March 1st 1999
Links: Goodreads | Amazon | B&N
Source: Publisher
Reviewer: Crystal
Rating: 4/5
A hired gun falls for the one woman who's completely wrong for him in this Western romance from New York Times and USA Today bestselling author Lorraine Heath.





Chance Wilder never wanted to be a hero. A road-weary gunslinger with a ruthless reputation, he focuses only on his next target—and his next payday. That is, until a young boy offers Chance everything he owns—a piece of string, a harmonica, and a bent penny—if he'll save his sister from a couple of thugs. Chance agrees, only to discover that the beautiful, fierce young woman in need of rescue is actually the very person he's been hunting: his next mark.





But after he saves her, Lillian Madison awakens in him long-buried dreams and possibilities. Facing the demons of his past, Chance is forced to question his next move. Dare he risk everything by following his heart … and trust that the road to redemption begins with Lillian?





Originally appeared in the print anthology To Tame a Texan, under the title Long Stretch of Lonesome.
Thoughts:
Lorraine Heath effortlessly transports readers to the past in her novella, The Gunslinger. Where showdowns at noon, bank robberies, and cattle rustling is what made the old west as we know it so wild.
Chance Wilder has been running from his past for close to a decade now, making his money as a hired gun with a deadly aim. When he comes upon his next target though his world is turned upside down by one little boy's request and the stubborn independence of a beautiful young woman.
The Gunslinger is a wonderful novella set in the old west with a sexy, yet tortured, gunslinger and a woman misunderstood. A lot of times novellas are hit or miss with me but this one was definitely a hit out of the ball park!
I absolutely love stories about sexy, hired gunmen in the old west, ever since reading my first one from
Johanna Lindsey, Angel.
This is my first book from author
Lorraine Heath though
and I have to say that I enjoyed it immensely. As I understand it she has another western romance series, Texas Trilogy (not connected I don't believe
) that I will be checking out if it is anything like this novella! The story moved at a good pace and the writing drew me in. Everything is not what it seems at first and the little twists in the plot were entertaining and kept me turning the pages.
Lillian and Chance's love story captivated me and Lil's little brother, Toby, was a delight. I just wish the story was longer, by the beautiful ending I still wanted more! If you love historical romances I would recommend you picking up The Gunslinger when it releases June 24th!