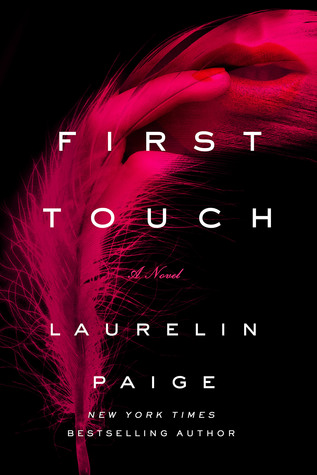 Title
: First Touch
Series
: First and Last #1
Author
: Laurelin Page
Format
: Paperback & eBook, 384 pgs
Published
: Dec. 29, 2015 by St. Martin's Griffin
ASIN
: B00UFS7C1M
Links
:
Goodreads
|
Amazon
|
B&N
Source
: Netgalley
Reviewer
: Kimberly
Rating
: 3.6 out of 5 Wine Glasses
When Emily Wayborn goes home to visit her mom while on hiatus from her hit TV show, she receives a voicemail from her former best friend, Amber. Though the two were once notorious party girls, they haven't spoken in years. Although the message might sound benign to anyone else, Amber uses a safe word that Emily recognizes, a word they always used to get out of sticky situations during their wild days. And what's more chilling than the voicemail: it turns out that Amber has gone missing.

Determined to track down her friend, Emily follows a chain of clues that lead her to the enigmatic billionaire Reeve Sallis, a hotelier known for his shady dealings and play boy reputation. Now, in order to find Amber, Emily must seduce Reeve to learn his secrets and discover the whereabouts of her friend. But as she finds herself more entangled with him, she finds she's drawn to Reeve for more than just his connection to Amber, despite her growing fear that he may be the enemy. When she's forced to choose where her loyalty lies, how will she decide between saving Amber and saving her heart?
Kimberly's Thoughts:
A months old innocuous phone message from a friend, that Emily hasn't talked to in six years, starts her down a dark and winding path. When Emily's mentally ill mother tells her she has a phone message from Amber for her, Emily thinks this must be one of the numerous times she is confused. It's been six years since Emily has heard from Amber and the way their friendship ended, she didn't ever expect to hear from her again. The message is short but when Amber speaks two little words, "blue raincoat", their code for needing help, Emily knows that she must find her. Attaching herself to Amber's last boyfriend, billionaire Reeve Sallis, seemed like the best plan but when Emily finds herself being drawn to him beyond her command, her world starts to spiral out of control. Drugs, sex, punishments, unexplained deaths, and lies swirl around Emily, dragging her down farther into Reeve's world. Finding Amber was Emily's goal and now she just hopes not to lose herself.
Her with no name, me with no face
Emily met Amber when she was seventeen, neither had ideal childhoods. Emily's mother was mentally ill with no father in the picture and Amber's mother was a crack addict and her father began raping her when she was nine years old until she ran away when she got older. If you couldn't tell from the beginning introductions to our characters, this is a story of uncomfortable realities. Things only get darker from here on out and if you're not wanting to swim in the muck, this erotic puzzle is not for you. We are told in sporadic flashbacks how Emily and Amber meet and how Amber grooms Emily to be a sugar baby with her, taking care of and sleeping with rich men for money and luxury items, or how they put it "value for value". Neither would say Amber grooms Emily and there doesn't seem to be planned maliciousness behind Amber. Amber's early sexual trauma obviously shaped her views and her genuine caring for Emily has her wanting Emily at her side, exchanging sex is her way of getting the life she wants. After a blow up where Amber doesn't believe Emily's side of a story, the two part ways for six years. Emily leaves the life of a sugar baby and becomes an actress on a hit tv show, where only her voice is used and Amber remains arm candy for rich men.
"He was an asshole and I was turned on."
Amber's use of their safe word has Emily immediately going to the cops but without much to go on, a detective gives the name of a private investigator, Joe, to Emily. Joe relays that Amber was dating billionaire Reeve, who may have killed a girlfriend long ago and may have ties to the Greek mob, he tells her its better not to get involved. Emily insists he keeps looking and decides to get close to Reeve herself. Reeve started off as a very closed off and cool character, we the readers are never able to get a solid read on him. When he gets incredibly controlling and exhibits more extreme dominant sexual behavior toward Emily, I was worried I was about to embark into fifty shades territory. What makes this story different and vastly better is how Emily's character is written. She likes the dominance and his more extreme sexual side and by likes, I mean she craves it. The majority of their relationship and the story is Emily learning to enjoy that side of herself without the shame and Reeve discovering that Emily has no limits and how this makes not only her submission to him a gift but his dominance to her a gift. This, of course, makes this story highly sexualized and provides physical scenes that a lot will not be comfortable with but what impressed me, was how psychological it all was. For Emily, there was no sexual trauma in her past to "make" her crave the more taboo side of sex, it's just the way she is and what she likes, even when she battles the shame of society's strictures. This construction of a submissive character was fresh, intriguing, and provoking. It also made Emily and Reeve's relationship gripping, arousing, and formidable.
"The problem with men who are actually a threat, though, Emily, is that you don't ever find out how unsafe they are until it's too late."
The sexual relationship between Reeve and Emily give this story its heat while the mystery behind Amber's disappearance gives it, its chill. Secondary characters like the private detective Joe and Chris, a friend of Emily's who knew a woman Reeve is rumored to have killed, work to convince Emily to stay away from Reeve, while her feelings for him have her working to get closer. The dichotomy of getting close to Reeve for Amber's sake and getting close to him for her own sake constantly shreds Emily apart. Each piece of information Emily uncovers about Reeve, the biggest danger seeming to be his connections to the Greek mob, have the reader growing colder as Emily still insists on getting closer to him. As I said earlier, Reeve's character stays fairly well hidden, towards the end of the story more of him is revealed through his interactions with Emily but a lot is still left to uncover. Yes, this ends on a cliffhanger and why I can't disclose more of my feelings on Amber's disappearance story arc. I don't know it all yet and I also don't want to spoil the puzzle for you all as some pieces are easy to spot and others will surprise you.
If you're willing to sink into the story, you'll find the writing well done with debauched sexual overtones, a shadowy atmosphere, and a pace that will coerce you to keep reading. The middle got a little long with the back and forth should she or shouldn't she in regards to Reeve; I felt 10% or so of the story could have been trimmed out. Overall, this was a highly compelling read; just make sure you can handle against the norm intense sexual scenes and a cliffhanger. This story is the equivalent of silk stockings with a dagger in the garter and red wine laced with arsenic.