Title
: A Whisper of Desire
Series
: Disgraced Lords #4
Author
: Bronwen Evans
Format
: eBook, 273 pgs
Published
: Dec. 1, 2015 by Loveswept
ASIN
: B00O02CBJ2
Links
:
Goodreads
|
Amazon
Lady Marisa Hawkstone's nightmare is just beginning when she wakes up naked, with no memory of the night before, lying next to Maitland Spencer, the Duke of Lyttleton—a man so aloof and rational, he's nicknamed "the Cold Duke." A scandal ensues, in which Marisa's beloved beau deserts her. As a compromised woman, Marisa agrees to marry Maitland. But on her wedding night, Marisa discovers the one place the duke shows emotion: in the bedroom, where the man positively scorches the sheets.

Taught from a young age to take duty seriously, Maitland cannot understand his new wife's demands on his love and affection. Marisa's hot-blooded spirit, however, does have its attractions—especially at night. In retrospect, it seems quite silly that he didn't marry sooner. But being one of the Libertine Scholars requires constant vigilance, even more so when the enemy with a grudge against his closest friends targets Marisa. Now Maitland must save the woman who sets his heart aflame—or die trying.
Oblivion
(Lux #1.5)
by Jennifer L. Armentrout
Paperback, 350 pages
Published December 1st 2015 by Entangled Teen
Experience the epic love story of OBSIDIAN as told by its hero, Daemon Black…

I knew the moment Katy Swartz moved in next door, there was going to be trouble. Lots of it.

And trouble's the last thing I need, since I'm not exactly from around here. My people arrived on Earth from Lux, a planet thirteen billion light years away. Plus, if there's one thing I know, it's that humans can't be trusted. We scare them. We can do things they only dream about, and honestly, we make them look weak as hell. 'Cuz they are.

But Kat is getting to me in ways no one else has, and I can't stop myself from wanting her—or wanting to use my powers to protect her. She makes me weak, and I'm the strongest of our kind, tasked with protecting us all. So this one simple girl…she can mean the end for us. Because the Luxen have an even bigger enemy—the Arum, and I need to stay on my game.

Falling for Katy—a human—won't just place her in danger. It could get us all killed, and that's one thing I'll never let happen...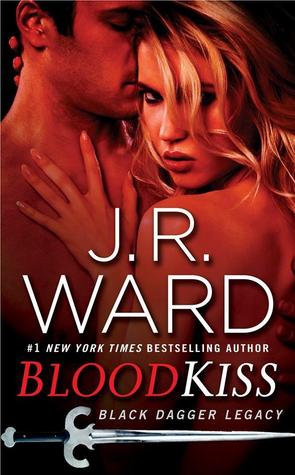 Blood Kiss
(Black Dagger Legacy #1)
by J.R. Ward
Paperback, 496 pages
Published December 1st 2015 by Signet
ISBN 0451475321
The legacy of the Black Dagger Brotherhood continues in a spin-off series from the #1 New York Times bestselling author…

Paradise, blooded daughter of the king's First Advisor, is ready to break free from the restrictive life of an aristocratic female. Her strategy? Join the Black Dagger Brotherhood's training center program and learn to fight for herself, think for herself…be herself. It's a good plan, until everything goes wrong. The schooling is unfathomably difficult, the other recruits feel more like enemies than allies, and it's very clear that the Brother in charge, Butch O'Neal, a.k.a. the Dhestroyer, is having serious problems in his own life.

And that's before she falls in love with a fellow classmate. Craeg, a common civilian, is nothing her father would ever want for her, but everything she could ask for in a male. As an act of violence threatens to tear apart the entire program, and the erotic pull between them grows irresistible, Paradise is tested in ways she never anticipated—and left wondering whether she's strong enough to claim her own power…on the field, and off.
Target Engaged
(Delta Force #1)
by M.L. Buchman
Mass Market Paperback, 384 pages
Published December 1st 2015 by Sourcebooks Casablanca
ISBN 1492619221
Kyle Reeves was trained by his father to do one thing: be the very best. So he isn't daunted by the Delta Force selection process—the toughest military training on earth—or when the very best woman falls into his arms.

Carla Anderson buried her heart in Arlington when she lost her mother and brother to combat. She wants nothing more than to give her all in the line of duty until she too is laid down beside them, and Delta training might just be the challenge she's looking for. Little did she know, the true challenge was coming in the shape of a sexy, alpha-male military operative.

Surviving brutal training is just the beginning of the merciless path to Delta, but it's also the dawn of the hottest passion Kyle and Carla have ever known…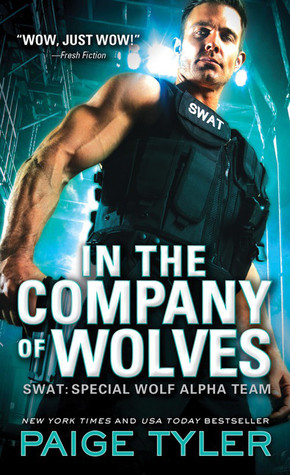 In the Company of Wolves
(SWAT: SPECIAL WOLF ALPHA TEAM #3)
by Paige Tyler
Mass Market Paperback, 352 pages
Published December 1st 2015 by Sourcebooks Casablanca
ISBN 149260853X
He opened his mouth to order her to drop the MP5 she had aimed at him, but nothing would come out. It was like she'd robbed him of the ability to speak. Shooting her wasn't an option, though. And the idea of arresting her didn't make him feel any better.

There's a new gang of criminals in town who are organized and ruthless in the extreme. When Eric Becker, along with the rest of the Dallas SWAT team, ends up in the middle of a shootout, he immediately senses werewolves-a lot of them. Turns out, the new bad guys are a pack of wolf shifters.

In a spray of gunfire, Becker comes face-to-face with the most gorgeous woman he's ever seen. Becker does the logical thing. He hides her and leaves the scene with the rest of his team.

Jayna Winston has no idea why that SWAT guy helped her, but she's glad he did. Ever since she and her pack mates got mixed up with those Eastern European mobsters, everything had pretty much fallen apart.

So what's a street-savvy thief like Jayna going to do with a hot alpha-male wolf who's a police officer?
Forgetting August
(Lost & Found #1)
by J.L. Berg
ebook, 384 pages
Published December 1st 2015 by Grand Central Publishing
ISBN 1455536717
She can forgive, but can she forget?

Some days, Everly still thinks she sees him. In the food court at the mall, or in a car speeding past as the light changes. It only lasts a second, but when it happens, she slips back to a time when she was ruled-and nearly ruined-by August Kincaid. And it doesn't matter that she's moved on, that she's about to marry another man. In those moments the only thing she can do to regain control is take a deep breath and remind herself that August can't hurt her-because he's in a coma. Except that he's not anymore.

August is awake. With no memories, he sets out to solve the mystery of his lost life. He unearths a photograph of a beautiful redhead named Everly and knows instinctively that she's the key. But when he finds her, the August she describes is more monster than man.

Tortured by the thought of having hurt her, August wants only to become the man Everly deserves. As the new August emerges, Everly glimpses the person she first fell in love with. But can she trust that this August is real? When the final secret of their shared past is revealed, one of them will make a choice that changes their future forever . . .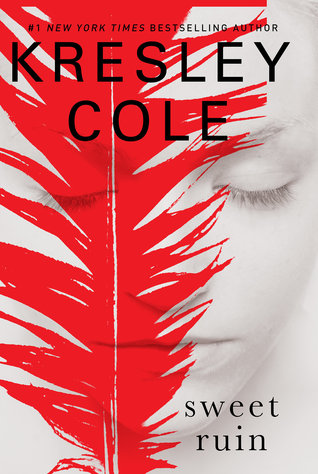 Sweet Ruin
(Immortals After Dark #16)
by Kresley Cole
Kindle Edition, 1st Edition, 384 pages
Published December 1st 2015 by Gallery Books
ASINB00X411574
An immortal assassin is caught between desire and duty...

A foundling raised in a world of humans

Growing up, orphaned Josephine didn't know who or what she was—just that she was "bad," an outcast with strange powers. Her baby brother Thaddeus was as perfect as she was flawed; protecting him became her entire life. The day he was taken away began Jo's transition from angry girl... to would-be superhero... to enchanting, ruthless villain.

A lethally sensual enforcer on a mission

A threat to the Møriør has brought archer Rune the Baneblood to the mortal realm to slay the oldest living Valkyrie. Whether by bow or in bed, he never fails to eliminate his target. Yet before he can strike, he encounters a vampiric creature whose beauty conceals a black heart. With one bite, she pierces him with aching pleasure, taking his forbidden blood - and jeopardizing the secrets of his brethren.

A boundless passion that will lead to sweet ruin...

Could this exquisite female be a spy sent by the very Valkyrie he hunts? Rune knows he must not trust Josephine, yet he's unable to turn her away. Despite his millennia of sexual conquests, he can't ignore the unfamiliar longing she arouses deep within him. When Jo betrays the identity of the one man she will die to protect, she and Rune become locked in a treacherous battle of wills that pits ultimate loyalty against unbridled lust.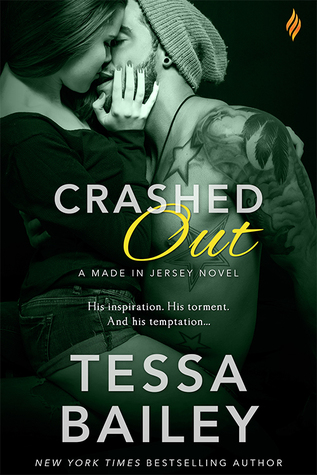 Crashed Out
(Made in Jersey #1)
by Tessa Bailey
Expected publication: December 7th 2015
Title
: Hunted
Series
: FBI #1
Author
: Marissa Garner
Format
: Paperback & eBook, 279 pgs
Published
: Dec. 8, 2015 by Forever Yours
ASIN
: B017RQSNXU
Links
:
Goodreads
|
Amazon
For San Diego's elite FBI agents, risking their lives is standard procedure when it comes to capturing the city's most dangerous criminals-but falling in love is the greatest risk of all.

Catching bad guys in San Diego's underworld isn't just FBI Special Agent Ben Alfren's job, it's his life. He doesn't have time for a serious relationship, doesn't want one either. So when he meets his sexy new neighbor, Amber Jollett, he has nothing more in mind than unwinding with a glass of wine, a romantic walk on the beach...and maybe a hot fling.

But Amber is more than he bargained for. Her job as a nurse has brought her face-to-face with women caught in a human trafficking ring, women she's determined to help. As Ben and Amber plot to rescue the women, the attraction between them flares into passion. But they'll learn that in this dangerous game of cat and mouse, real love can save - or doom - them . . .
Title
: Lord Dashwood Missed Out
Series
: Spindle Cove #4.5
Author
: Tessa Dare
Format
: Paperback & eBook, 103 pgs
Published
: Dec. 8, 2015 by Avon Impulse
ASIN
: B014165ZLM
Links
:
Goodreads
|
Amazon
A snowstorm hath no fury like a spinster scorned!

Miss Elinora Browning grew up yearning for the handsome, intelligent lord-next-door…but he left England without a word of farewell. One night, inspired by a bit too much sherry, Nora poured out her heartbreak on paper. Lord Dashwood Missed Out was a love letter to every young lady who'd been overlooked by gentlemen—and an instant bestseller. Now she's on her way to speak in Spindle Cove when snowy weather delays her coach. She's forced to wait out the storm with the worst possible companion: Lord Dashwood himself.

And he finally seems to have noticed her.

George Travers, Lord Dashwood, has traveled the globe as a cartographer. He returned to England with the goal of marrying and creating an heir--only to find his reputation shredded by an audacious, vexingly attractive bluestocking and her poison pen. Lord Dashwood Missed Out, his arse. Since Nora Browning seems to believe he overlooked the passion of a lifetime, Dash challenges her to prove it.

She has one night.again.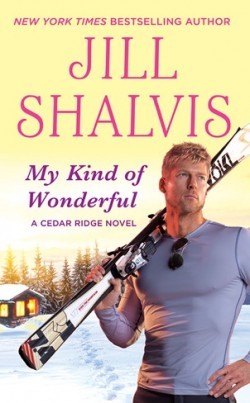 Title
: My Kind of Wonderful
Series
: Cedar Ridge #2
Author
: Jill Shalvis
Format
: Paperback & eBook, 368 pgs
Published
: Dec. 22, 2015 by Grand Central Publishing
ASIN
: B00W22IKD8
Links
:
Goodreads
|
Amazon
UNEXPECTED AND UNDENIABLE...

Bailey Moore has an agenda: skiing in the Rockies, exploring castles in Europe, ballroom dancing in Argentina. Now that she has a second lease on life, she's determined not to miss a thing. What she doesn't realize is that item #1 comes with a six-foot-one ski god hot enough to melt a polar ice cap. She doesn't want to miss out on him either, but Hudson Kincaid isn't the type of guy to love and let go. And as gorgeous as Cedar Ridge is, she's not planning to stick around.

As head of ski patrol at his family's resort, Hud thinks he's seen it all. But never has he run into someone like Bailey. She might look delicate, but her attitude is all firecracker. And her infectious joy touches something deep within him that he's been missing far too long. Now he'll just have to convince Bailey to take a chance on her biggest adventure yet . . . something rare and all kinds of wonderful.
Title
: Altered
Author
: Marnee Blake
Format
: eBook, 277 pages
Published
: Dec. 28, 2015 by Entangled: Embrace
ASIN
: B0176OI3EC
Links
:
Goodreads
|
Amazon
When "normal" ends, survival begins...

The sickness came on suddenly and violently. When it was done, waitress Blue Michaels was different in a really strange way. And the entire town of Glory was dead...except for her.

Only that's not exactly true. A handful of people made it, including U.S. Army Specialist Seth Campbell, who was caught in the wrong town at the worst time. He's fierce and protective, and way too good-looking. As much as they need a leader—as much as Blue wants to trust him—there are too many questions and not enough time for answers. Now they are hunted. But what their pursuers don't know is each of them has strange new powers. And they'll use their "gifts" to survive...no matter who stands in their way.
Title
: The Rogue Not Taken
Series
: Scandal and Scoundrel #1
Author
: Sarah MacLean
Format
: Paperback & eBook, 432 pgs
Published
: Dec. 29, 2015 by Avon
ASIN
: B00U1TTB7S
Links
:
Goodreads
|
Amazon
LADY SOPHIE'S SOCIETY SPLASH

The youngest of the infamous Talbot sisters scandalized society at the Liverpool Summer Soiree, striking her sister's notoriously philandering husband and landing him backside-first in a goldfish pond. And we thought Sophie was the quiet one…

When she finds herself the target of very public aristocratic scorn, Sophie Talbot does what she must to escape the city and its judgment—she flees on the back of a carriage, vowing never to return to London…or to society. But the carriage isn't saving her from ruin. It's filled with it.

ROYAL ROGUE'S REIGN OF RAVISHMENT!

The Marquess of Eversley was espied descending a rose trellis—escaping an irate Earl and his once-future countess. No lady is safe from Eversley's Engagement Ending Escapades!

Kingscote, the Marquess of Eversley, has never met a woman he couldn't charm, a quality that results in a reputation far worse than the truth, a furious summons home, and a long, boring trip to the Scottish border. When King discovers stowaway Sophie, however, the trip becomes anything but boring.

WAR? OR MORE?

He thinks she's trying to trick him into marriage. She wouldn't have him if he were the last man on earth. But carriages bring close quarters, dark secrets, and unbearable temptation, and suddenly opposites are altogether too attractive…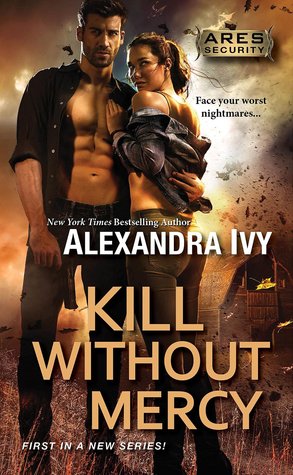 Title
: Kill Without Mercy
Series
: ARES Security #1
Author
: Alexandra Ivy
Format
: Paperback & eBook, 368 pgs
Published
: Dec. 29, 2015 by Zebra
ASIN
: B00VQFKG4I
Links
:
Goodreads
|
Amazon
From the hellhole of a Taliban prison to sweet freedom, five brave military heroes have made it home—and they're ready to take on the civilian missions no one else can. Individually they're intimidating. Together they're invincible. They're the men of ARES Security.

Rafe Vargas is only in Newton, Iowa, to clear out his late grandfather's small house. As the covert ops specialist for ARES Security, he's eager to get back to his new life in Texas. But when he crosses paths with Annie White, a haunted beauty with skeletons in her closet, he can't just walk away—not when she's clearly in danger…

There's a mysterious serial killer on the loose with a link to Annie's dark past. And the closer he gets, the deeper Rafe's instinct to protect kicks in. But even with his considerable skill, Annie's courage, and his ARES buddies behind him, the slaying won't stop. Now it's only a matter of time before Annie's next—unless they can unravel a history of deadly lies that won't be buried.
Title
: Dukes Prefer Blondes
Series
: Dressmakers #4
Author
: Loretta Chase
Format
: Paperback & eBook, 384 pgs
Published
: Dec. 29, 2015 by Avon
ASIN
: B0105SAHN6
Links
:
Goodreads
|
Amazon
Biweekly marriage proposals from men who can't see beyond her (admittedly breathtaking) looks are starting to get on Lady Clara Fairfax's nerves. Desperate to be something more than ornamental, she escapes to her favorite charity. When a child is in trouble, she turns to tall, dark, and annoying barrister Oliver Radford.

Though he's unexpectedly found himself in line to inherit a dukedom, Radford's never been part of fashionable society, and the blonde beauty, though not entirely bereft of brains, isn't part of his plans. But Clara overwhelms even his infallible logic, and when wedlock looms, all he can do is try not to lose his head over her.

It's an inconvenient marriage by ordinary standards, but these two are far from ordinary. Can the ton's most adored heiress and London's most difficult bachelor fall victim to their own unruly desires?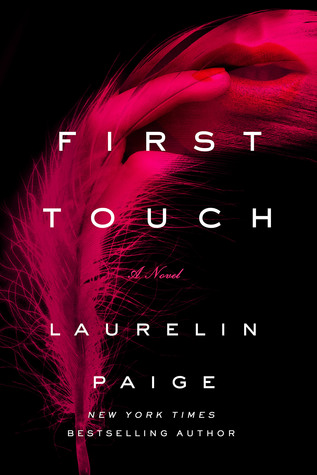 Title
: First Touch
Series
: First and Last #1
Author
: Laurelin Page
Format
: Paperback & eBook, 384 pgs
Published
: Dec. 29, 2015 by St. Martin's Griffin
ASIN
: B00UFS7C1M
Links
:
Goodreads
|
Amazon
When Emily Wayborn goes home to visit her mom while on hiatus from her hit TV show, she receives a voicemail from her former best friend, Amber. Though the two were once notorious party girls, they haven't spoken in years. Although the message might sound benign to anyone else, Amber uses a safe word that Emily recognizes, a word they always used to get out of sticky situations during their wild days. And what's more chilling than the voicemail: it turns out that Amber has gone missing.

Determined to track down her friend, Emily follows a chain of clues that lead her to the enigmatic billionaire Reeve Sallis, a hotelier known for his shady dealings and play boy reputation. Now, in order to find Amber, Emily must seduce Reeve to learn his secrets and discover the whereabouts of her friend. But as she finds herself more entangled with him, she finds she's drawn to Reeve for more than just his connection to Amber, despite her growing fear that he may be the enemy. When she's forced to choose where her loyalty lies, how will she decide between saving Amber and saving her heart?
Untouchable Darkness
(The Dark Ones Saga #2)
by Rachel Van Dyken
Expected publication: December 29th 2015
Mastered
(The Enforcers #1)
by Maya Banks
Paperback, 368 pages
Expected publication: December 29th 2015 by Berkley
ISBN 0425280659
From the #1 New York Times bestselling author of the Breathless Trilogy comes the first novel in the Enforcers series—a bold new direction in erotic romance that explores the games men and women play, and the price they're willing to pay for pleasure.
What he wants, he takes with no remorse or guilt.

She stood out in his club like a gem, unspoiled and untouched. A lamb among wolves, she clearly didn't belong. Drawn to her innocence he watched as she was surrounded by men who saw what he did—but no one but him could touch her. He summoned her to his private quarters. He sensed her fear. He also recognized the desire in her eyes. And he knew she wouldn't leave before he possessed her. She had no need to know his secrets. Not until he had her under his complete and utter control.

What he wants, she isn't sure she can give him.

The moment he told her want he wanted, she couldn't resist. Instinct told her to run, but her heart said stay and walk the fine line between pleasure and pain. Though she wasn't sure she could ever completely surrender, the primal part of her wanted to try, even knowing this man could break her in ways she never imagined. Because once he possessed her, he owned her and it would be too late to turn back. She can only pray that he doesn't destroy her in the end.
With Every Breath
by Lia Riley
Paperback, 288 pages
Expected publication: December 29th 2015 by Forever
ISBN 1455535575
BREATHE DEEP . . . AND JUMP IN
At the ends of the earth, Patagonia is a land where ambition trumps reason and the savage summit of La Aguja lures the most determined climbers. It's also the last spot a "play-it-safe girl" like Auden Woods expects to find herself. But she'll lace up her brand-new hiking boots and do whatever it takes to secure a dream job at an adventure magazine . . . even if it kills her. And it just might. When disaster strikes, her only chance at survival comes in the form of the surliest, sexiest mountaineer ever to come out of Scotland.

After a climbing accident cost him his brother, professional mountaineer Rhys MacAskill is at the end of his rope. Redemption is not in his future. That is, until a terrifying storm blows a budding journalist into his tent and it's up to him to make sure they both survive until morning. Despite the demons weighing on him, Rhys can't resist the temptation of the charming American and one wild night just isn't enough.

Auden and Rhys soon learn there are no shortcuts as they navigate their way between life, death, and atonement, and discover something they never expected—love.