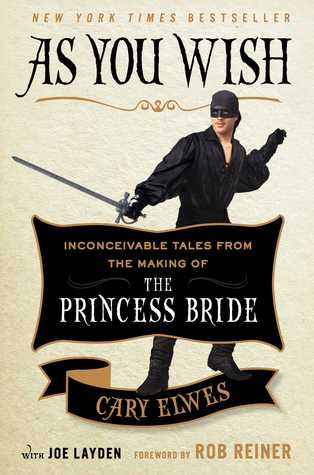 Title
: AS YOU WISH: INCONCEIVABLE TALES FROM THE MAKING OF THE PRINCESS BRIDE
Author
: Cary Elwes (Author), Joe Layden (Author), Rob Reiner (Forward)
Format
: Hardcover (272 pages)
Published
: Touchstone; First Edition edition (October 14, 2014)
ISBN
:
ISBN-10: 1476764026
Links
:
Goodreads
|
Amazon
|
B&N
Reviewer
: Linda
Source
: Library
Rating
: 4 out of 5 Wine Glasses
From actor Cary Elwes, who played the iconic role of Westley in The Princess Bride, comes a first-person account and behind-the-scenes look at the making of the cult classic film filled with never-before-told stories, exclusive photographs, and interviews with costars Robin Wright, Wallace Shawn, Billy Crystal, Christopher Guest, and Mandy Patinkin, as well as author and screenwriter William Goldman, producer Norman Lear, and director Rob Reiner.

The Princess Bride has been a family favorite for close to three decades. Ranked by the American Film Institute as one of the top 100 Greatest Love Stories and by the Writers Guild of America as one of the top 100 screenplays of all time, The Princess Bride will continue to resonate with audiences for years to come.

Cary Elwes was inspired to share his memories and give fans an unprecedented look into the creation of the film while participating in the twenty-fifth anniversary cast reunion. InAs You Wish he has created an enchanting experience; in addition to never-before seen photos and interviews with his fellow cast mates, there are plenty of set secrets, backstage stories, and answers to lingering questions about off-screen romances that have plagued fans for years!

With a foreword by Rob Reiner and a limited edition original poster by acclaimed artist Shepard Fairey,As You Wish is a must-have for all fans of this beloved film.
Linda's Thoughts

We had a really fun time working together on the film. With myself as a pirate. And she as a fair maiden. Running off together in the spirit of love and adventure.

AS YOU WISH: INCONCEIVABLE TALES FROM THE MAKING OF THE PRINCESS BRIDE by Cary Elwes was a humorous and awe-inspiring look behind the making of the cult-classic movie, The Princess Bride. The Princess Bride was a fairytale with pirates and princesses, giants and wizards, Cliffs of Insanity and Rodents of Unusual Size directed by Rob Reiner and written by William Goldman. It was based on Goldman's book. Cary Elwes played Wesley in the film. The book includes commentaries by many of the other famous stars and others behind the scenes of the iconic movie. I loved the movie and so, when I saw that Cary had written this book, I knew I had to read it. I'm happy to report that it was a delightful read.

After I read this book, I absolutely had to watch the movie again. Reading this book added another level of enjoyment along with a different perspective. Some highlights that I will soon not forget were:

•

Over 500 girls tried out for Buttercup!

•

Andre' the Giant was in pain from a back injury during the filming. He drank over 100 beers a day to help with the pain. Also, the first time Robin Wright, aka Buttercup, saw Andre', she completely freaked out and ran out of her dressing room in a panic.

•

Do you remember the part in the movie when Wesley notices that Rugen has six fingers on his right hand? Wesley says: "Someone was looking for you. He was..." But before he can finish his sentence, Rugen cuts him off by hitting him over the head with the butt of his sword, knocking him unconscious. LOL! Did you know that when you see Wesley fall to the ground and pass out, that's not acting? That's actually an actor losing consciousness.

•

It was Cary's impersonation of Fat Albert that indelibly impressed Rob Reiner in their first meeting.

•

Finally, you should read this book to know what went into making the sword fighting sequences on the film. It will make you appreciate those scenes much more!

I will mention just two snippets from the book. In one, Cary recounted when he met with President Bill Clinton:

"Mr. President, my name is ..."

I got no further than that, when he interrupted me with that wonderful Arkansas accent of his.

"I know exactly who you are, Cary," he said warmly, like we were old buddies, rather than two people who had never met before. As he shook my hand, he flashed that million-dollar smile of his. It was like staring into a set of blinding headlights.

Instantly I wondered whether something had turned up in my background check, the one performed on virtually all White House guests before they can be granted access. The anxiety must have been obvious, as the president quickly put me at ease.

"Oh, no, no... It's not what you think," he said, still smiling broadly. "I just wanted you to know that Chelsea and I are huge fans of The Princess Bride."

Chelsea is, of course, Bill and Hillary's daughter. I tried to picture them together, watching the movie like any other family. It seemed at once sweet and surreal.

..."You were fantastic as Wesley. I just love that movie! Chelsea and I must have seen it over a hundred times. I can quote almost every line." Another of my favorite snippets occurred as follows:

We got to the moment when I wake up from being "mostly dead" and say: "I'll beat you both apart! I'll take you both together!", Fezzik cups my mouth with his hand, and answers his own question to Inigo as to how long it might be before Miracle Max's pill begins to take effect by stating: "I guess not very long."

As soon as he delivered that line, there issued forth from Andre' one of the most monumental farts any of us had ever heard. Now I suppose you wouldn't expect a man of Andre's proportions to pass gas quietly or unobtrusively, but this particular one was truly epic, a veritable symphony of gastric distress that roared for more than several seconds and shook the very foundations of the wood and plaster set were now grabbing on to out of sheer fear. It was long enough and loud enough that every member of the crew had time to stop what they were doing and take notice. All I can say is that it was a wind that could have held up in comparison to the one Slim Pickens emitted in the campfire scene in Mel Brooks' Blazing Saddles, widely acknowledged as the champion of all cinematic farts.

Except of course, this one wasn't in the script.

I don't believe anyone could argue that The Princess Bride is one of the most often quoted films in cinema history, with memorable lines like:

•

"Hello. My name is Inigo Montoya. You killed my father. Prepare to die." •

"Inconceivable?" •

"Anybody want a peanut?" •

"Have fun storming the castle." •

"Never get involved in a land war in Asia." •

"Life is pain, Highness. Anyone who says differently is selling something." •

"Rest well, and dream of large women." •

"I hate for people to die embarrassed." •

"Please consider me as an alternative to suicide." •

"This is true love. You think this happens every day?" •

"Get used to disappointment." •

"I'm not a witch. I'm your wife." •

"Mawidege. That bwessed awangement." •

"You seem a decent fellow. I hate to kill you."... You seem a decent fellow. I hate to die." •

"Death cannot stop true love. All it can do is delay it for a while." •

"Never go in against a Sicilian when death is on the line!" •

"There's a shortage of perfect breasts in this world. It would be a pity to damage yours." •

And, of course..."As you wish."

AS YOU WISH: INCONCEIVABLE TALES FROM THE MAKING OF THE PRINCESS BRIDE is a well-written, often funny, always enjoyable, behind-the-scenes expose. It's written by someone who obviously loves the movie, his costars and the movie's supporting crew as much as its legion of fans. I would highly recommend AS YOU WISH: INCONCEIVABLE TALES FROM THE MAKING OF THE PRINCESS BRIDE to all fans of The Princess Bride.