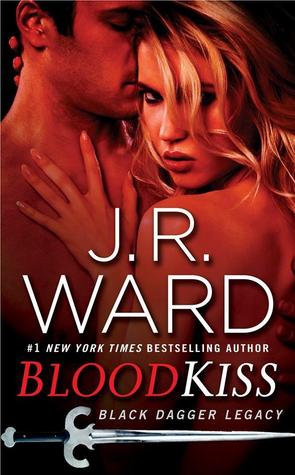 Title:
Blood Kiss
Series:
Black Dagger Legacy #1
Author:
J.R. Ward
Format:
Kindle
/
Paperback, 397 pages
Published:
December 1st 2015 by Signet
ISBN:
0451475321
Links:
Goodreads
|
Amazon
|
B&N
Reviewer:
Crystal
Source
: Publisher (Paperback), eBook (Purchased)
Rating:
5 out of 5 Wine Glasses
The legacy of the Black Dagger Brotherhood continues in a spin-off series from the #1 New York Times bestselling author…

Paradise, blooded daughter of the king's First Advisor, is ready to break free from the restrictive life of an aristocratic female. Her strategy? Join the Black Dagger Brotherhood's training center program and learn to fight for herself, think for herself…be herself. It's a good plan, until everything goes wrong. The schooling is unfathomably difficult, the other recruits feel more like enemies than allies, and it's very clear that the Brother in charge, Butch O'Neal, a.k.a. the Dhestroyer, is having serious problems in his own life.

And that's before she falls in love with a fellow classmate. Craeg, a common civilian, is nothing her father would ever want for her, but everything she could ask for in a male. As an act of violence threatens to tear apart the entire program, and the erotic pull between them grows irresistible, Paradise is tested in ways she never anticipated—and left wondering whether she's strong enough to claim her own power…on the field, and off.
Crystal's Thoughts:
J.R. Ward
delivers
with the first book in her Black Dagger Brotherhood spin-off,
Blood Kiss
! With writing reminiscent of what had readers falling in love with the original Brother's, long time fans will not be disappointed!
The Brotherhood is opening their doors and taking in trainees, sixty in fact from all walks of vampire life. But not all will make it through the rigorous initiation process. Paradise, daughter of the King's first adviser, hopes to make it to the end - whatever that may be. When the male, Craeg, that she'd only met once before but hasn't been able to forget, walks into the room Paradise's focus is divided. That doesn't stop her from conquering every obstacle the Brother's put in front of her. Why can't she have them both though; the training and this new feeling of connection with Craeg? The only person standing in her way is Craeg himself. The Brotherhood's training is all Craeg has left in life. With no family and no money, vengeance has fueled his days since the Slayer's attack on vampire families. He doesn't have the time, or anything else, to offer a female of worth like Paradise.His body has other plans however, and soon Craeg can no longer deny his affections. More then one person is hiding a secret though, and some of those secrets could not only put an end to training, and any romance blooming, but put an end to someone's life as well...
Now this, THIS is the kind of J.R. Ward story that I love to read, and
Blood Kiss
is some of her best writing yet! Dark and sexy, every page left me craving for more!
The Black Dagger Legacy is a spin-off but it's still immersed in the BDB world. The easiest way to explain it I think, is thinking along the lines of
Blood Kiss
being a novella in a long-standing series. One that covers the romance of interesting side-characters from the series, and expands the world just a touch more, but still giving readers plenty of interaction with the series's main characters that you know and love as well. But BETTER because it is FULL-LENGTH! I thought that
Blood Kiss
also had a new adult edge to it, which was great and very progressive.
With Paradise and Craeg, it's a story of two unlikely hearts colliding. Paradise, an aristocrat in vampire society, wants so much more then what her rigid upbringing allows and what her father expects. I really enjoyed her grit and determination. While Craeg, an average citizen from a blue-collar family, despises anything to do with the
glymera
and blames them for his family member's deaths. Craeg is a tough-talking male that I could easily picture fitting along-side any one of the Brothers. He has the build. He has the attitude. He has the drive. I found myself captivated by both of these characters early on into the story, which surprised me, because I wasn't sure what to expect or how I would feel about another new character in this already complex world Ward has created.
The tension sizzles between Craeg and Paradise from the onset. If you remember, they first met each other in
The King
and Paradise was instantly intrigue while we didn't know much about Craeg. Craeg fights his attraction for Paradise tooth and nail, but obviously it's a loosing battle. Can you really call it loosing when you end up winning it all though? When these two begin to experiment with their chemistry it is down-right hot, and will leave you tingling in all of the right places!
All of the aspects about the original Brother's stories are back in full-force in
Blood Kiss
. The camaraderie between the Brothers, the raw wit and snarky exchanges over last meal, all of the off-the-wall antics. I couldn't get enough! Rhage, V, Butch, and even Lassiter put the trainees through their paces.
Blood Kiss
very much exhibited a feeling of coming home. Along with Craeg and Paradise's romance, there was a secondary story-line featuring Butch and Marissa. This couple has some underlying issues to work out that they keep trying to burying but eventually spills over when a female is found brutally beaten outside of Marissa workplace. Butch and Craeg's story-line's merged seamlessly together with the mystery of the female and her assailant, without overpowering the main romance between Craeg and Paradise. Did you hear that? That was the sigh of relief heard around the world! And even though there was the tiniest little hint early on about who the bad guy of the story was I was still surprised when it all came out.
Bottom line;
Blood Kiss
was a fiendishly good addition to the Black Dagger Brotherhood Legacy. I am so glad that Ward branched out without loosing the heart of this beloved series and I can't wait to see what happens next, and which trainee it happens to. Five wine glasses filled to the brim for
Blood Kiss
, I simply dare you not to love a Brotherhood book!