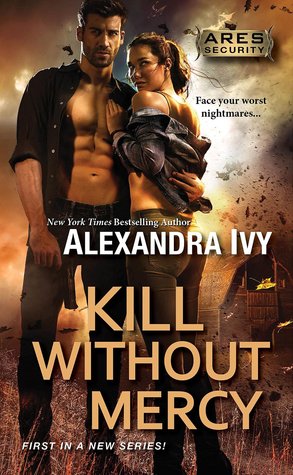 Title
: Kill Without Mercy
Series
: ARES Security #1
Author
: Alexandra Ivy
Format
: Paperback & eBook, 368 pgs
Published
: Dec. 29, 2015 by Zebra
ASIN
: B00VQFKG4I
Links
:
Goodreads
|
Amazon
|
B&N
Source
: Netgalley
Reviewer
: Kimberly
Rating
: 2.5 out of 5 Wine Glasses
From the hellhole of a Taliban prison to sweet freedom, five brave military heroes have made it home—and they're ready to take on the civilian missions no one else can. Individually they're intimidating. Together they're invincible. They're the men of ARES Security.

Rafe Vargas is only in Newton, Iowa, to clear out his late grandfather's small house. As the covert ops specialist for ARES Security, he's eager to get back to his new life in Texas. But when he crosses paths with Annie White, a haunted beauty with skeletons in her closet, he can't just walk away—not when she's clearly in danger…

There's a mysterious serial killer on the loose with a link to Annie's dark past. And the closer he gets, the deeper Rafe's instinct to protect kicks in. But even with his considerable skill, Annie's courage, and his ARES buddies behind him, the slaying won't stop. Now it's only a matter of time before Annie's next—unless they can unravel a history of deadly lies that won't be buried.
Kimberly's Thoughts:
Annie is starting to have visions again, considering these visions have to do with women being murder and her father was the "Newton Slayer", she has reason to be concerned. Going against her foster mother's wishes, she travels back to Newton, the town where her childhood was shattered. Rafe has been putting it off but he eventually decides now is the time to pack up his deceased grandfather's house and get the place sold. While in the small town diner he rescues a pretty woman from a town gossip and ultimately finds himself in the middle of a serial killer mystery. A buried past, lies, and corruption besiege Annie and Rafe as they search for the truth of what happened years ago and fight to stay one step in front of the current danger and their feelings for one another.
The first in a new series, Kill Without Mercy, introduces us to Rafe and his four friends. They were all in the military, captured in Afghanistan, and tortured before their eventually escape. All discharged, they now live in the states and are starting up a new security business called ARES. A prologue gives us all the men's names and what their specialties in the military were, while throughout the story we get more snippets of the men through conversations and interactions with Rafe as they all work together to help Rafe find the serial killer. It's easy to think about why they would have a close bond but I missed having at least one scene of their time in Afghanistan to get a better feel for them as a group. There were a couple times where one or two of the friends were focused on a bit much for what is supposed to be Rafe's story and ended up feeling like series baiting but that is typically a problem in firsts in a series.
Annie was one of the more level headed heroines usually found in romantic suspense books. She took Rafe's advice and listened to his expertise but still exhibited strength of character. However, with the murder mystery and introduction of the AREs' men, she became a wallflower in her own story at times. The story arc of her visions also ended up feeling somewhat tagged on as the explanation for them felt puzzling and disjointed. Rafe was a non-arrogant alpha; he was bossy but not misogynistic in his attitude towards Annie. There were times though, that I could feel myself side-eyeing how obliviously controlling he could be. He never sees any other outcome than Annie doing what he wants. For example, he tells his friends she is moving to Texas with him to live on his ranch (they have known each other for about two weeks) without ever even discussing it with her, to him it is a foregone conclusion because that is what he wants. It was little things like this that made me slightly uncomfortable with him and gave me problems with the romance aspect of the story.
I wouldn't say Annie and Rafe's relationship was insta-love or lust but insta-connection; they are just immediately together. With Rafe's surety that Annie would go along with all his plans for them, it eliminated some of the excitement of the two coming together. I know in the romance genre this is a foregone conclusion but the spark of the journey ended up missing here. I found Annie to disappear the most when it came to their relationship part of the story. While I found the romance to be weaker, the murder mystery was the strongest part of the story for me. It was interesting with the author showing you first where the details of the serial murders had landed and then going back and showing you how/why they landed that way, thus connecting the dots and telling the true story. Secondary characters played a big part in this aspect and for the most part, were flushed out enough to create a believable story.
The romance part of this story was simplistic but if you're looking for more of a mystery than suspense, this was a good "figure it out and connect the dots" read. It was well written and overall well paced; keeping the reader wondering just what went on in this small town all those years ago. The hero was a bit pushy but with four other heroes waiting in the wings, one is bound to be a favorite if looking for a new series to try.