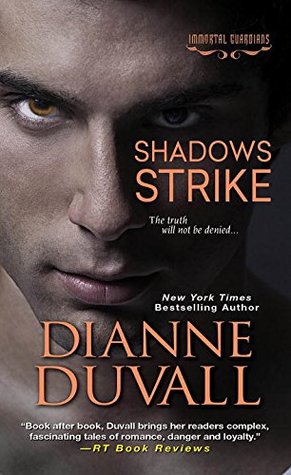 Title
: Shadow Strike
Series
: Immortal Guardians Book 6
Author
: Dianne Duvall
Format
: Kindle
Published
: August 25, 2015
ISBN
: 9781420129823
Links
:
Goodreads
|
Amazon
|
B&N
Reviewer
: Becky
Source
: Amazon
Rating
: Five Wine Glasses
The Immortal Guardians protect the innocent in secret. Sometimes the secret gets out...

U.S. law enforcement agent Heather Lane can read minds. But not the future. The dream of battle and blood that recurs every night must be a fluke, some obscure terror from her own mind. What its significance might be, she can't guess: an attack from seven psychotic vampires at once, only separated from nightmare by an eighth very different immortal. A handsome, brave man fighting at her side, a man she misses when she wakes.

Then the dream comes true. Heather is flung into a war between predators and protectors of humanity, the man from her dreams beside her again. Except now that she's awake, she isn't sure she can trust Ethan, or the shadow organization he represents. The U.S. military doesn't trust either of them. But against an onslaught of evil like the one that's coming, it will take everything they have just to survive...
Becky's Thoughts:
Heather Lane works as a FACS specialist for government agencies, the agencies that hire her think she has the ability to read micro facial expressions to tell if someone is lying or not. But the truth is, she doesn't read facial expressions, she reads minds! Her father, a high ranking U.S Military officer, is the only one who knows her secret. While Heather's always been able to read minds, that has been her only gift until recently. For the last year she has had the same dream, every night, a dream she thinks predicts the future. Seven vampires and a man, who is similar to the seven vampires, but different, fight. One night, Heather decides to finally confront her dream head on, but when the dream suddenly becomes reality, Heather finds herself in the middle of a paranormal war she never could have imagined.
After that first prophesied battle, the tone for the story is set when Heather asks Ethan if he'd like to wash up...
"He glanced at the curtains covering the nearest window. "Really? You wouldn't mind?"
"No." She doubted theirs would be a short conversation. Once she jump-started her brain, she would have little trouble coming up with questions for him.
He opened the front door. "Excellent. I'll be right back."
Damn, the man could move fast. He flew out the door, then returned almost swifter than it took her to realize he'd left. She eyed the small duffel bag he carried.
"That had better not contain duct tape, rope, and a scalpel."
He grinned. "I'm not a serial killer, Heather. This is just my first aid kit."
Though there are so many times that the reader is put on the edge of their seat throughout the story with suspenseful action, the author very skillfully weaves in banter and humor creating a equally blended and well-paced plot.
Though it appears that there are two different storylines occurring, the author expertly entwines the stories creating a shocking surprise that will leave you nearly breathless. You just don't see the connection coming, which only makes you want to keep reading for more!
Shadow Strike
is the sixth installment of the Immortal Guardians series, and to date, the most intense and engaging installment yet...the story ends leaving the reader craving the next book. Dianne Duvall is a master storyteller and the next installment cannot come soon enough...I can't help but wonder how the story will continue!