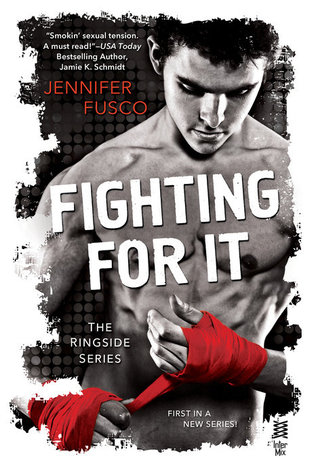 Title:
Fighting For It
Series:
Ringside #1
Author:
Jennifer Fusco
Format:
Kindle Edition
Published:
September 15th 2015 by InterMix
ASINB:
00VR39K3C
Links:
Goodreads
|
Amazon
|
B&N
Reviewer:
Crystal
Source:
NetGalley
Rating:
4 out of 5 Wine Glasses
The first in a sexy new series where the hard-hitters of Las Vegas's Stamina boxing gym are K.O.-ed by the women they never saw coming...

After suffering a devastating loss during his last fight, heavyweight boxer Jack Brady's whole career went down for the count. Now, his late manager's daughter has inherited his contract and Jack is pleased to discover that the girl he fell in love with as a kid has grown into a strong, sexy woman—until she makes it clear that Jack has no choice but to get in the ring.

Daniella Chambers is determined to get her father's failing gym back on track with Jack's upcoming fight. She knows Jack's got the talent to become champion and decides to force the unmotivated fighter away from the neon lights of Vegas to train in the seclusion of her lake house. But when they take a time out from their sessions to steam up the bedroom, the urge to win gets all tangled up with their desires.

Now, Jack's fight is swiftly approaching, and the fate of the gym isn't the only thing on the ropes...
Crystal's Thoughts:
After a slow start,
Fighting For It
, progressed into a knock-out romance with two strong-willed characters, sizzling tension, and a fight for not only their heart's, but their honor.
After a heart-rendering loss in the ring, boxer Jack Brady, is numbing his pain through alcohol and women. His new manager, Daniella Chambers, has other plans for him though and is quick to knock him out of his self-imposed misery. Dani needs Jack to win his next fight or she will loose her late father's gym and her boxer's contracts. But in order for Jack to win, he first needs to believe in himself. Can Dani help Jack get his redemption, and maybe a second chance at love too?
Fighting For It
is a second-chance story all around. A second chance at love, a second chance at a career, a second chance at life. It turned into an incredibly enjoyable read and I was rooting for both Jack and Dani by the end. However, at the start of the story, I had a difficult time connecting to either character. We jump right into it, where Jack is drinking away his sorrows and then bringing bar flies home, and then when Dani shows up all Jack spouts is cocky attitude. Not really much to like there in our hero. Danielle was an equally hard nut to crack at the beginning. She seemed to be a hardnosed woman who stomped around shouting orders and ultimatums. But as the story progressed layers were peeled away from each character and the backstory between the two was revealed piece by piece. By the halfway point, I felt for both Dani and Jack and the chemistry between them became undeniable.
Weaved into the romance were wrongs that needed to be righted, heartbreak that needed to be mended, and bad guys that needed to be put down. All in all, an interesting read which was well put-together. I'm looking forward to more from this debut author and the Ringside series, as there were a few loose strings left hanging by the end of the story.