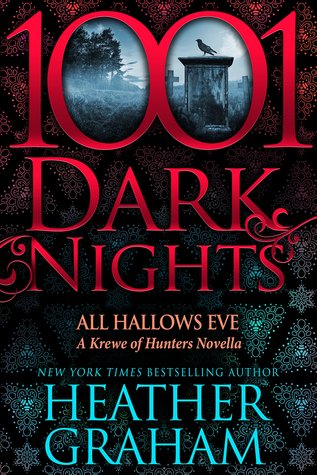 All Hallows Eve
(Krewe of Hunters #17.5)
by Heather Graham
Kindle Edition, 125 pages
Published October 27th 2015 by Evil Eye Concepts, Incorporated
Salem was a place near and dear to Jenna Duffy and Samuel Hall—it was where they'd met on a strange and and sinister case.

They never dreamed that they'd be called back. That history could repeat itself in a most macabre and terrifying fashion.

But, then again, it was Salem at Halloween. Seasoned Krewe members, they still find themselves facing the unspeakable horrors in a desperate race to save each other—and perhaps even their very souls.
Jenna assisted Angela in reading between the lines, determining where the team was most needed. The requests for Krewe help were growing in number; and while new agents came on all the time, it was still a race to keep up.
"We have tomorrow," he said. "Then vacation."
"Sun, sea, and tanning oils for exotic massages," Jenna said, laughing.
He stared down into her eyes—greener than the richest forest—and marveled at the way he loved her. Her hair, a deep and blazing red, spread out across the pillows in waves. It seemed incredible that this remarkable, beautiful, sensual woman could feel the same for him. That they could lie together so naturally, that laughter could combine with passion, and that they could live and work together.
And still be closer each year.
He smiled and kissed her.
Her fingers ran down his spine with a teasing caress, finding his midriff, then venturing lower.
"What are you thinking about?" she asked.
"Sex. Here, now," he said. "The perfect place. In bed—both of us on it."
She smiled and caressed him in one of her most erotic and sensual ways. "There?" she whispered teasingly.
"I can touch and touch and touch."
He kissed her lips, then her collarbone and her breast, moving lower. He loved her so much, truly loved her, and every time they made love, it seemed sweeter and sweeter. Her skin was satin, her hair the fall of silk, and her movements—
They slept after, entangled in one another's arms, and he thought about heading to Atlantis and how he'd planned to ask her then if they shouldn't begin to think about a wedding in the near future.
But in the morning everything changed.
Krewe of Hunters
About Heather Graham:
New York Times and USA Today best-selling author Heather Graham majored in theater arts at the University of South Florida. After a stint of several years in dinner theater, back-up vocals, and bartending, she stayed home after the birth of her third child and began to write, working on short horror stories and romances. After some trial and error, she sold her first book, WHEN NEXT WE LOVE, in 1982 and since then, she has written over one hundred novels and novellas including category, romantic suspense, historical romance, vampire fiction, time travel, occult, and Christmas holiday fare. She wrote the launch books for the Dell's Ecstasy Supreme line, Silhouette's Shadows, and for Harlequin's mainstream fiction imprint, Mira Books.

Heather was a founding member of the Florida Romance Writers chapter of RWA and, since 1999, has hosted the Romantic Times Vampire Ball, with all revenues going directly to children's charity.

She is pleased to have been published in approximately twenty languages, and to have been honored with awards frorn Waldenbooks. B. Dalton, Georgia Romance Writers, Affaire de Coeur, Romantic Times, and more. She has had books selected for the Doubleday Book Club and the Literary Guild, and has been quoted, interviewed, or featured in such publications as The Nation, Redbook, People, and USA Today and appeared on many newscasts including local television and Entertainment Tonight.

Heather loves travel and anything have to do with the water, and is a certified scuba diver. Married since high school graduation and the mother of five, her greatest love in life remains her family, but she also believes her career has been an incredible gift, and she is grateful every day to be doing something that she loves so very much for a living. http://www.theoriginalheathergraham.com/