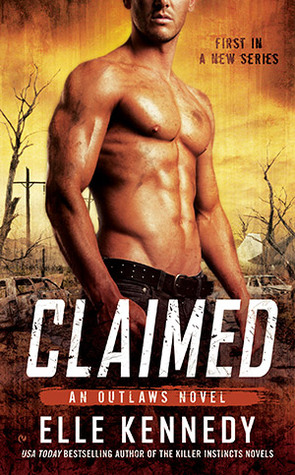 Title:
Claimed
Series:
Outlaws #1
Author:
Elle Kennedy
Format:
eBook/Paperback, 368 pages
Published:
October 6th 2015 by Signet
ISBN:
0451474449
Links:
Goodreads
|
Amazom
|
B&N
Reviewer:
Crystal
Source:
Netgalley
Rating:
4 out of 5 Wine Glasses
The bestselling author of the Killer Instincts novels "knows how to write scorching sexual tension" (USA Today). Now she really sets it on fire in a new series about men and women living on the edge of violence, sex, and life and death.

After a devastating war decimated most of the world, Hudson Lane has only known the oppressive life under her own father's tyranny. She finally escapes, branding herself an outlaw and hunted by the Enforcers. Her best chance at survival is Connor Mackenzie, an aggressively sensual fugitive who opens her eyes to the wicked possibilities of a world without rules.

As the leader of a band of outlaw fighters, Connor can't resist the beautiful stranger who asks for his protection. Despite his reservations, he agrees to introduce her to a whole new way of life. But when Connor discovers Hudson's connection to the enemies of liberty, he wonders how far he can trust the woman who has abandoned all inhibitions to challenge every forbidden desire.
Crystal's Thoughts:
Elle Kennedy weaves a gripping story of intrigue, heartbreak, and trust, in her new dystopian novel,
Claimed
, where only the fittest survive!
The world as we know it today is no more. War and massive bombings have destroyed most of civilization and those that survived are regulated to colonies, where the communist-like Global Council rules with an iron fist controlling everything from breeding to medical care. For those that shun the Global Council, they are forced to live as outlaws, scrounging for homes in the wastelands left, and raiding for food and supplies, with the enforcers always breathing down their neck. And if they catch you, you have only two choices: return to the colonies or death. One enforcer though is no longer giving a choice, he only gives death. Connor Mackenzie, reluctant leader of a band of sensual outlaws, is determined to find him and find retribution for his wife's murder. But when the beautiful and innocent, Hudson Lane, shows up in an outlaw tavern asking for Connor's protection, Connor's plans of revenge are put on hold. Hudson and Connor instead embark on a carnal journey of pleasure, freedom, and discovery. Hudson has secrets though, secrets Connor is intent on unveiling, but in doing so will Connor discover that his enemy has been in his arms the entire time?
Claimed
drops you right into a post-apocalyptic world far from our own, where money holds no value outside of the city limits, goods are bartered for favors, and sex is a common release that is both open and honest. Citizens, outlaws, enforcers, and bandits occupy this dystopian society but don't let those labels fool you because the outlaws are the real heart of this story. People who choose to live on their own terms, fighting for everything they have, and cherishing every moment. Because in this world, tomorrow's are never guaranteed and today's are always a gift. I was captivated by the story and the world that the author has created here. The world-building was creative and read vividly. It did
somewhat
resembled another popular post-apocalyptic series but it didn't distract from the story for me and that is what matters.
The female protagonist of the story, Hudson, came across as a tough, intelligent woman who despite her naivety was able to adapt to her current situations and wasn't afraid to fight for what she wanted. For someone who has difficulty connecting to a lot of female leads, I enjoyed Hudson's character throughout the story. Not only did she grow with each chapter, but she never lost her backbone. Connor, the sultry all-alpha leader of this hunky band of outlaws had his hot and cold moments. His character could come across as a complete asshat at times, but once his circumstances are revealed his controlling, distrustful natural is understandable. Together, Connor and Hudson are combustible. Connor introduces Hudson to the carnal nature of outlaw life and boy, will their encounters leave you tingling in all of the right places! Wowza! Connor's best buddy and fellow outlaw, Rylan, who is a sexy and fun character, joins in on the sexual exploits a few times so if you're against sharing this story might not be for you. But make no mistake, Hudson is Connor's woman and that fact is more then obvious by the end. The erotic aspects of the story are strong, and sometimes it overpowers the story-line, but it is also down-right hot.
Bottom-line; Claimed was a fabulous introduction to an interesting cast of characters with intriguing backstories that I am desperate to learn more about. The suspense surrounding Hudson and her brother, what she is running from, and Connor's choices, kept me on the edge of my seat. I think the story could have been so much better if certain aspects were balanced more but I loved the live-in-the-moment atmosphere of the outlaws. I look forward to reading more from this new series by Elle Kennedy!