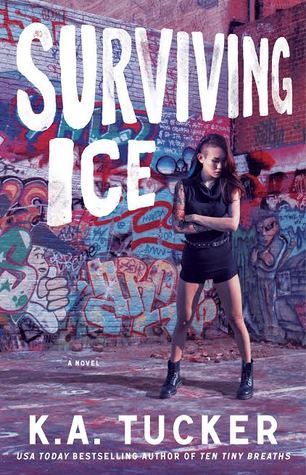 Surviving Ice
(Burying Water #4)
by K.A. Tucker
Paperback, 352 pages
Expected publication: October 27th 2015 by Atria Books
ISBN 1476774250
The USA TODAY bestselling author of the Ten Tiny Breaths series and Burying Water—which Kirkus Reviews called "a sexy, romantic, gangster-tinged page-turner"—returns with a new novel packed with romance, plot twists, and psychological suspense.

Ivy, a talented tattoo artist who spent the early part of her twenties on the move, is finally looking for a place to call home. She thinks she might have found it in San Francisco, but all that changes when she witnesses a terrible crime. She's ready to pack up her things yet again, when a random encounter with a stranger keeps her in the city, giving her reason to stay after all.

That is, until Ivy discovers that their encounter wasn't random. Not at all…
"We're closed!" I yell, whipping my head around, my anger at myself for not locking it launched.
A man I've never seen before stands motionless in front of me, amusement in his eyes as he stares. Nothing else about him betrays his thoughts, though. His stance is still and relaxed, his angular face perfectly composed.
My heart begins to race with unease.
"I'd like some work done." His voice is deep, almost gravelly, his tone even and calm.
I climb to my feet, because I don't like anyone towering over me. And because his piercing eyes unsettle me. Unlike the two-hundred-and-fifty-pound biker who just left, this guy makes me nervous. The wrench is still in my fist, and I grip it tightly now. "I'm not working today."
"I'm not working tomorrow either." The corner of his mouth twitches as we face off against each other. "When will you be working again, then?"
He's patient. It's annoying. But he also seems very interested in this tattoo, which makes it less likely that he's here to hurt me. I relax my grip on the wrench. "I won't be. Not here, anyway. Black Rabbit is closed for good, or at least until it opens under new ownership."
He pauses, his shrewd gaze weighing so heavily on me that I finally have to look away from him. I feel like a sophomore year science class dissection—the unfortunate amphibian donated in the name of education. "That's a shame."
Either he's not from around here or he hasn't read the news. Or he's one of those sickos who gets a kick out of crime scenes. "It is." What's really a shame is that this guy didn't come a few weeks ago, because I gladly would have agreed to mark his entire body with my hands then.
On first-glance impression, he actually reminds me of Jesse Welles, the love of my teenage life, though I'd never admit that to anyone. This guy's eyes are lighter—a cool chocolate rather than near-black—but they have that same intensity; a similar smirk sits atop his full lips. He, too, has dark hair coating his hard, masculine jaw; it's just sculpted to a perfect short beard. He's taller and broader than Jesse. Harder looking, not just by a few years of age but as if by life itself. That's a little concerning, given the kind of life that Jesse Welles has already lived.
But there's something distinctly different about this guy, too. I can't quite place it, but I can feel it. Something slightly "off." Or maybe it's just this place that's making everything in my life feel off—after all, my mind is still in a haze over Ned's death. The last thing I should be thinking about right now is this guy or Jesse or getting laid.
Burying Water Series
About K.A. Tucker:
Born in small-town Ontario, K.A. Tucker published her first book at the age of six with the help of her elementary school librarian and a box of crayons. She currently resides in a quaint town outside of Toronto with her husband, two beautiful girls, and an exhausting brood of four-legged creatures. http://www.katuckerbooks.com/
a Rafflecopter giveaway