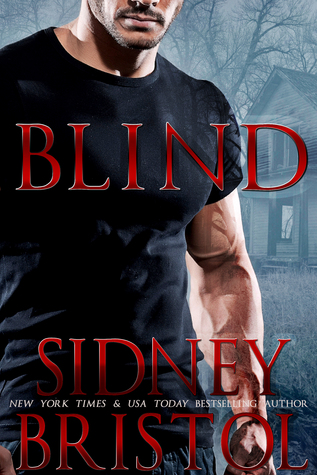 Title
: Blind
Series
: Killer Insticts #1
Author
: Sidney Bristol
Format
: Paperback & eBook, 294pgs
Published
: Oct. 6, 2015 by Inked Press
ASIN
: B0130RGA9O
Links
:
Goodreads
|
Amazon
|
B&N
Source
: Netgalley
Reviewer
: Kimberly
Rating
: 2 out of 5 Wine Glasses
Detective Jacob Payton knows the clock is ticking down. Someone is about to die, and his best suspect is also his only source of information. He's known Emma Ration's story for years—after all, a brutal serial killer left his mark on both their lives when they were still young. Meeting her is another experience altogether. She challenges his control and entices him in ways no other woman has.


But is she the killer? As the bodies pile up and their passion ignite, Jacob runs the risk of losing his control. Falling for Emma was never in his plan, but now that she's part of his life he's not about to give her up. Not even to the FBI on the trail of the very same killer.


Jacob must figure out if it's Emma in danger, or himself. If he can't uncover the identity of the copycat killer, it could be the end for both him and the woman who has fast become the center of his life.
Kimberly's Thoughts:
Emma's father was the only surviving victim of the TBK serial killer and naturally, it forever changed him; she grew up with his temper and instability. Jacob's father was the cop that caught TBK and while his father was the hero, the dark weight of immersing yourself in that world clung to him. When Jacob, now a detective himself, starts getting letters from someone claiming to be the TBK, he wonders if his father caught the right man. Emma is used to people contacting her wanting to look at the letters the TBK sent her family and creepy individuals in general wanting to get as close as they can to the only surviving victim but when Jacob contacts her, she gets a different vibe from him. Jacob wants to compare his letters to Emma and get a read on her to make sure she is not involved but he knows she and her family aren't big fans of cops. Emma and Jacob must break through their walls of mistrust if they are going to survive this serial killer.
I need to start off saying that I, personally, felt a bit of an ick factor with the serial killer in this fictional romantic suspense story relating very closely to a real life one. The killer in this story is called TBK, which stands for Torture, Blind, and Kill, while the real life one was called BTK for Bind, Torture, and Kill. The killer's actions in this book are never treated in a cavalier way but I couldn't help feeling there was a certain degree of insensitivity by matching the name so closely to a serial killer who had real life victims. I don't think I was able to achieve my usual level of objectivity and feel it should be noted that my rating more than likely reflects in a way this personal bias.
Blind is the first book in a new series called Killer Instincts, which I imagine will feature various heroes and heroines pitted against members of the Killer Club, which we are introduced in this story. The Killer Club looks to be an online club with members who are fascinated with serial killers and where some members not only fantasize following in their idol's footsteps but actually do. The leader is called Black Widow and if a member doesn't follow her plans or doesn't act accordingly, she takes them out. The author set up a mysterious and dark club that introduced us to future villains.
The beginning of this book started off a little rough and I felt thrust into the story, we're given a very basic outline of our characters before they're thinking to themselves about how hot the other is. As this story only takes place over about two weeks, insta-love/attraction is at the forefront of Emma and Jacob's relationship. I know that Emma is supposed to be different from your average woman because she likes motocross and doesn't get close to people and Jacob is a workaholic detective who battles his bad temper; the problem was I was told these things but never felt them. I appreciated the author trying different things with her characters but I'm not sure she fully executed. Besides the insta-love/attraction I never felt anything between the couple, no passion or a true understanding of why they were together. Emma also had a few TSTL moments when she withheld information from Jacob that could have helped catch the TBK; she claimed trust issues but obviously it was added for extra conflict.
While Emma and Jacob's relationship moves very quickly, the killings and search for the TBK storyline is drawn out. Our villains motivations weren't justifiably clear and didn't reach the level of psychotic/sociopathic to chill the reader's blood and be chalked up to crazy scary. The overall story had a feeling of disjointedness, the romance/sexual parts and serial killings didn't quite mesh (if you're questioning if those two opposites ever could, Mr. Perfect by Linda Howard does this wonderfully). Secondary characters also just seemed to be fodder for the serial killer; we only get very basic introductions to them, which made it very hard to have any feelings when they were killed off (this works in visual slasher horror films but not so well in print). Also, for what important parts our hero and heroine's fathers played in the original TBK case, they weren't really incorporated into the story.
The concept for Blind is there but with a sense of disjointedness and too close for comfort similarities to a real life serial killer, I felt this story was just "ok". This is, however, a quick read, so if you're looking for something a little different and off the beaten path with serial killings nestled in-between sex scenes, you wouldn't waste your whole day on this one.