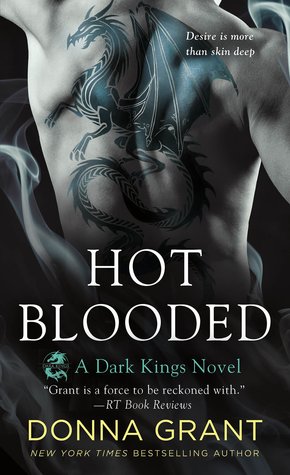 Title: Hot Blooded
Series: Dark Kings #4
Author: Donna Grant
Format: eBook/Mass Market Paperback, 352 pages
Published: December 30th 2014 by St. Martin's Paperbacks
ISBN: 1250060729
Links: Goodreads | Amazon | B&N
Source: NetGalley in four serialized installments
Reviewer: Linda
Rating: 4.5 out of 5 Wine Glasses
The Dark Kings soldier on in their fight to preserve their dragon magic. But eternal doom is always close behind…





SWORN TO PROTECT





His name is Laith. To most, he's known as the owner of a local pub near Dreagan. But little do his patrons know that beneath his handsome, charming exterior Laith has the heart and soul of a Dragon King—one who wields control by keeping his friends close and his enemies, just across the border, closer. Until a mysterious stranger enters the picture, and sets his whole world off course…





DRIVEN TO DESIRE





Iona is a woman with a mission: To learn the truth about her dead father. She's returned to Scotland only to learn that she's part of an ancient pact with Dreagan—one that will threaten the fragile peace with the Dragon Kings. Gorgeous, sly Iona isn't like anyone Laith has ever met before . . . and she harbors a secret that others would kill to possess. Will she complete him—or destroy him? Passion always comes with a price…
Linda's Thoughts:
"John Campbell was found dead this morning." He was murdered...
The Campbells had owned the fifty acres bordering Dreagan for countless generations...
"Who's going to guard the land?" Laith asked....
"John has a daughter, Iona."
HOT BLOODED by Donna Grant is another mesmerizing read in Donna's Dark Kings series. I read it as a four-part serialized story. I inhaled each installment as it was published and then couldn't wait for the release of the next! This review is a combined review of all four parts. The full book was released December 30, 2014. I had never been a fan of serialized books before I started reading this series that way, but Donna's Dark Kings are slowly, but surely, converting me. :-)
I simply cannot get enough of her sexy Scottish dragons! They're fierce, strong, fearless and delicious! While this is the fourth book in the series, it can be fully enjoyed as a standalone if that is your druthers. However, I recommend reading the whole series in order as there are interconnected characters and a common theme. I bet that once you read one, you'll be dying to read the rest! You can find a listing of all the books in this series on Donna's website.
HOT BLOODED is Black Dragon King Laith's and Iona's tale. We had met Laith previously. He has despaired of ever seeing his beloved blacks again. He owns and runs the local pub, The Fox and The Hound, a favorite watering hole for both residents and tourists. Iona describes him thus: Lord, did he have the best smile. It was in turns sweet, seductive, and downright sexy. How could a man look so good without even seeming to try? Laith was charming, enticing, handsome, and fascinating. If she had to classify him, it would be sex-on-a-stick.
Iona is John Campbell's estranged daughter. John had been the caretaker of the lands adjoined to Dreagon safeguarding it's secrets before he was murdered. Iona arrived in Scotland hoping to become reacquainted with her father; Instead she was tasked with settling his estate. Iona is used to living a life on the road as a traveling photographer. She's a strong female character and is enamored of Laith from the get-go.
Laith resists the pull he feels to Iona as he doesn't want a mate, but when Con assigns Laith to ensure that Iona takes on the responsibility of the pact involving the Campbell lands, the couple's attraction could not be denied.

Desire blazed, passion raged.
One of my favorite scenes encompasses a beautifully written, passionate, hot
and steamy interlude very near the doorway to Dreagan. Just know that you'll need a fan nearby as you're reading it.
Many of our favorite characters from the series make appearances herein including mated couples from the previous books, remaining unmated dragons, and Rhi. In previous installments, Rhi risked her life against the Dark for Kellan and Denae as well as Tristan and Sammi. Every King owes Rhy a huge debt - including Con. She remains one of my most-loved characters in the series that, besides the aforementioned, also includes Druids, Warriors, and Light Fae.
Former silver dragon king Ulrik continues his dastardly ways just as he has in the previous books. Circumstantial evidence seems to point directly at him as the evil mastermind, but I'm not so sure. If it's not him, who is it? I just don't see who else could be the lurking darkness or how Ulrik can be redeemed. I can't wait to read how Donna resolves this. I'm sure she will and she'll do it well! I'm just impatient :-)
Following please find a few of my favorite quotes, one from each part:
Part 1:
"You keep doing that, and you'll find yourself mated quick enough."
"It's no' for me. I'm perfectly content just as I am."
Ryder made a face. "Are you insane? why say something like that and temp the cosmos?"
Laith watch him walk away, wondering if he had just drawn the interest of fate.
Part 2:
She loosened her grip on his hair and lightly scraped her fingernails over his cheek to his incredible lips.
"I could kiss you all day."
Laith's gaze intensified.
"All right."
Part 3:
Her dark eyes slid to him. "I can't remember the last time I felt so good in clothes."
And he wanted to get her out of them.
Part 4:
"An enemy is always an enemy, even when they're an ally." - Taraeth"
Donna's writing, as always, is first-rate with brilliant storytelling and well-defined, genuine characters. The solidly plotted story kept me biting my nails with bated breath for what was coming next. I highly recommend HOT BLOODED to anyone who enjoys paranormal romances. It's teeming with suspense, mystery, action AND romance. The next book is NIGHT'S BLAZE and it will be Rhys' and Lily's story. Part 1 will release March 10th! WooHoo!
Reading Order:
Darkest Flame, Book #1
Fire Rising, Book #2
Burning Desire, Book #3
Hot Blooded, Book #4