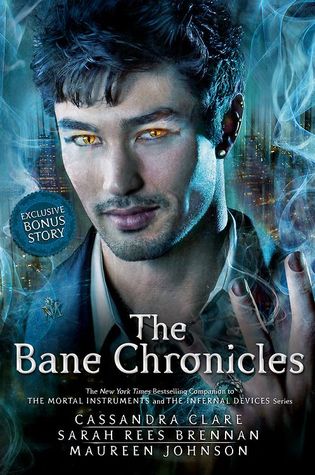 Title: The Bane Chronicles
Series: The Bane Chronicles #1-11
Author: Cassandra Clare, Maureen Johnson, Sarah Rees Brennan, Cassandra Jean
Narrated by: Various
Length: 13 hrs and 8 mins
Format: Unabridged Audiobook
Release Date:11-11-14
Publisher: Simon & Schuster Audio
Links: Goodreads | Amazon | Audible | B&N
Reviewer: Linda
Source: Audio Book Jukebox
Rating: 3 out of 5 Wine Glasses
Fans of The Mortal Instruments and The Infernal Devices can get to know warlock Magnus Bane like never before in this collection of New York Times bestselling tales, in print for the first time with an exclusive new story and illustrated material.





This collection of eleven short stories illuminates the life of the enigmatic Magnus Bane, whose alluring personality, flamboyant style, and sharp wit populate the pages of the #1 New York Times bestselling series, The Mortal Instruments and The Infernal Devices.





Originally released one-by-one as e-only short stories by Cassandra Clare, Maureen Johnson, and Sarah Rees Brennan, this compilation presents all ten together in print for the first time and includes a never-before-seen eleventh tale, as well as new illustrated material.
Linda's Thoughts:
"[Will Herondale] would say he knew a warlock who was a better friend, and more worth trusting, than many a nephilim warrior."
THE BANE CHRONICLES by Cassandra Clare, Maureen Johnson, and Sarah Rees Brennan are an anthology of eleven short stories that fill in previously unknown parts of warlock Magnus Bane's life. I had previously read and thoroughly enjoyed Cassandra's Mortal Instruments and Infernal Devices series. Because I remembered being utterly intrigued by Magnus Bane, I was thrilled when I was offered this audio featuring the fun, ostentatious and always fashionably dressed warlock to review. However, while I found parts of this listen interesting and/or comical, for the most part, this collection was, unfortunately, just not my cup of tea.
The stories take us traveling through time and exemplify Magnus at his flamboyant best and his annoying worst. Magnus' life demonstrates why it's so difficult to be immortal as he's alone so much. We learn why Magnus is averse to becoming involved with mortals as he has been repeatedly burned. ...Until you loved a mortal. Then time became gold in a miser's hands, every bright year counted out carefully, infinitely precious, and each one slipping through your fingers. I guess Magnus keeps company with Ragnor because he needs someone, but Ragnor was a bore and a real party-killer.
I love fantasies but the first four stories were beyond frustrating to me. This is the book's synopsis verbatim: Fans of The Mortal Instruments and The Infernal Devices know that Magnus Bane is banned from Peru—and now they can find out why. But, after all is said and done, the authors don't deliver. We do get to accompany Magnus, Ragnor Fell and Catarina Loss on some truly crazy adventures in Peru which also star scary monkeys, llamas, flying carpets and more, so it's entertaining, but the ending is a dud.
The eighth and the tenth stories were about Alec and Magnus. Isabelle makes an appearance too. The eighth takes place between the City of Ashes and the City of Glass. It was nice to see more favorite characters from the series but some of their actions don't seem to mesh with the previous books. The tenth chronicles Alec's and Magnus' first date.
The bonus story was my favorite from the whole collection. It held my attention and I laughed through much of it. It basically consists of a bunch of voicemail messages left on Magnus' phone over three days.
The narrators were multiple: Cecil Baldwin, Jamie Bamber, George Blagden, Gareth David-Lloyd, Jordan Gavaris, Stephen Lunsford, David Oyelowo, Andrew Scott, Michael Trevino, Jesse Williams, Seth Numrich and Molly C. Quinn. Each did a good job. Their voices were all clear and easily understood. Unfortunately, since I found many parts of the book boring, I had trouble keeping my concentration focused on the stories. I replayed parts of this book more than any other book I've ever listened to as I'd realize that my brain had checked out of the story and have to go back. It wasn't the narrators fault. In hindsight, I probably would have done better reading this collection. I would definitely not hesitate to pick up any other books that the above narrators have performed.
While I was disappointed in the overall anthology as my expectations had been so high, there were entertaining moments! Following please find a small sampling of some quotes that made me smile:
"Magnus, you were trying to flirt with your own plate."
"I'm a very open-minded sort of fellow!"
---
"Wallowing was for elephants, depressing people and depressing elephants"
---
"Sincerity and gravity, in Magnus's opinion, were highly overrated, as was being forced to relive unpleasant memories. He would much rather be amused and amusing."
---
"Hello, companion," said Magnus.
The monkey made a terrible sound, half snarl and half hiss.
"I begin to rather doubt the beauty of our friendship," said Magnus."
---
"I don't like the rain forest," Ragnor said sadly.
"That's because you are not open to new experiences in the same way I am!"
"No, it is because it is wetter than a boar's armpit and twice as smelly here."
Magnus pushed a dripping frond out of his eyes. "I admit you make an excellent point and also paint a vivid picture with your words."
---
"Magnus had heard the story of how the Nephilim were created many times. They must have forgotten to leave out the bit that said: And the Angel descended from on high and gave his chosen ones fantastic abs."
---
"Go to faeries for gossip about vampires, to werewolves for gossip about faeries, and do not gossip about werewolves, because they try to bite your face off: that was Magnus's motto."
I enjoyed learning a bit more about Magnus within the fascinating world of the Shadowhunters and the Downworlders in Peru, Paris, London, New York and more. THE BANE CHRONICLES are not meant to be a standalone read. In my opinion, THE Bane Chronicles would be best appreciated as a companion to the associated series, The Infernal Devices and Mortal Instruments, both excellent series.