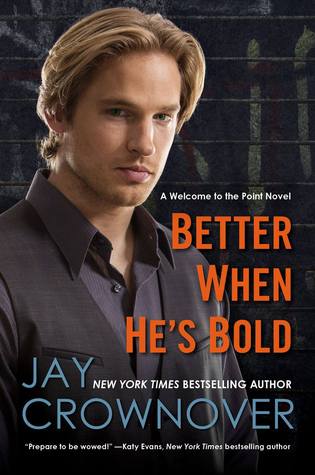 Title: Better when He's Bold
Series: Welcome to the Point #2
Author: Jay Crownover
Format: Ebook/Paperback, 400 pages
Publication: February 3rd 2015 by William Morrow & Company
ISBN: 0062351915
Links: Goodreads | Amazon | B&N
Source: Publisher
Reviewer: Crystal
Rating: 4 out of 5 Wine Glasses
Some men are just better when they're bold.





Welcome to the Point...





In a dark and broken kingdom, a ruler has to be fearless to control the streets and the ruthless people who run them.





Race Hartman is just bold enough, just smart enough, and just lost enough to wear the crown. Places like the Point will always have bad things and bad people, but the man in control of all that badness can minimize the devastation. Race has a plan, but can he prevent total annihilation without destroying himself?





Brysen Carter has always seen her best friend's brother for what he is--too pretty, too smooth, and way too dangerous to touch. Basking in Race's golden glow is very tempting, but Brysen knows she'd eventually get burned.





When she starts receiving threatening texts and someone tries to take her out in parking lot, the only person interested in keeping her safe is the one man she can't allow herself to have.





Sometimes being bold is the only way to stay alive. But can she let Race save her life . . . if it means losing herself to him?
Crystal's Thoughts:
This second installment in Jay Crownover's Welcome to the Point series did not disappoint! With a story line surpassing Better when He's Bad, I loved every minute of Race and Brysen's adventure!
From high on the Hills to the wrong side of the tracks in the Point, Race Hartman knows what it means to have everything, and then have it all taken away. His crown might be a bit tarnished but Race finds a life ruling the Point to have more essence then anything he did languishing in his parents rotten riches. And he knows that no matter how bad the Point is, as long as there is a man with a soul running the streets, he can control the damage the Point brings. But will the Point end up costing him that very soul?
Brysen Carter knows the kind of man Race is. Beautiful, charming, and dangerous. He might be Dovie's brother but he is a far cry from her sweet natured friend. Unfortunately, that doesn't hinder the attraction she has felt towards him from the start. Keeping him at a distance is the only way she can protect herself from the heartbreak that is written all over him. But when her already tumultous life is shook up even more with sinister texts and near-misses, Race is the only person Brysen can turn to. The only person that seems to care whether she is safe and happy. But he is also the only person that has the power to totally destroy her...
Better when He's Bold was a sexy, fast-paced, roller-coaster of a story. I thought the story-line had so much more substance then the first book, Better when He's Bad, and really enjoyed it! There was passion, tension, and bookoo chemistry with plenty of danger and suspense thrown into the mix to keep you on the edge of your seat. Several twists and turns kept me glued to the pages though I did foresee one early on. Bax and Dovie make appearances throughout the story, as well as Bax's brother Titus. Titus story is next which I am excited for, though I am really anticipating Novak's, Race's fellow crime lord, own book. He really intrigues me!
Jay Crownover does a fantastic job of bringing the dark and gritty feel of the Point to life. And the characters to match! The Welcome to the Point series is all about the 'anti-heroes', so if you're looking for some sweet swooning going on, you won't find that here. These heroes are in your face and they don't ask for your heart, they take it! My only problem with the story was the mysterious bad guy that showed up halfway through the story-line. By the end of the story he seemed to be forgotten only to be brought up again in the last few paragraphs and left as a dangling tease for readers to find out more in the next book. Gah, the suspense! I can't wait to find out the fallout from this stranger and the future of the Point.
Reading Order:
Better When He's Bad - Review | Amazon
Better When He's Bold
About Jay Crownover:
Jay Crownover is the New York Times and USA Today bestselling author of the Marked Men and The Point series. Like her characters, she is a big fan of tattoos. She loves music and wishes she could be a rock star, but since she has no aptitude for singing or instrument playing, she'll settle for writing stories with interesting characters that make the reader feel something. She lives in Colorado with her three dogs. http://www.jaycrownover.com/
Tour-Wide Giveaway:
a Rafflecopter giveaway