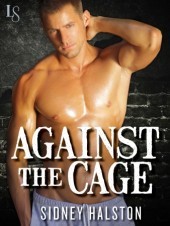 1. First, can we all just take a moment to appreciate this gorgeous cover...*lesigh* Welcome, Sidney! I have to say, this is my favorite of the Worth the Fight covers. What do you think, did it meet your expectations? Can you pick a favorite? I know it's hard! ;-)
Hi there. Thank you for hosting me today! Yes, isn't he just gorgeous? I tackled him and ripped his shirt, as you can see. ; ) The cover more than met my expectations and it's my favorite. But, I actually just saw the cover for book # 5, Laid Out (Cain's story) and I love it. It is exactly how I visualized Cain. Exactly. It was picked from my brain onto the cover. I hope people will love it as much as they've loved the cover for Below the Belt, although I think that Below the Belt may be impossible to top.
2. BELOW THE BELT released just a few weeks ago (02/10), congratulations! When I hear Tarpon Springs, I think Sponge Docks! Being a Florida native I cannot believe that I haven't visited there yet but it is definitely going on my to-do list for the summer. Is BELOW THE BELT set in the same town as FULL CONTACT (Worth the Fight #2)?
Sponge Docks! Yes! For folks who don't know what sponge docks are, Tarpon Springs is famous for it's sponges. They fish it? Mine it? Gather it? I'm not sure what the process is, exactly but they have festivals around it. And there is a lot of Greek influence in the area, so you get to see the sponge docks and eat delicious Greek food. The series all takes place in Tarpon Springs, although Below the Belt did have parts in Miami. I think you get the small town feel throughout all the books.
3. The heroine of BELOW THE BELT, Francesca Silva, is one bad-ass chick who has been burned by love in the past. But our hero, Antonio "Scarface" Marino, fights to win in and out of the ring! Was it difficult to make such a strong heroine vulnerable?
Yes, it was difficult! I think it's not that it's difficult to make her tough, as much as it's difficult to balance her toughness with his. You don't want a weak hero being topped by the woman but you don't want her to be a push over either. You still kind of want to read the heroine falling in love and being "saved" by the tough alpha hero, it is a romance, after all. But, when you have 2 alpha characters--- it's not easy. My husband is a jiu jitsu fighter, and I've met women like Francesca where he trains and I really wanted to write a character like that. Then, those vulnerable moments have to make sense with how the character would ultimately act otherwise she'd be all over the place.
4. As I am writing this interview the preliminaries for the Silva vs. Diaz fight is playing in the background. Are you an MMA fan yourself? What inspired you to take the fight from the cage to the pages?
I am a fan and I saw that fight! I was going for Silva and my husband was for Diaz, who I think is an arrogant jerk (Diaz, not my husband).
I decided on the MMA backdrop because I've been going to fights for years and I've watch my husband train and I love the camaraderie between the men. These big tough fighters can be in a ring/cage about to kill each other, and then off the ring they can hug-it-out and have drinks. Men don't tend to be catty and I'm fascinated by their honest relationships. That's what drew me to the MMA world and what made me want to write Against the Cage. The love story happened after that.
5. Using one sentence, and one sentence only, please tell readers why they should pick up BELOW THE BELT today!
You should pick up Below the Belt because don't you want to know who will be the one to back down in this raw and emotional, yet sweet and funny love story between a tough as nails, alpha-woman and an arrogant bad boy alpha-male.
Published February 10th 2015 by Loveswept
In Sidney Halston's latest sizzling MMA romance, a former title contender turns the tables on his knockout trainer with a lesson in seduction.





Once one of the most sought-after names on the mixed martial arts circuit, Antonio "Scarface" Marino watched his career go down for the count as he chased skirts and made tabloid headlines. Now he's finally making a comeback, and it's all thanks to Francesca Silva, a Brazilian bombshell as tough as any of her fighters. But who's the real Francesca: the trash-talking trainer who rides him hard, or the vulnerable woman who blushes at his touch?





Francesca went to the mat to sign Tony because she believes he still has the potential to bring big success to her gym—if she can keep his head in the cage and out of her personal life. After a short-lived marriage soured her on love, a one-night stand is all she can handle. Now Tony's kisses are stirring up complicated feelings—especially when he agrees to face her ex in the ring. Francesca's used to freezing guys out. But Tony's tempting her to give in to the heat.
Don't miss the first to books in this knock-out series!




About Author
USA Today bestselling author, Sidney Halston lives her life with one simple rule: "Just Do It" Nike, and that's exactly what she did. After working hard as an attorney, Sidney picked up a pen for the first time at thirty years old to begin her dream of writing. Having never written anything other than very exciting legal briefs, she found an outlet for her imaginative romantic side and wrote Seeing Red, among four other novels currently in the works, including the sequel to Seeing Red. That first pen stroke sealed the deal and she fell in love with writing.





Sidney lives in South Florida with her husband and children. She loves her family above all else, and reading follows a close second. When she's not writing you can find her reading and reading and reading… She's a reader first and a writer second.



When she's not writing or reading her life is complete and utter chaos trying to balance family life with work, and writing (and reading). But she wouldn't have it any other way. http://www.sidneyhalston.com/