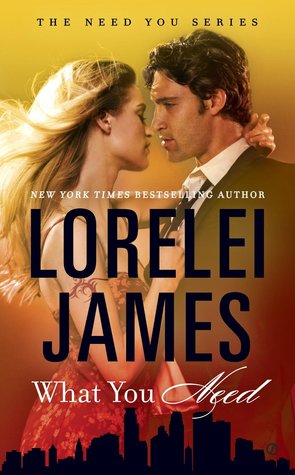 Title:
What You Need
Series:
Need You #1
Author:
Lorelei James
Format:
Mass Market Paperback, 368 pages
Published:
January 5th 2016 by Signet
ISBN:
0451477553
Links:
Goodreads
|
Amazon
|
B&N
Reviewer:
Crystal
Source:
Netgalley/Publisher
Rating:
4 out of 5 Wine Glasses
New York Times bestseller Lorelei James introduces a new family for readers to fall in love with in the Need You series. The Lund name is synonymous with wealth and power in Minneapolis-St. Paul. But the four Lund siblings will each discover true love takes a course of its own…

As the CFO of Lund Industries, Brady Lund is the poster child for responsibility. But eighty hour work weeks leave him little time for a life outside his corner office. His brothers stage an intervention and drag him to a seedy night club...where he sees her, the buttoned up blonde from the secretarial pool who's starred in his fantasies for months.

Lennox Greene is a woman with a rebellious past—which she carefully conceals beneath her conservative clothes. She knows flirting with her sexy, but aloof boss during working hours is a bad idea. So when Brady shows up at her favorite dive bar, sans his usual snappy suit, and catches her cutting loose, she throws caution aside and dares him to do the same.

After sparks fly, Brady finds keeping his hands off Lennox during office hours is harder than expected. While she makes him feel alive for the first time in years, a part of him wonders if she's just using him to get ahead. And Lennox must figure out if Brady wants her for the accomplished woman she is—or the bad girl she was.
Crystal's Thoughts:
Lorelei James is well-known for her erotic romance novels, but she is stepping outside the box this year with her new contemporary romance release of,
What You Need
. A story that proves to be a promising start for this brand new series and all-star author!
Our heroine of the story, Lennox Greene, is a woman who is making great strides to move on from her wild and wretched past. Working as a floater at Lund Industries is just the start to the proper and prosperous future she hopes to have. Nowhere in her plans does starting a relationship with our hero, the stuffy CFO Brady Lund, fit. Lennox is exactly the right kind of wild that Brady needs though and he refuses to take no for an answer. Especially when his brothers and cousins corner him about his workaholic, straight-laced lifestyle. Each of the main characters and supporting characters were well-developed and authentic. Lennox was tough-talking but had a vulnerable center and I loved her raw wit. While Brady will make you weak at the knees with his genuine sincerity. Not to mention how he goes from nerdy financial guru to hot, commanding alpha. Yum!
The attraction between Lennox and Brady was unmistakable, there was a spark from the start. Their relationship moved at a steady, believable pace, and while the sex scenes weren't as over-the-top as we have come to expect from James' erotics, there was no denying the fire. The tension between Lennox and Brady as they navigate office politics, family dynamics, and finding their own place in life, let alone their place in each other's lives, kept me turning the pages for more. All of these aspects weaved together to create a sweet and sexy romance that I loved.
James' fluid writing and captivating characters in
What You Need
are what fans have come to expect from this talented author and exactly what this reader needed in a contemporary romance! I'm definitely looking forward to more from the Need You series.
Suggested Reading Order:
What You Need: The Need You Series #1
Just What I Needed: The Need You Series #2