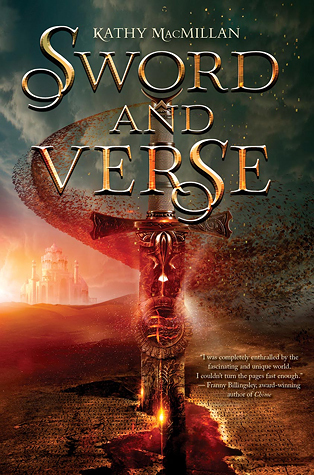 Title:
Sword and Verse
Series:
Sword and Verse #1
Author:
Kathy MacMillan
Format:
Hardcover, 384 pages
Publication
: January 19th 2016 by HarperTeen
ISBN:
0062324616
Links:
Goodreads
|
Amazon
|
B&N
Reviwer:
Crystal
Source:
edelweiss
Rating:
3 out of 5 Wine Glasses
Raisa was just a child when she was sold to work as a slave in the kingdom of Qilara. Despite her young age, her father was teaching her to read and write, grooming her to take his place as a Learned One. In Qilara, the Arnathim, like Raisa, are the lowest class, and literacy is a capital offense. What's more, only the king, prince, tutor, and tutor-in-training are allowed to learn the very highest order language, the language of the gods. So when the tutor-in-training is executed for teaching slaves this sacred language, and Raisa is selected to replace her, Raisa knows any slipup on her part could mean death.

Keeping her secret is hard enough, but the romance that's been growing between her and Prince Mati isn't helping matters. Then Raisa is approached by the Resistance—an underground army of slave rebels—to help liberate Arnath slaves. She wants to free her people, but that would mean aiding a war against Mati. As Raisa struggles with what to do, she discovers a secret that the Qilarites have been hiding for centuries—one that, if uncovered, could bring the kingdom to its knees.
Crystal's Thoughts:
Kathy MacMillan weaves a spellbinding tale of a young woman's journey of discovery and struggle to overcome insurmountable odds in her new YA release of
Sword and Verse
!
Captured and forced into slavery as a child, Raisa, spends her days clinging to rafters and helping the younger slaves when she can. Until one day when she is selected to replace the royal tutor who was executed for treason, and learn the language of the Gods. Now, studying alongside the young Prince Mati in order to one day teach his son, Raisa must be on guard so that she doesn't end up like the last tutor. But this is also her chance to finally decipher her heart-verse, the only link she has to her past and her father, one of the Learned One's. It's not long before she begins to fall for the tender hearted prince though, and the weight of her secrets begin to eat at her. When the Resistance approaches her to help liberate her fellow Arnathims, she finds herself caught between her blossoming love of Mati and saving her own people, even if that means putting Mati in danger. With a war between Qilarite and Arnathim brewing, Raisa must make a decision...a decision that could ultimately change the fate of the world as she knows it.
Sword and Verse
had a really intriguing story-line full of fantasy and mythology. The world surrounding these characters was vivid and well-built, reminiscent of ancient Egypt. The plot moved slowly at different intervals in the story, despite it being a quick read. One of the aspects that contributed to the dragging pace was the hard-to-understand terminology. I would have preferred a more in-depth key at the front of the book; one that included, not only the God and Goddess information, but also the definitions of weeks, months, ect. It was difficult to keep up with the time line because of this.
I enjoyed all of the characters in the story, from the most innocent to the most vile. Prince Mati was my favorite and I wish some of the story could have been told from his perspective. I often found myself empathizing with his position and responsibilities. However, it was Raisa's point-of-view that the tale was given. Raisa, who though had a good heart, was young and naive - frustratingly so at times. She didn't always think through her actions and the consequences didn't take long to catch up with her. Which is fine if she was the only one to suffer, but she also brought Mati down with her when this happened.
All in all, a good story and I enjoyed that it was a stand-alone with no cliffhangers. And though this is a complete story in itself, there will be a sequel featuring a secondary character. I have a feeling it might be about a certain Resistance member, and I am interested in reading that. If you're a fan of mythology featuring vengeful Gods, unknown heroes, and a smattering of angst, action and amour, then I would recommend that you pick up
Sword and Verse
.