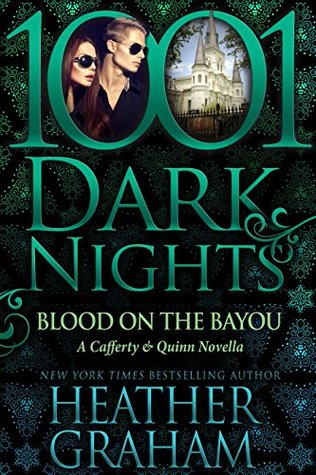 Blood on the Bayou: A Cafferty & Quinn Novella
(Cafferty and Quinn #3.6)
by Heather Graham
Kindle Edition, 120 pages
Published January 26th 2016 by Evil Eye Concepts, Incorporated
ASINB018YJC5BK
From New York Times bestseller Heather Graham...

It's winter and a chill has settled over New Orleans, binding a stream of blood that leads a tourist to a dead man, face down in the bayou.

The man has been done in by a vicious beating, so violent that his skull has been crashed in.

It's barely a day before a second victim is found . . . once again so badly thrashed that the water runs red. The city becomes riddled with fear.

An old family friend comes to Danni Cafferty, telling her that he's terrified, he's certain that he's received a message from the Blood Bayou killer--It's your turn to pay, blood on the bayou.

The two quickly become involved, and--as they all begin to realize that a gruesome local history is being repeated--they find themselves in a fight to save not just a friend, but, perhaps, their very own lives.
Excerpt:
Danni headed down the hallway and into the store. Moving a few props, she reached the store side of her left facing display window. The mannequin wasn't heavy, just a little awkward. She picked it up first and set it down, staring at the creation. It was damned good. She'd bought it from a friend in Louisiana's booming film business.
The eyes almost seemed to follow her.
She wagged a finger at the mannequin. "Sick murderer, playing on legend. How could you kill that beautiful young woman who never hurt a soul? Or kill anyone. Look at the legacy you've left."
Crawling back into the window, she hurriedly gathered the rest of the items that had made up the display, tossing them into the shop. Then she looked around, trying to decide what she was going to put up in place of the display on Count D'Oro and the rougarou.
Billie came into the shop.
"Egyptian," she announced. "We have that mannequin of Cleopatra. We can add a lot of the local jewelry. There's a really beautiful ankh and then, to the side, we can add in a display of those fleur-de-lis pendants. Not Egyptian per se, but for now it will do."
"Aye, lass, got it. I'll need Bo Ray to help."
He turned and left her, heading back down the hallway.
The mannequin of Count D'Oro suddenly fell over.
The cane rolled across the floor and landed at Danni's feet, the silver wolf's head seeming to stare up at her. For a moment, she froze. The way the mannequin had landed, it seemed to be staring at her too. She trembled despite herself, then walked over and glared down at the mannequin, kicking the cane to the side.
"We will end this," she said with determination.
And it almost seemed like the mannequin disagreed.
Challenging her to do so.
About Heather Graham:
New York Times and USA Today best-selling author Heather Graham majored in theater arts at the University of South Florida. After a stint of several years in dinner theater, back-up vocals, and bartending, she stayed home after the birth of her third child and began to write, working on short horror stories and romances. After some trial and error, she sold her first book, WHEN NEXT WE LOVE, in 1982 and since then, she has written over one hundred novels and novellas including category, romantic suspense, historical romance, vampire fiction, time travel, occult, and Christmas holiday fare. She wrote the launch books for the Dell's Ecstasy Supreme line, Silhouette's Shadows, and for Harlequin's mainstream fiction imprint, Mira Books.

Heather was a founding member of the Florida Romance Writers chapter of RWA and, since 1999, has hosted the Romantic Times Vampire Ball, with all revenues going directly to children's charity.

She is pleased to have been published in approximately twenty languages, and to have been honored with awards from Waldenbooks. B. Dalton, Georgia Romance Writers, Affaire de Coeur, Romantic Times, and more. She has had books selected for the Doubleday Book Club and the Literary Guild, and has been quoted, interviewed, or featured in such publications as The Nation, Redbook, People, and USA Today and appeared on many newscasts including local television and Entertainment Tonight. http://www.theoriginalheathergraham.com/