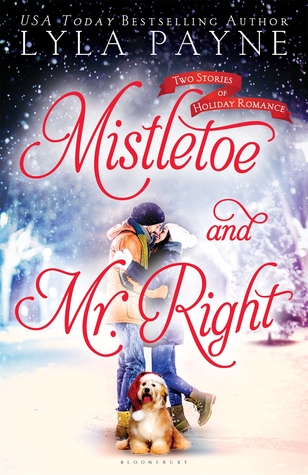 Title
: MISTLETOE AND MR. RIGHT - Two Stories of Holiday Romance
Author
: Lyla Payne
Format
: Hardcover: 368 pages
Published
: Bloomsbury USA Childrens (October 6, 2015)
ISBN
-13:978-1619639270
Links
:
Goodreads
|
Amazon
|
B&N
Reviewer
: Linda
Source
: Library
Rating
: 3 out of 5 Wine Glasses
In "Mistletoe and Mr. Right," Jessica (not Jessie) takes a flying leap and follows her boyfriend home for the holidays for Christmas break, sure that Ireland will provide the perfect backdrop to the beginning of their happily ever after. But it turns out his family--and his gorgeous ex-girlfriend--don't feel the same way, and the only person making the trip worthwhile is the local farmhand, who has a way of showing up when Jessica needs him most . . . and least.

The holiday hijinks continue in "Sleigh Bells and Second Chances," when Jessica's best friend makes her own way across the pond! Christina Lake does not want to be away at Christmas, but it's her duty to babysit one of London's hottest bands at their last-minute concert on Christmas Eve . . . even though she had a fling with Cary, the band's lead singer, that never officially ended. Now forced to reconnect, Christina is starting to think that maybe London is exactly where she's supposed to be to get the perfect New Year's kiss--at least until she finds out that he's been lying the whole time. Can Cary find a way to prove himself before the clock strikes twelve? Or will the New Year ring in a new romance?

Lyla Payne wraps up two perfect holiday novellas, ties them with a ribbon of romance, and tops them with a light dusting of snow. Perfect to curl up with under the tree. Just add hot cocoa!
Linda's Thoughts:

"Is she going to be okay? I ask, shuffling up behind the guy and chancing a peek over his shoulder.

He doesn't answer but reaches down, prodding her with one hand and lifting with the other until she gets her legs underneath her and crawls to her feet. The goat gives a quick shake, spraying dirty water all over my jeans and the mystery man's olive-green jacket, then hops off into the grass.

"Is she limping?"

"Probably. She just got ran over by a car."

MISTLETOE AND MR. RIGHT is an anthology of two charming Christmas-time romances by Lyla Payne. The two stories are linked via the heroines of each story. They were close friends and the two tales are their respective holiday happy ever after stories.

MISTLETOE AND MR. RIGHT was the first story in the book. It was previously published as a standalone. This was the story of Jessica MacFarlane, Brennan Donnelly and Grady Callaghan. No worries, the three-some does pare down to two. It is set in Fanore, Ireland. As the story opened, Jessica has flown to the Emerald Isle to surprise Brennan, who she has been dating for a few months, at Christmas. Unbeknownst to Brennan, Jessica has a timetable that she had previously laid out that required her to be married and having children soon. She was hoping that her sudden appearance would set a flame to their romance which had seemed to be a bit lackluster lately. She needs Brennan to get with the program and she wants to demonstrate to Brennan and his family that she is the perfect girl for him.

Unfortunately, her arrival doesn't go as planned. First, she hits the family's prized goat as she enters their property and, second, Grady Callaghan, the family's super sexy farm hand comes to the goat's and her rescue. In fact, throughout her stay, Grady seems to make an appearance when needed. "The guy seems to have some kind of Jessie in Distress radar." This story had a lesson to it. Sometimes you think you want something, but you really don't. AND sometimes, what you really want is right before you, but you have to open your eyes to see it.

Following please find a few of my favorite quotes from this novella:

"What are you doing out here, anyway?"...

"I'm surprising my boyfriend for Christmas."...

"That's a great plan. Guys love that." ---


"How can falling in love be anything but chance?" ---


"Mama and Katie are in the kitchen whipping up some last-minute dessert. They said to see if you want to help."

I nod again, grateful for the chance to get out of the room. To spend Christmas Eve in the kitchen with the other women. "Sure, I'm just going to throw up and I'll be right there."

SLEIGH BELLS AND SECOND CHANCES was the second story in the book. It had not be previously published before now. This was the story of Christina Lane, Jessica's roommate, and Cary White, a British rock star. It was mostly set in and around London, England. As the story opened, Christina had been assigned a public relations stint with Cary's hot English band. The band aspect of this read made for some fascinating reading. Christina was committed to doing a good job while being hesitant about doing so as, Cary, the band's leader, had previously left her heart in shambles after they'd had an intense summer fling and, also, because she is estranged from her famous author dad, who also resides in London. This story was infused with a plethora of drama and parlayed a lesson to always trust your heart.

Following please find a few of my favorite quotes from this short tale:

My eyebrows knit together. "You remember all of that?"

"Oh, love. I remember everything." ---


Cary's eyes meet mine...

They brighten and he smiles... "You look smashing, love."

"I took a shower."

"Celebrate small accomplishments, I always say." ---


"You've ruined everything. You've ruined Disney."

"What's that, now?" I squint at her. "Have you been, like, hexed by a fairy in Ireland or something?"

She shakes her head. "Fairies do not use hexes. I just mean that your stepmother and stepsisters are kind of awesome."

"Yeah..."

"So, Disney could be lying about all of it. All of it! Just let that sink in for a minute."

"I don't think disproving one assumption disproves them all. You might need to retake statistics."

Bottom-line: If you enjoy light, cute and fluffy Christmas romances, you should check out MISTLETOE AND MR. RIGHT! These stories would be perfect to delve into with a cup of hot chocolate and a comfy easy chair.