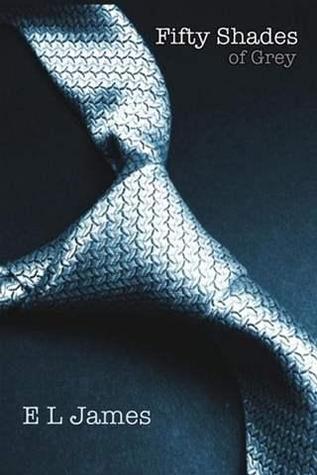 Title: Fifty Shades of Grey
Series: Fifty Shades #1
Author: E.L. James
Format: Paprerback/ebook, 385 pages
Published: May 25th 2011 by Vintage
ISBN: 1612130291
Links: Goodreads | Amazon | B&N
Source: Purchased by Reviewer
When literature student Anastasia Steele goes to interview young entrepreneur Christian Grey, she encounters a man who is beautiful, brilliant, and intimidating. The unworldly, innocent Ana is startled to realize she wants this man and, despite his enigmatic reserve, finds she is desperate to get close to him. Unable to resist Ana's quiet beauty, wit, and independent spirit, Grey admits he wants her, too—but on his own terms.




Shocked yet thrilled by Grey's singular erotic tastes, Ana hesitates. For all the trappings of success—his multinational businesses, his vast wealth, his loving family—Grey is a man tormented by demons and consumed by the need to control. When the couple embarks on a daring, passionately physical affair, Ana discovers Christian Grey's secrets and explores her own dark desires.





Erotic, amusing, and deeply moving, the Fifty Shades Trilogy is a tale that will obsess you, possess you, and stay with you forever.
Title: Fifty Shades Darker
Series: Fifty Shades #2
Author: E.L. James
Format: ebook/Paperback, First Edition, 532 pages
Published: September 16th 2011 by The Writer's Coffee Shop Publishing House
ISBN: 1612130585
Links: Goodreads | Amazon | B&N
Source: Purchased by Reviewer
Daunted by the singular tastes and dark secrets of the beautiful, tormented young entrepreneur Christian Grey, Anastasia Steele has broken off their relationship to start a new career with a Seattle publishing house.





But desire for Christian still dominates her every waking thought, and when he proposes a new arrangement, Anastasia cannot resist. They rekindle their searing sensual affair, and Anastasia learns more about the harrowing past of her damaged, driven and demanding Fifty Shades.





While Christian wrestles with his inner demons, Anastasia must confront the anger and envy of the women who came before her, and make the most important decision of her life.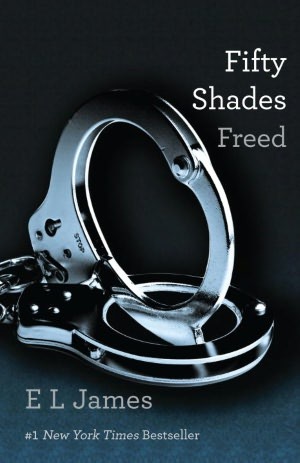 Title: Fifty Shades Freed
Series: Fifty Shades #3
Author: E.L. James
Format: ebook/Paperback, 579 pages
Published: April 17th 2012 by Vintage Books (first published January 1st 2012)
ISBN: 0345803507
Links: Goodreads | Amazon | B&N
Source: Purchased by Reviewer
When unworldly student Anastasia Steele first encountered the driven and dazzling young entrepreneur Christian Grey it sparked a sensual affair that changed both of their lives irrevocably. Shocked, intrigued, and, ultimately, repelled by Christian's singular erotic tastes, Ana demands a deeper commitment. Determined to keep her, Christian agrees.




Now, Ana and Christian have it all—love, passion, intimacy, wealth, and a world of possibilities for their future. But Ana knows that loving her Fifty Shades will not be easy, and that being together will pose challenges that neither of them would anticipate. Ana must somehow learn to share Christian's opulent lifestyle without sacrificing her own identity. And Christian must overcome his compulsion to control as he wrestles with the demons of a tormented past.




Just when it seems that their strength together will eclipse any obstacle, misfortune, malice, and fate conspire to make Ana's deepest fears turn to reality.
Crystal Thoughts:
I originally read this series two years ago but because of the uber intense feelings it seemed to bring out in people (gushing love or seething hate) I never posted a review even though I simply la-oved these books. After my third re-read though, I decided to finally write one up. It can't come close to completely articulating my feelings for the series. But, I'll do my best putting the magnitude of these three books in one post. ☺
Over the last few years I have come to the conclusion that The Fifty Shades Trilogy is a story you will either love or hate. Either because of the hype it has garnered, the type of story it is, the Hero's many shades, or the BDSM aspects. I
f you go into Fifty Shades of Grey expecting to hate it, you probably will. If you go in with an open mind, anything is possible. You just may find a series that you'll fall in love with like I did...
Fifty Shades of Grey is the story of Christian Grey and Anastasia Steele. It is deeply potent, darkly erotic, and soul shattering emotive. Christian, from the outside, seems to have it all. A highly successful career at twenty-seven, good looks, intelligence, charm and money. But on the inside, well...he's fifty shades of f'd up. The horror of his early childhood has dictated his life thus far, no matter how much he insists that the past is the past and has no baring on his present or future. Inside he is broken. To maintain his day to day life he sustains control of and in all things. Business, family, even sex. When Anastasia stumbles into his Seattle office, Christian is intrigued, which rarely happens. He knows that she is too young. Too naive. Too sweet. But he can't stop thinking about her. So he finds out all he can about her, and then goes on the hunt. Anastasia is a twenty-one year old young woman who is just graduating college. Coming from humble beginnings, she hasn't seen much of the world but has instead explored it through books. Ana may be naive and inexperience but that in no way means she is weak. She is brave, caring, supportive, and more. And while she feels an undeniable attraction to Christian, she doesn't let him lord over her like he seems to think he can. She is not the submissive Christian had assumed her to be at first to carry out his carnal delights with. Can she be what he needs? Will she loose herself in the process? These are just two of the many conflicts found in the series.
Told from Ana's perspective, we follow her mercurial relationship with Christian over the course of a year, roughly. Essentially, readers watch as Ana and Christian grow and mature while trying to find a balance between what Ana wants out of a relationship (hearts and flowers) and what Christian needs (kinky fuckery). Ana struggles for her independence through Christian's requisite for control. While understanding that need she often feels suffocated. She also has fears of inadequacy. Is she enough for him? Will he get bored of her? Will he leave her? Together they must find that balance if they ever hope to last. However, Christian's demons run deep and he never truly conquers them until the very end of the series. Raised by a drug addicted mother who's pimp often abused him, Christian found sanctuary in the home of his adoptive parents but never truly recovered from that early abuse. Fear of touch and emotions put a barrier between him and Ana early on. While an inability to accept love proves an even bigger obstacle. I found it impossible not to become emotionally involved with these characters. Christian as a young boy broke my heart and the consequential effects from his early years just about shredded it.
Christians need for control is essentially a coping mechanism. At first it seems arrogant and domineering but as the series progresses and layers of his character are revealed you realize that is far from the truth. He didn't have control of so much when he was younger, this is how he protects himself and those he loves and it is the only thing that keeps him grounded. The author does an incredible job of drawing you into the story so that you feel like you are living it yourself and it is easy to forget the world and become lost in it. Even on my third re-read my heart pounded, my gut clenched, and my eyes watered. The range of emotions is a tangible thing that you feel along side Christian and Ana. The fear, the anger, the lust...
Christian has never learned how to express his emotions verbally, so he does it through sex. But while his first sexual experience molded him in what some might call devastating ways it stems from deep rooted psychological issues that he must work through and Ana never leaves his side in this no matter how frightening. Many of the kinky BDSM scenes in these books are incredibly hot, but in some you have that underlying feeling of wrongness. That being said though, there are many more scenes of what Christian would call plain ole' vanilla sex and these are the moments that will capture your heart and have you turning the pages for more.
In my opinion, the series is more then the BDSM phenomenon that many have made it out to be. That only plays a small role in the over all story arc and is something that is ever changing. There is despair, suspense, love, passion, romance, forgiveness, discovery, hope and so much more. It is a story about two young people growing together, discovering themselves, finding that happy medium, and coming out better in the end. I would definitely recommend any romance lover giving this chaotic, tortured, sexy and exciting series a try. Christian and Ana are characters that will stick with this reader for a long time to come.
Rating: 5 Wine Glasses