BABY IT'S COLD OUTSIDE is a winter Anthology with 5 Erotic Romance novellas by 5 bestselling authors!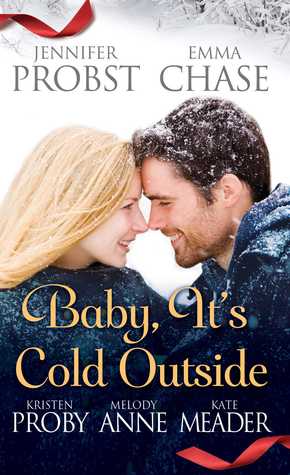 Baby, It's Cold Outside
by Jennifer Probst, Emma Chase, Kristen Proby, Kate Meader, Melody Anne
Paperback, 544 pages
Published October 28th 2014 by Pocket Books
ISBN 1476783837
New York Times and USA TODAY bestselling indie authors Jennifer Probst, Emma Chase, Kristen Proby, Melody Anne, and debut author Kate Meader come together to write a sizzling romance anthology.





Outside it may be frosty, so turn the heat way up with these stories of desire!



Can a determined woman executive and a playboy billionaire survive being stranded together in a snowstorm? Jennifer Probst depicts an encounter almost too hot to handle...

Drew and Kate play an encore to Tangled in this sexy take on a "Christmas Carol" by Emma Chase. When a Christmas Eve argument condemns Drew to a troubled night, three dream women teach him that no gift could be more tantalizing than Kate...

With Kristen Proby, ski slopes are quite delightful. Grace Douglas is sure she'll never learn to ski, but instructor Jacob Baxter could teach her lessons of a different kind...

Can a southern California transplant survive Montana's deep snows? Melody Anne, author of the bestselling Andersons series, melts the icy drifts completely away with the heat between sexy Hawk Winchester and brand-new teacher Natalie Duncan...

What could be hotter than a firefighter? Kate Meader shows how, as Brett Farraday and heiress-turned-tattoo-artist Lucy Cochrane discover, nothing ignites holiday flames like rekindling a lost love...
"It's A Wonderful Tangle Christmas Carol" by Emma Chase in BABY, IT'S COLD OUTSIDE
I bolt awake at my desk—disoriented and slightly panicked. The way my grandfather used to snore away in his recliner, before jerking up and claiming he was just "resting my eyes."
Glancing at my watch, I'm relieved to see it's only been a few minutes since I dozed off. "Wake the fuck up, Evans. No time for a nap."
I head over to the conference room and make myself a quick cup of coffee. I sip the hot beverage of the gods and step back into my office.
And there, sitting on my suede couch—the same suede couch that played such a prominent role in my early Kate Brooks fantasies—is a woman.
She's strikingly beautiful. A pert nose, full lips, bright green eyes, and aristocratic cheekbones. Her hair is honey blond and long with a slight curl. She's wearing a conservative white dress, blazer, and heels—something Kate would wear to the office. A string of pearls adorns her long neck and matching earrings decorate her lobes.
"Hello," she greets me in a warm voice.
My eyes dart from her to the door. Security always calls before letting a client up.
"Hi," I return. "Can I . . . help you?"
"Actually, I'm here to help you, Drew."
Has she crawled from the sea of my former one-night stands? It wouldn't be the first time one tracked me down at my place of business. But with me riding the monogamy bandwagon these last eight years, it hasn't happened for a long time.
"Have we met somewhere before?" I ask—but I really mean Have we fucked somewhere before?
She laughs, though I don't know why. It's a pleasant, alluring sound. "Always so clever. I've been watching you for a long time, Drew. You never fail to entertain. "
I set my coffee on the desk and face her head-on.
"You've been watching me for a long time? Yeah, 'cause there's nothing weird about that."
"Well, it's my job to watch you. I'm your guardian angel, after all."
There's a lot of crazy walking around New York City. And I don't just mean the obvious vagrants mumbling around Penn Station or the naked cowgirl in Times Square. Professional dog walkers, bicyclists, and most employees of the sanitation department have several fucking screws loose, too.
You have to be careful with insane people. Getting them worked up isn't a good idea. So I just nod and try to keep her calm.
"Interesting. You don't look like an angel."
"How do you imagine I should look?"
"Wings, halo, blinding heavenly light."
She winks. "I only bring the halo out for formal events. As for my wings . . . I'm still working on earning them."
I snap my fingers. "That sounds familiar. To earn your wings, you have to, like, stop me from offing myself, right?"
Her jade eyes round with surprise. "Oh, nothing as drastic as that. If things became that desperate I wouldn't be doing a very good job. I'm here because you're starting down the wrong path, Drew. We need to nip your behavior in the bud; get you back to where you should be."
Tour-Wide Giveaway:
a Rafflecopter giveaway