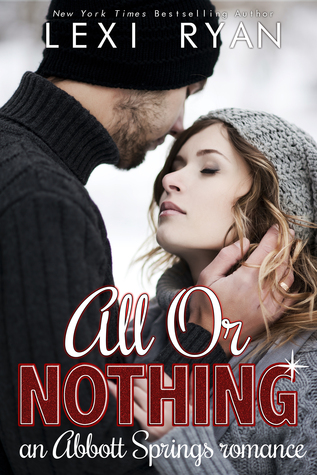 Title: All or Nothing
Author: Lexi Ryan
Format: ebook
Published: by Lexi Ryan
Links: Goodreads | Amazon | B&N
Source: Author
Reviewer: Crystal
Rating: 3/5
ALL OR NOTHING is a short, sexy, new adult romance and is also available as part of the ALL I EVER WANTED anthology.





After years of placing the wrong bets, all Aubree Baxter ever wanted was someone to take a chance on her. More specifically, she wants golden boy Kennedy Hale, her good friend and unrequited crush. After a seduction attempt gone terribly wrong, she knows pursuing anything more than friendship with Kennedy means sure heartbreak. If they're going to make this work, it has to be ALL OR NOTHING.
Thoughts:
If you love a short and sweet friends to lovers story with a small town feel, then you won't want to miss All or Nothing.
Aubree Baxter is back in her hometown of Abbott Springs for the town's annual Winterfest before she leaves for good. After years of disappointment, Bree's mom is finally going to come through for her and they're going to be moving to Paris. But first she must get through the embarrassment of seeing her best friend, Kennedy. A man she has secretly been in love with and who she threw herself at just a few short months ago to only be humiliatingly rejected by.
Kennedy Hale is the town's golden boy, but not by choice. As the Mayor's son he has a lot of expectation placed on his shoulders and sometimes the load is more then he can bare. His best friend, Bree, is the only one that seems to understand him and what he truly wants in life. Not what everyone expects him to want. And he can't risk loosing that friendship, no matter how much he may be attracted to Bree and her free spirit. But when that camaraderie is threatened for good, c
an Bree and Kennedy set aside their insecurities and risk it all
, or will the end up loosing everything in the end?
All or Nothing
is a short story that is featured in the ALL I EVER WANTED anthology, a book of four stories centered around a group of friends in the quaint little town of Abbot Springs.
All or Nothing is a story about two best friends, Bree and Kennedy, who fight an attraction for one another to keep their friendship strong. Due to a not-so-stellar set of parents, Bree has abandonment issues and leads a bit of a roving lifestyle because of it. Kennedy is the complete opposite and has always played it safe in life.
Bree's free spirited ways and Kennedy's steadfastness balanced each other out well.
The progression from friends to lovers wasn't as fleshed out as it could have been due to the short length.
But
there was no denying the bond these two had from the beginning.
Bottom line; While not
as emotionally intriguing as I have come to expect from this author, All or Nothing
was a nice, quick story that I enjoyed.