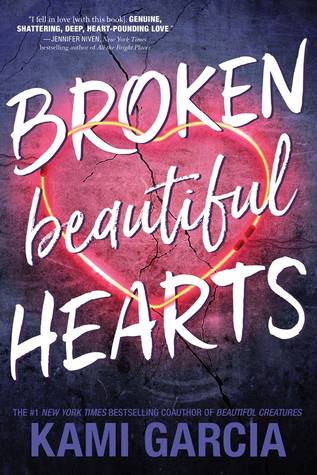 Broken Beautiful Hearts
by Kami Garcia
Hardcover, 416 pages
Expected publication: February 6th 2018 by Imprint
ISBN 1250079209
Before, Peyton was a star soccer player with the perfect boyfriend, Reed. Now, she has a torn knee ligament, a scholarship on the line, and a shattered sense of self. No one believes Reed pushed her, causing her injury, and Peyton just wants to leave the trauma behind. Living with her uncle and twin cousins in their small, football-obsessed town seems like a great escape plan.

There, Peyton meets Owen—high school classmate and local MMA fighter. Though Owen is charming and gentle, Peyton is determined to repress her growing attraction. But when her old and new life collide, Peyton must reclaim the truth of her past in order to save her future.
Excerpt:
This is not how I envisioned celebrating my big news. I reach for my phone to check the time, wondering if it's too early to head home. But it isn't in my pocket. Nothing but lip balm, house keys, and Reed's car keys. God forbid he carry anything except his phone. I pat down my coat. "I lost my phone."
"It's probably in the car, like the last three times you lost it. I need to run to the bathroom and then I'll help you find it," Tess says.
The line for the bathroom is six people deep. I can't wait that long. "All my voice mails are on it."
Tess knows that by all I really mean one—the last message from my dad. It's the reason I've had the same phone for a year and a half, even though it barely holds a charge.
"I bet it's in the car," she says. "Don't worry."
"I'm just going to run out and check." I leave through the back door.
Outside, a stone retaining wall snakes down the hill beside the house. The wall separates a paved footpath from the long driveway. My arm scrapes against the rock as I rush toward the steps at the end of the walk- way that lead down to the street.
Reed parked his car across from the steps, and I can't get it unlocked fast enough. I search for my phone in the front seat and between the crevices of the center console.
Think. Retrace your steps.
When we got in Reed's car I tossed my jacket in the back seat. My phone could've fallen out of the pocket. I lean between the front seats and grope around.
My chest tightens. I can't lose Dad's message.
Reed's car is full of junk—hand wraps, sparring pads, sweaty T-shirts, and empty energy drinks. His smelly gym bag is open on the floor. I dig through it until my fingers hit something rectangular and smooth.
I take it out of the bag, expecting a cheap plastic box like one Reed uses as a first aid kit. But this box is glossy black cardboard, like a gift box.
Reed doesn't do surprises, and he thinks presents are a waste of money. The only gift he has given me in the seven months we've been together was for my birthday. And Tess and Mrs. Michaels don't have birthdays anytime soon.
All the time he's been spending at the gym . . . What if Reed hasn't been there every night?
Things have been off between us for a while and I'm not a fan of his recent mood swings, but I'd never cheat on him. That doesn't mean he wouldn't.
The box doesn't have a store name or logo printed on it, and it's a weird size—too big for a bracelet and too deep for a necklace. A watch, maybe?
Pre-Order a digital or print edition of BROKEN BEAUTIFUL HEARTS by #1 New York Times bestselling author Kami Garcia and be the first to hear an exclusive announcement from Kami about her next book--a secret project her publisher is keeping under wraps!
Fans of Beautiful Creatures, Dangerous Creatures, and The Legion series won't want to miss this exciting news!
This is a limited time offer! So hurry! Registration ends on February 28, 2018! You must register your preorder to receive the exclusive announcement from Kami!
About Kami Garcia:
Kami Garcia is the #1 New York Times, USA Today & international bestselling coauthor of the Beautiful Creatures and Dangerous Creatures novels. BEAUTIFUL CREATURES has been published in 50 countries and translated in 39 languages, and the film Beautiful Creatures released in theaters in 2013, from Warner Brothers. Kami's solo series, The Legion, includes the instant New York Times bestseller UNBREAKABLE, and the sequel UNMARKED, both of which were nominated for Bram Stoker Awards. Her other works include THE X-FILES ORIGINS: AGENT OF CHAOS and the YA contemporary novels THE LOVELY RECKLESS and the forthcoming BROKEN BEAUTIFUL HEARTS (February 2018).

Kami was a teacher for seventeen years before co-authoring her first novel on a dare from seven of her students. If she isn't busy watching Supernatural, Kami can teach you how to escape from a pair of handcuffs or bake a Coca-Cola cake. She lives in Maryland with her family, and their dogs Spike and Oz (named after characters from Buffy the Vampire Slayer). Visit Kami at www.KamiGarcia.com.