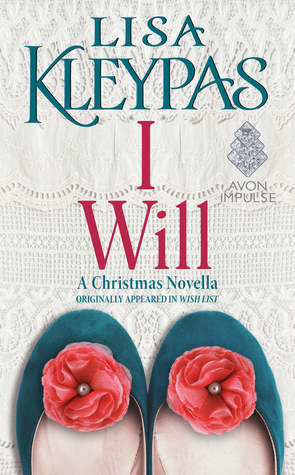 Title
: I Will: A Christmas Novella
Series
: Capitol Theatre #2.5
Author
: Lisa Kleypas
Format
: Kindle, 96 pages
Published
: December 13th 2016 by Avon Impulse (first published October 11th 2016)
ISBN
: ASIN B01JYX7MJ0
Links
:
Goodreads
|
Amazon
|
B&N
Reviewer
: Linda
Source
: Library
Rating
: 2 out of 5 Wine Glasses
Andrew, Lord Drake, has been cut out of his father's will because of his dissolute manner of living. To be reinstated, Andrew decides to pretend that he has changed his wicked ways.

As part of his plan, he wants to convince his father that he is courting a respectable woman with the intention of marrying her. The problem is, he doesn't know any decent women, except for his friend's spinster sister, Miss Caroline Hargreaves. He blackmails the reluctant Caroline into helping him, and so the charade begins...
Linda's Thoughts: "I can't conceive of what you could possibly want from me, Lord Drake," Caroline said crisply. "However, I can assure you that you won't get it."

I Will: A Christmas Novella by Lisa Kleypas starts out as a light historical read then takes some wrong turns. I recently discovered Lisa's books and, when I saw this one available at our library within the A Historical Christmas Present anthology, I snapped it up. For your reference, it was also available in a second anthology, A Christmas to Remember. Regardless, it's now available as a stand alone novella. It's touted as a Christmastime tale, but the holiday portion doesn't occur until the last chapter and consists of just two pages. This is the story of spinster Miss Caroline Hargreaves and rogue Lord Andrew Drake.

Caroline is unwed by choice. I like that she wears glasses which are mentioned in the story multiple times. Her brother and her annoying mother are supporting characters.

Andrew is a cad. He gambles and drinks and associates with other male and female scoundrels. At the beginning, when he is imbibing heavily, he is bloated and sports bloodshot eyes with dark circles - Not a very sexy picture. To his credit, he's actually very honorable towards our heroine throughout.

I had a few issues with this story that just didn't work for me. I am fairly open-minded and have read other scenes similar to the one I'm about to mention which didn't bother me. But, there's a sexual assault scene where the heroine takes racy liberties with the unwilling hero while he is tied to a bed. The key here is that the interaction was nonconsensual.

Secondly, the hero goes incommunicado near the end - his cowardly solution to the very real blackmail dilemma he found himself in.

And, finally, the heroine has let her slutty cousin get away with murder for years.

Following please find a few of my favorite quotes from I Will: A Christmas Novella:

"Stop me," he muttered, clamping his hand over her writhing bottom. "Tell me to let go of you… Slap me…."

She tilted her head back, purring like a kitten as he nuzzled the soft space beneath her ear. "Where should I slap you?" she asked throatily. ---
"And the way you dress reminds me of an unmade bed!" "Does that mean you'd like to lie on top of me?" he asked. ---
"Now stay back," he added curtly, "or you're going to lose your virginity in this damned garden."

This is a well-written quick read that provides a HEA finish of sorts. The story is fleshed out well and doesn't feel rushed until the very end when everything slams into place bizarrely, way too fast and too conveniently. While I don't regret reading this, I'd not recommend it. If you do choose to read it, stop reading after Caroline's interview with Andrew's father. At that point, there's a happy every after without all the funky that comes afterwards. IF you do that, it's a fun little romp!

Suggested Reading Order: Somewhere I'll Find You (Book #1) Because You're Mine (Book #2) I Will: A Christmas Novella (Book #2.5)